Posts tagged
MUA Luxe
1
I absolutely love putting together gift boxes for people, and of course I love surprises myself, so a little while ago I suggested to Chrissie of +10 Kapow that we do a Christmas Swap, and luckily she was up for the idea!  We decided on a budget of £20, and agreed to fill a shoebox with little gifts that we thought the other would like.  I had a lot of fun searching for items to give to Chrissie, and after a few weeks of browsing, buying and wrapping, the box was ready to send.  Our deadline for posting was 5th December, and last week we each received our box of goodies!
As both of us are impatient we decided to open and blog about our gifts before Christmas, so without further ado, here's what I received!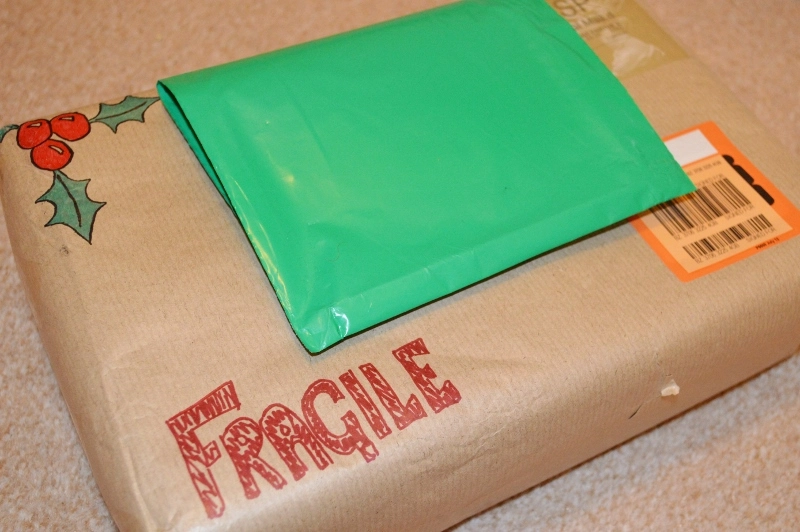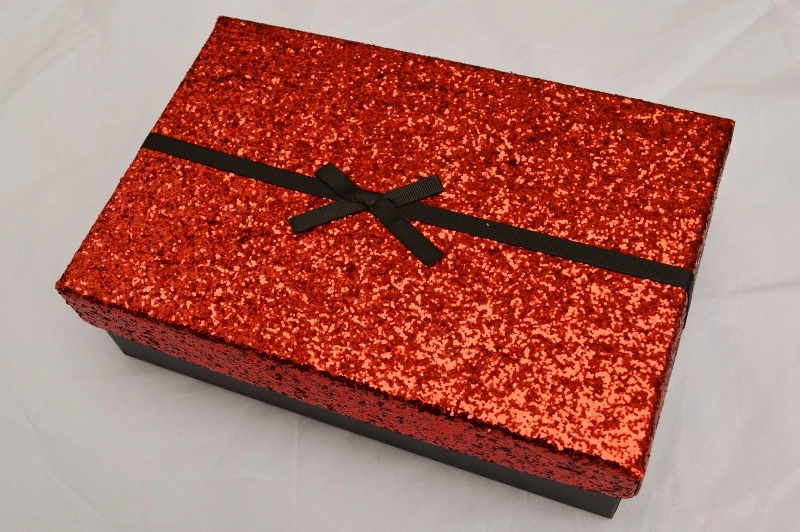 As you can see, my swap from Chrissie came beautifully packaged.  The box itself is stunning, and puts the cardboard one I sent her to shame!  I'll definitely be using it to store things in, probably rings or nail varnishes.
There were eight wrapped gifts in the box, including a jewellery box which I was really excited about.  I hurriedly unwrapped everything, and was delighted with all that Chrissie sent.  I must say she chose well!  Here's what I got…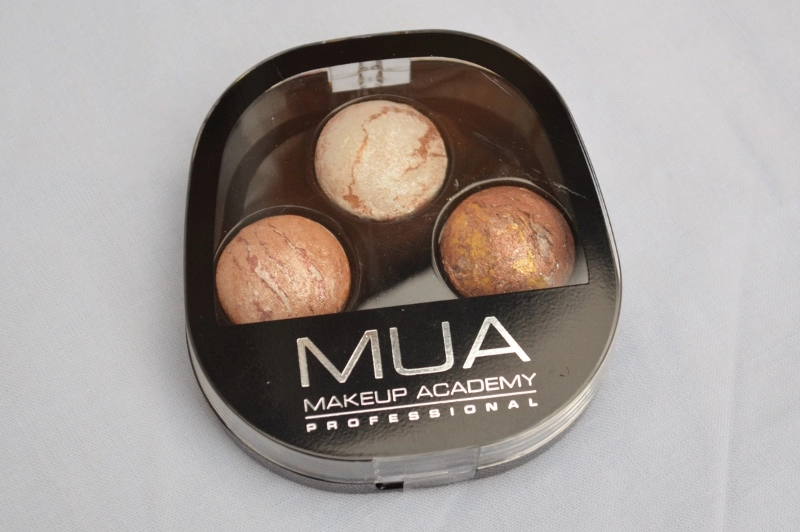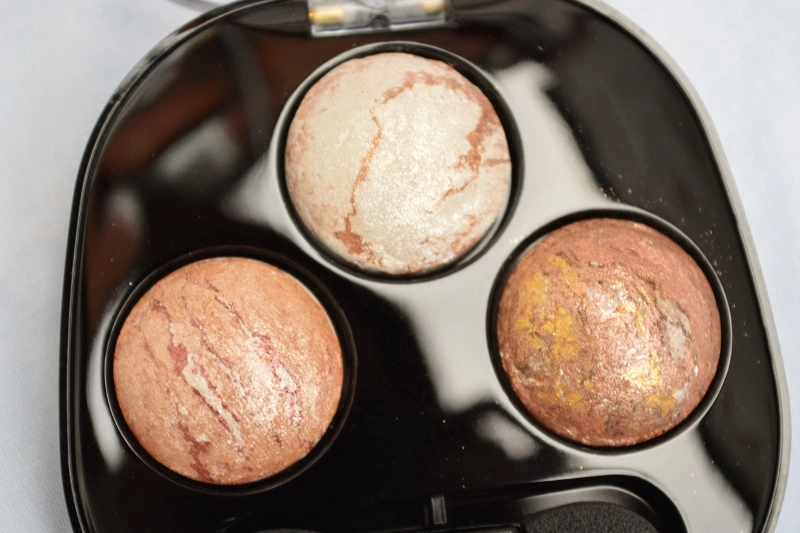 The first gift is this Baked Merged Trio Eyeshadow from MUA, in shade 'Emotions'.  All three shades have a slight shimmer to them, and are impressively pigmented.  The neutral tones are perfect for a daytime look, and I can see myself using these shades a lot for a work make up look, although with some dramatic eyeliner they could easily be dressed up.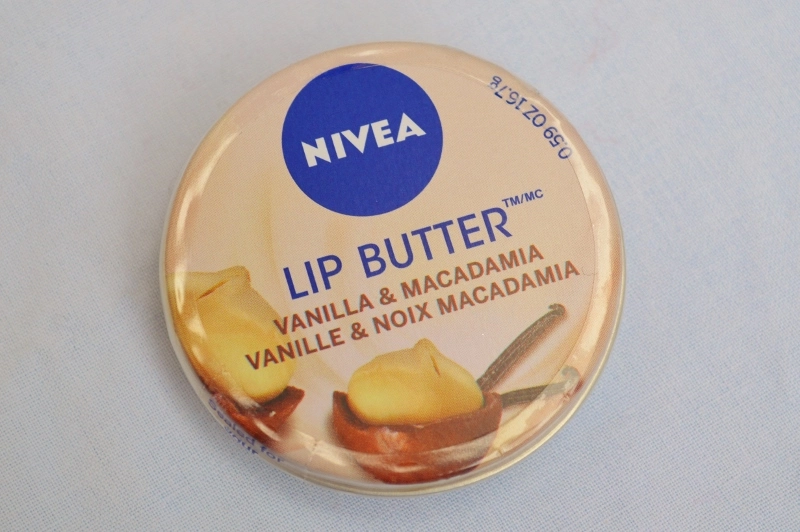 My lips get very dry at this time of year, so finding this Nivea Lip Butter in the box was much appreciated!  The lip butter feels lovely and nourishing, and smells amazing too, like vanilla and macadamia.  This has now become a winter essential for me and comes everywhere with me.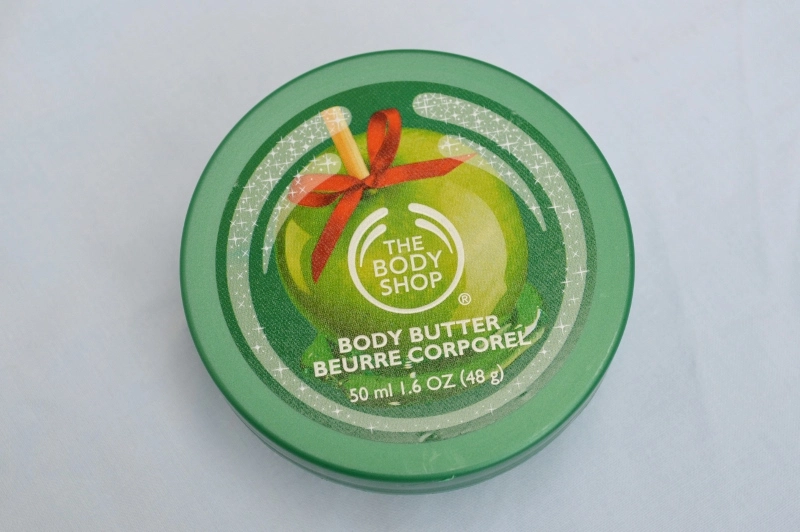 I spotted this Body Shop Glazed Apple Body Butter when browsing The Body Shop website a few weeks, and was really intrigued by it, so as you can imagine I was pleased to find this in the box too!  I use body butters on a daily basis and have done for years, so this was very well chosen, and is incredibly moisturising.  The Glazed Apple scent is lovely too – fruity, but also sweet and creamy.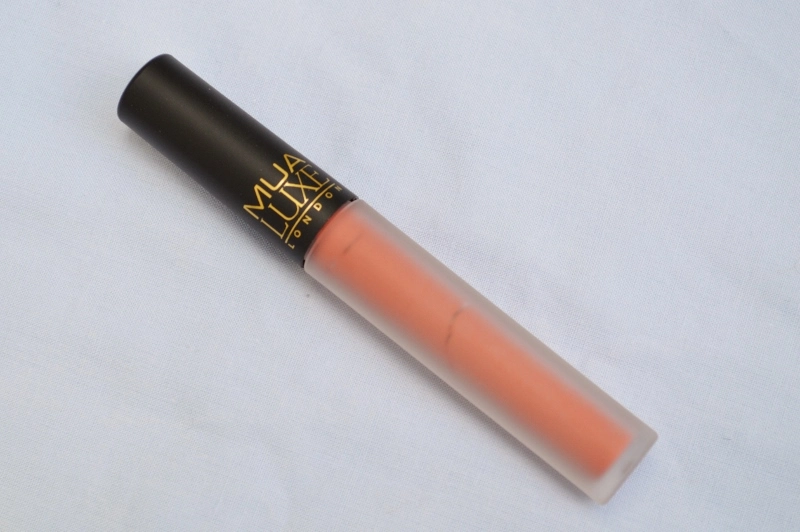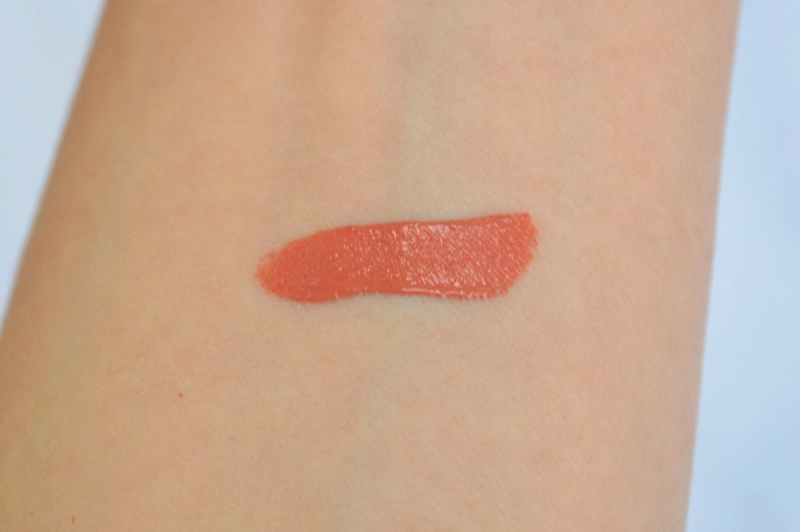 Yet another product that I've been wanting to try – MUA Luxe Velvet Lips!  This shade is called 'Serene', and is a dark peach shade with a pink undertone.  It's very highly pigmented, has a creamy texture so applies beautifully, and is long-lasting.  I like it, and aesthetically, I also like the frosted tube.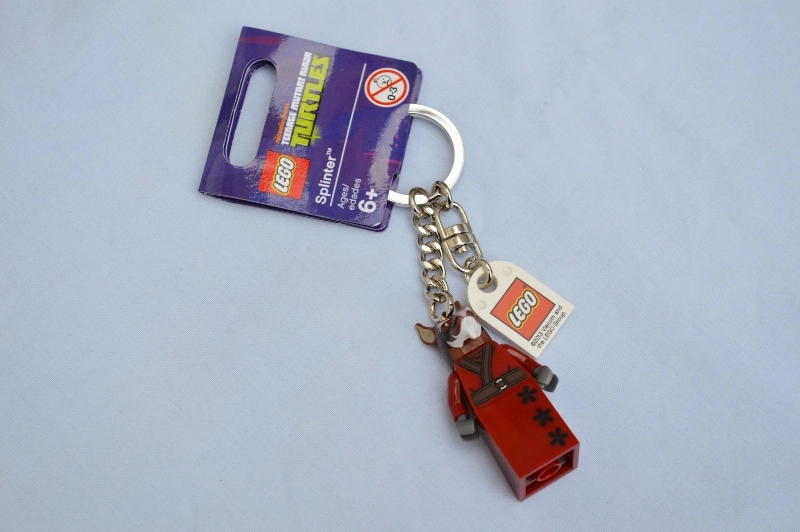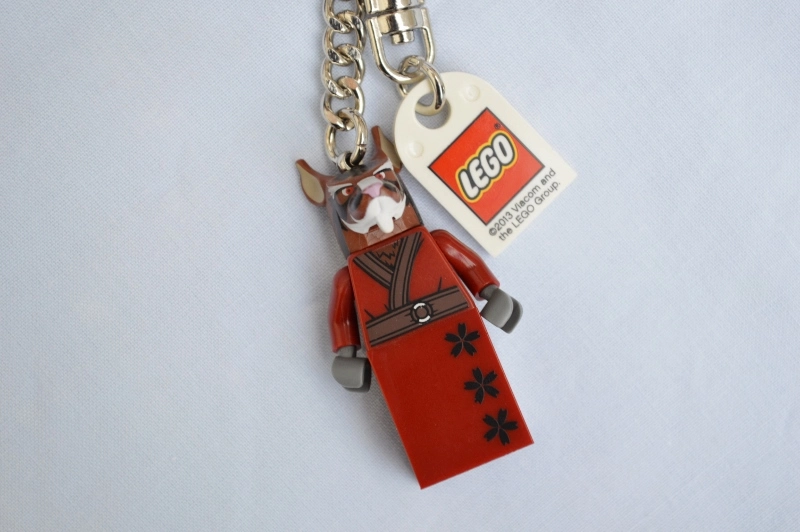 This awesome keyring is triple awesome – it's Splinter from Teenage Mutant Ninja Turtles, which I've loved since I was a kid, he's a rat, and it's lego!  I'm going to hang this from my bag because I'm cool like that.  Isn't he fab?!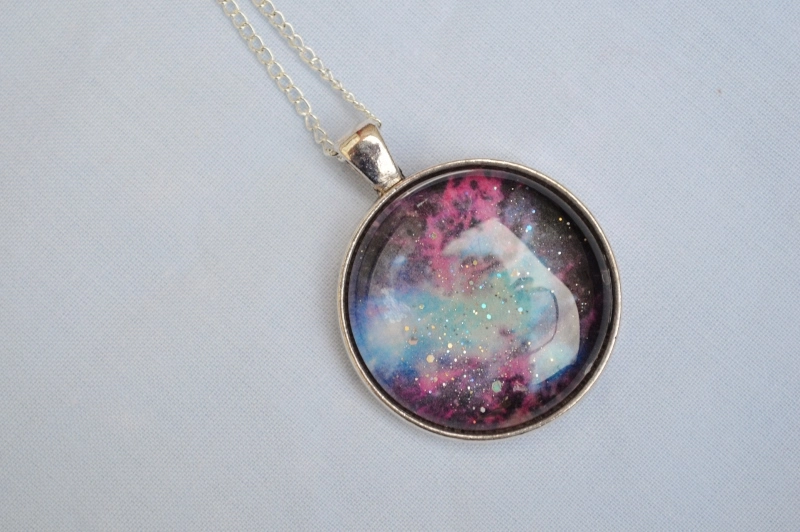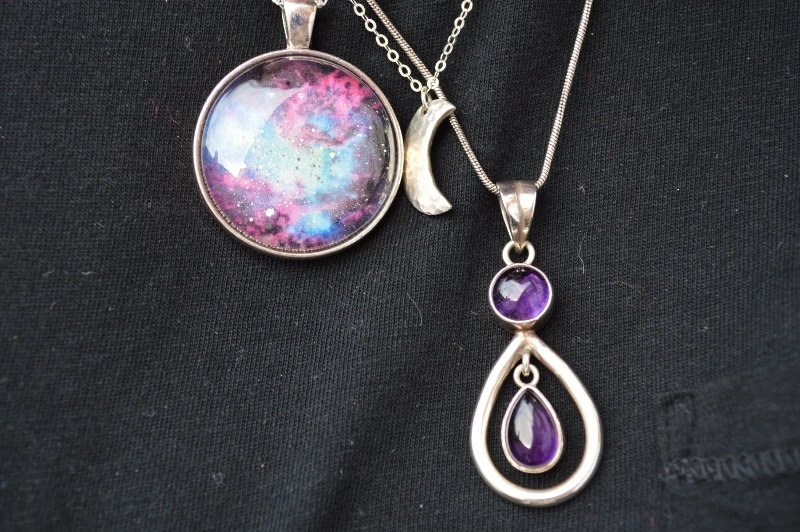 Chrissie made this galaxy necklace herself, and it's my favourite item that she sent me.  It's really well made, and purple, pink and turquoise happen to be my favourite colours.  I've been wearing it a lot since I got it, sometimes alone, but also layered with a couple of my other favourite necklaces, which I think looks great on a plain top.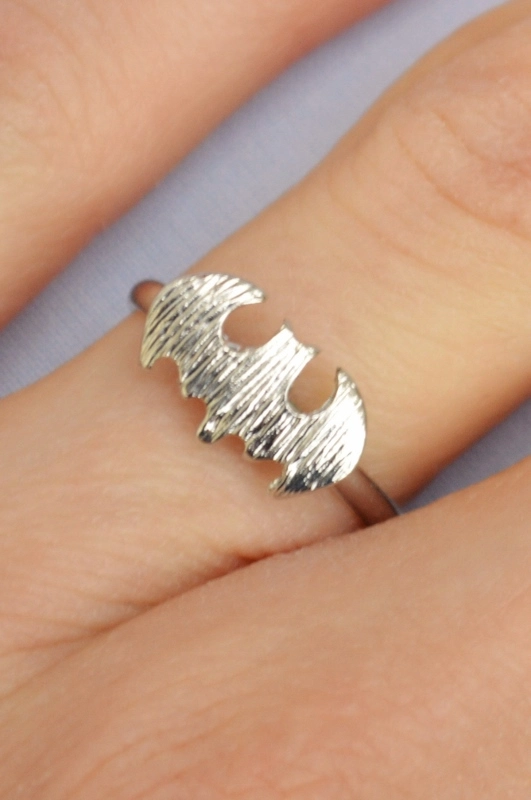 Batman!  A Batman ring!  I'm sure it's clear by now that I'm a big Batman fan, and this ring is absolutely fab.  I really like how subtle it is, whilst also being super cool.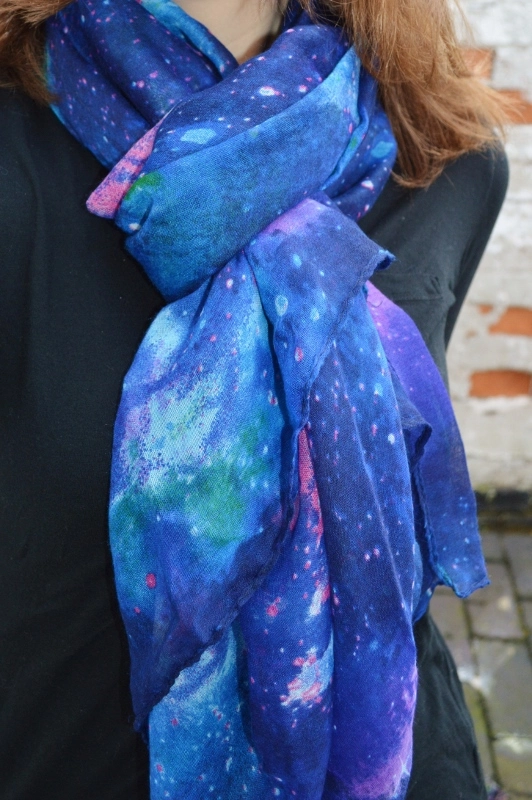 This pretty galaxy scarf has the same colour palette as the necklace Chrissie made, and is so soft and snuggly and warm.  I've been wearing this lately to add a splash of colour to some of my darker winter outfits, and it seems to attract compliments!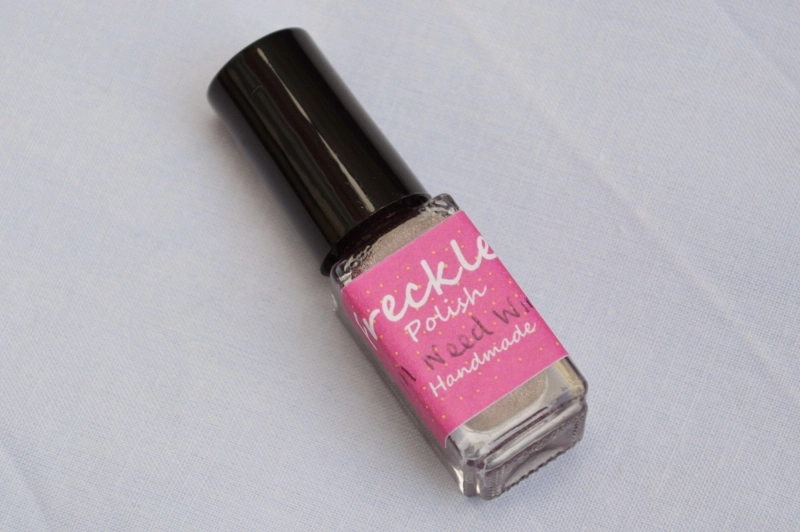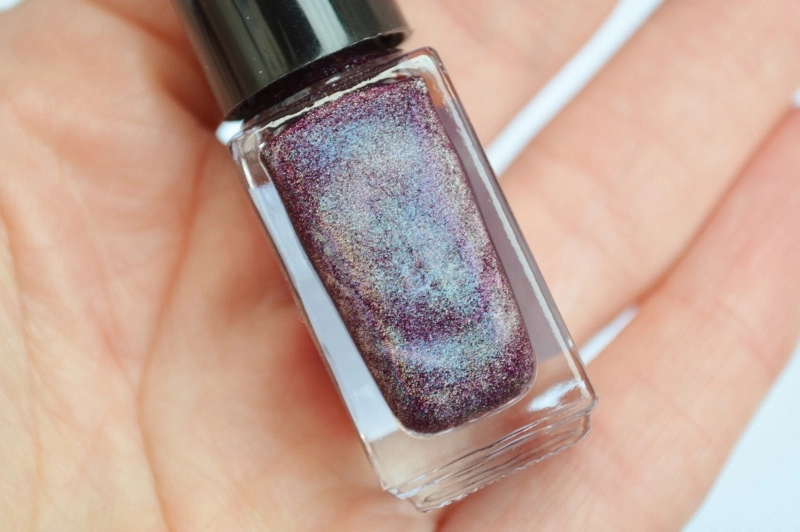 Purple shades and holo effects are two of my favourite things to decorate my nails with, so this nail polish from Freckles Polish is perfect for me.  The shade is called 'I'll Need Wine', and is a rich purple colour, a bit like red wine, with a beautiful holo shimmer.  Unfortunately I didn't get any photos of me wearing it, but it applies nicely and is stunning on – fabulous for the festive season.  Chrissie recently sent me some stamping plates too, so I plan on creating some looks soon using them and this polish, which I'll be posting about soon.
I'm really happy with everything Chrissie sent me (thanks Chrissie!), and I hope we can do another swap one day!  To see what I sent Chrissie in return, you can check out her post here.
Have you taken part in any Christmas swaps this year?  If so, what did you send/receive?  I'd love to see your posts about it!
Naomi x
4
This year seems to have gone incredibly fast, and Christmas is almost upon us.  I'm sure by now we are all well into our Christmas shopping (I've been extremely organised this year and only have a couple of bits left to get!), but I thought I'd put together a few festive themed posts over the next week or two to help with that last-minute rush.  I have spent a while lately trawling the shops and internet for stocking filler ideas, so today's post features my pick of the best beauty stocking fillers for £5 and under.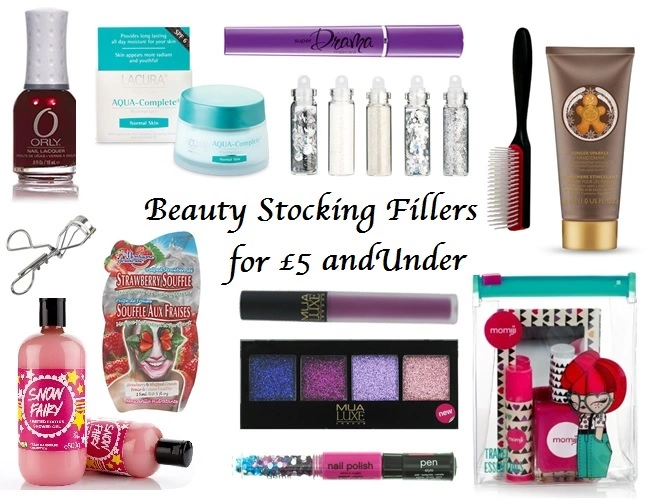 Clockwise from Top Left:
Orly Nail Polish £3.99 from Fragrance Direct / Lacura Aqua Moisture Cream £1.99 from ALDI / SuperDrama Mascara £5.00 (was £10.00) from Avon / Halo Futuristic Nail Glitter £4.50 from ASOS / Denman Small Styling Brush £4.99 from Fragrance Direct / Ginger Sparkle Hand Cream £4.00 from The Body Shop / Momiji Mini Gift Set £5.00 from M&S / 3 in 1 Nail Art Pearl Gem Pen £4.50 from Claire's / MUA Luxe Velvet Lip Lacquer £3.00 from MUA / MUA Luxe Glitter Palette £4.00 from MUA / Montagne Jeunesse Strawberry Souffle Face Mask £0.99 from New Look / Snow Fairy Shower Gel £3.50 for 100g from LUSH / Metal Eyelash Curler £3.25 from John Lewis
I hope you all find this edit helpful!  If you have any £5 or under stocking filler ideas to add, please comment below as I'd love to see what you've come across.
Check back soon for my next Christmas post, featuring Spend and Save Christmas Gift ideas.
Happy Shopping!
Naomi x