Posts tagged
Lip Butter
1
I absolutely love putting together gift boxes for people, and of course I love surprises myself, so a little while ago I suggested to Chrissie of +10 Kapow that we do a Christmas Swap, and luckily she was up for the idea!  We decided on a budget of £20, and agreed to fill a shoebox with little gifts that we thought the other would like.  I had a lot of fun searching for items to give to Chrissie, and after a few weeks of browsing, buying and wrapping, the box was ready to send.  Our deadline for posting was 5th December, and last week we each received our box of goodies!
As both of us are impatient we decided to open and blog about our gifts before Christmas, so without further ado, here's what I received!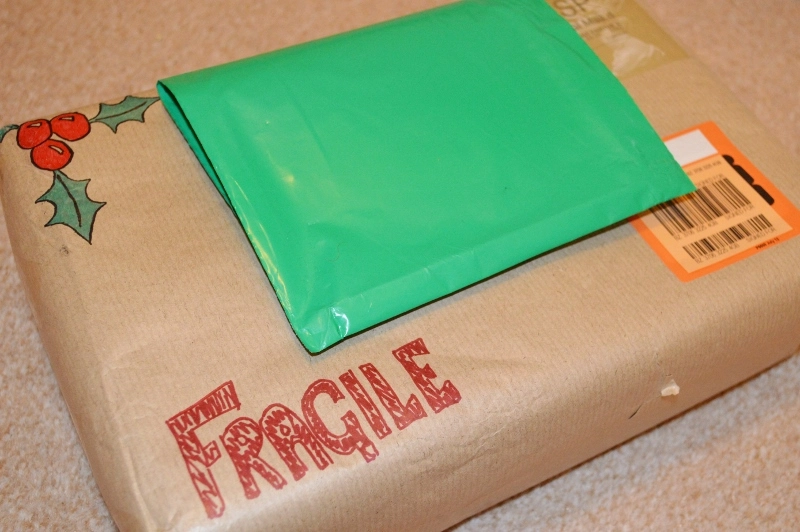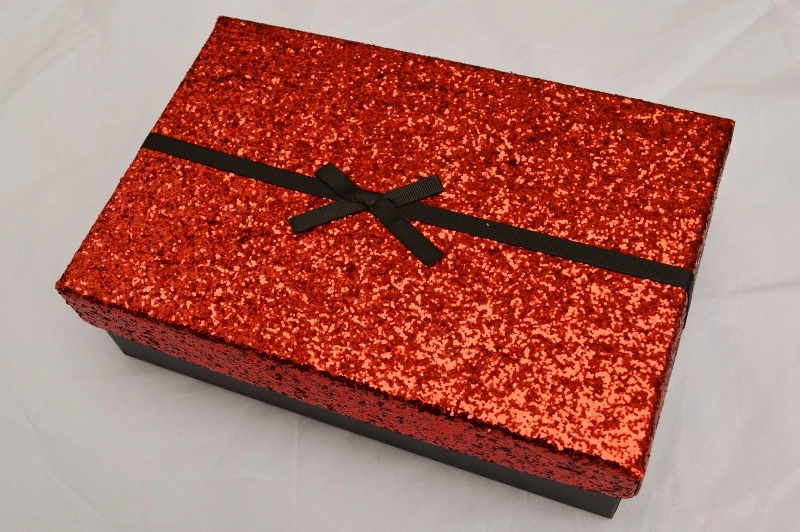 As you can see, my swap from Chrissie came beautifully packaged.  The box itself is stunning, and puts the cardboard one I sent her to shame!  I'll definitely be using it to store things in, probably rings or nail varnishes.
There were eight wrapped gifts in the box, including a jewellery box which I was really excited about.  I hurriedly unwrapped everything, and was delighted with all that Chrissie sent.  I must say she chose well!  Here's what I got…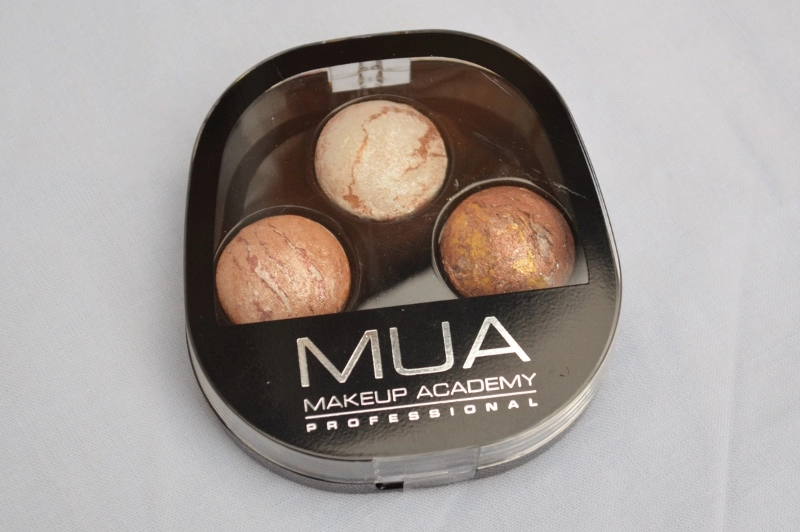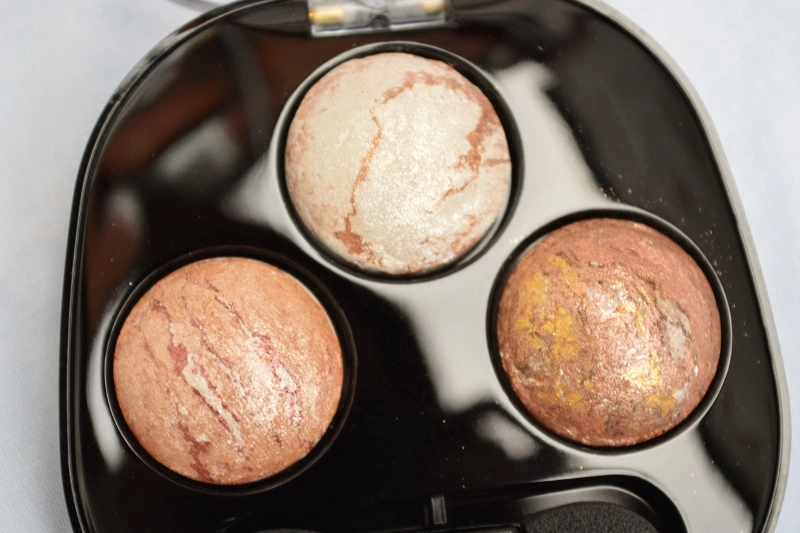 The first gift is this Baked Merged Trio Eyeshadow from MUA, in shade 'Emotions'.  All three shades have a slight shimmer to them, and are impressively pigmented.  The neutral tones are perfect for a daytime look, and I can see myself using these shades a lot for a work make up look, although with some dramatic eyeliner they could easily be dressed up.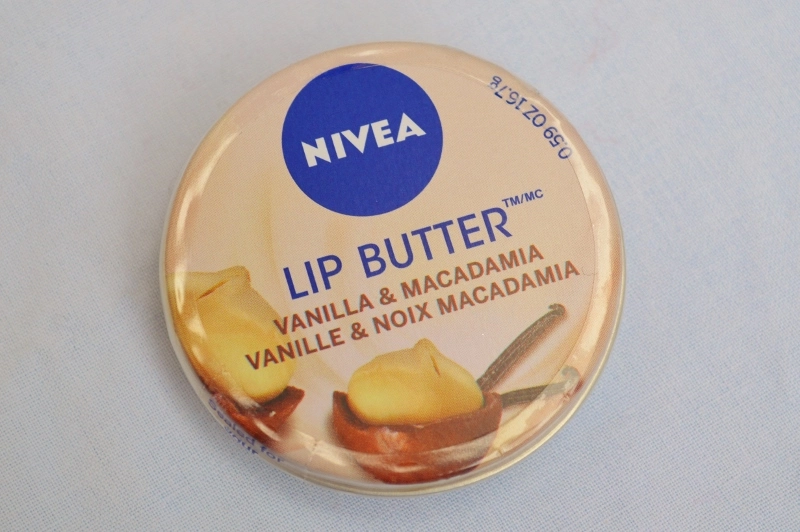 My lips get very dry at this time of year, so finding this Nivea Lip Butter in the box was much appreciated!  The lip butter feels lovely and nourishing, and smells amazing too, like vanilla and macadamia.  This has now become a winter essential for me and comes everywhere with me.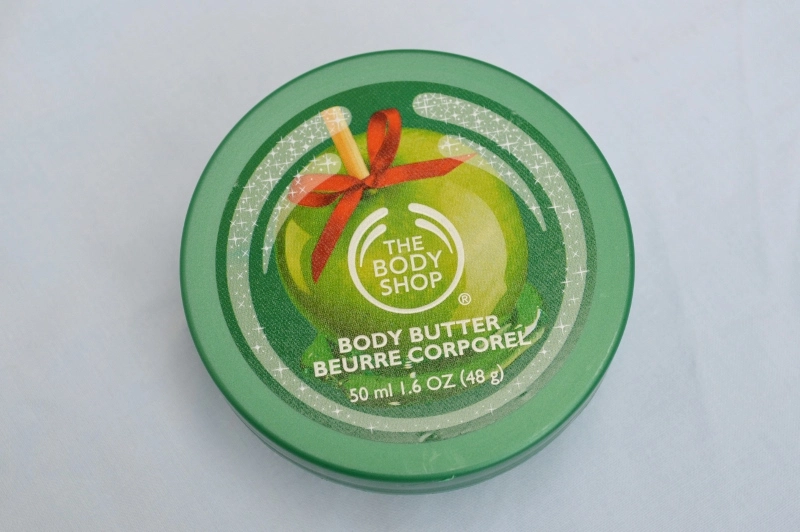 I spotted this Body Shop Glazed Apple Body Butter when browsing The Body Shop website a few weeks, and was really intrigued by it, so as you can imagine I was pleased to find this in the box too!  I use body butters on a daily basis and have done for years, so this was very well chosen, and is incredibly moisturising.  The Glazed Apple scent is lovely too – fruity, but also sweet and creamy.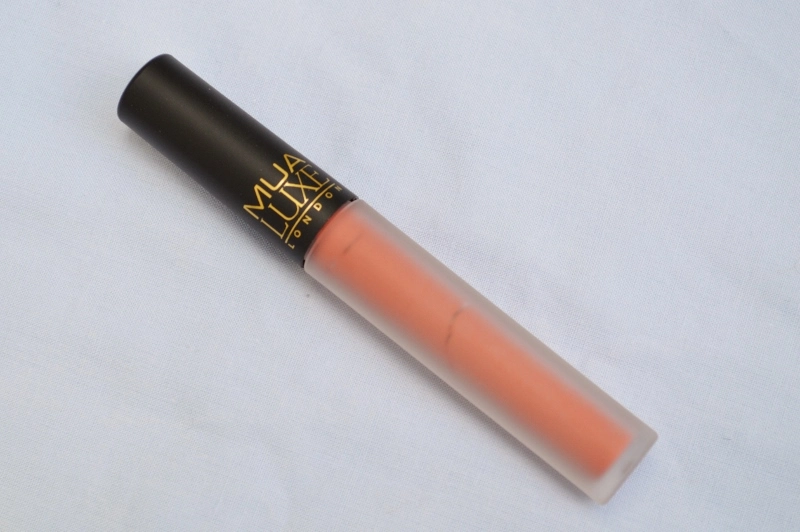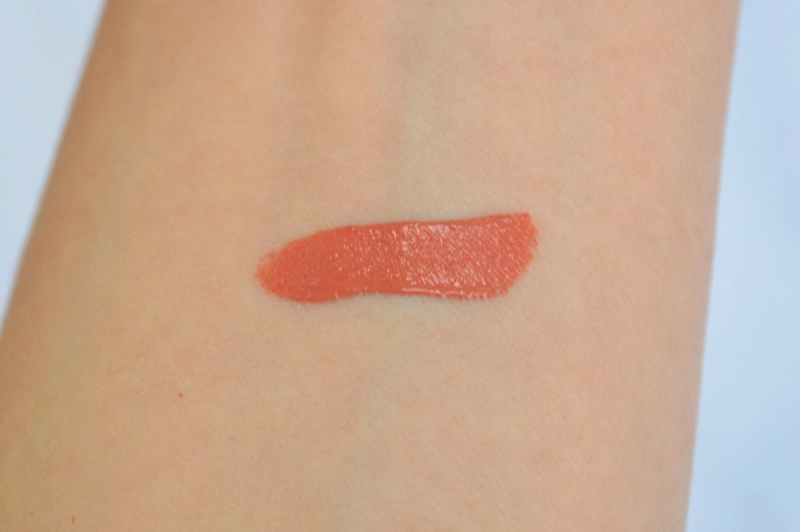 Yet another product that I've been wanting to try – MUA Luxe Velvet Lips!  This shade is called 'Serene', and is a dark peach shade with a pink undertone.  It's very highly pigmented, has a creamy texture so applies beautifully, and is long-lasting.  I like it, and aesthetically, I also like the frosted tube.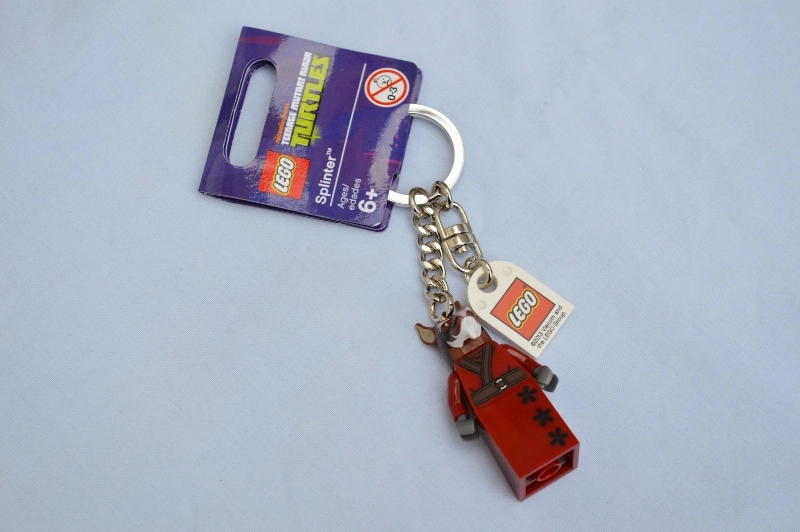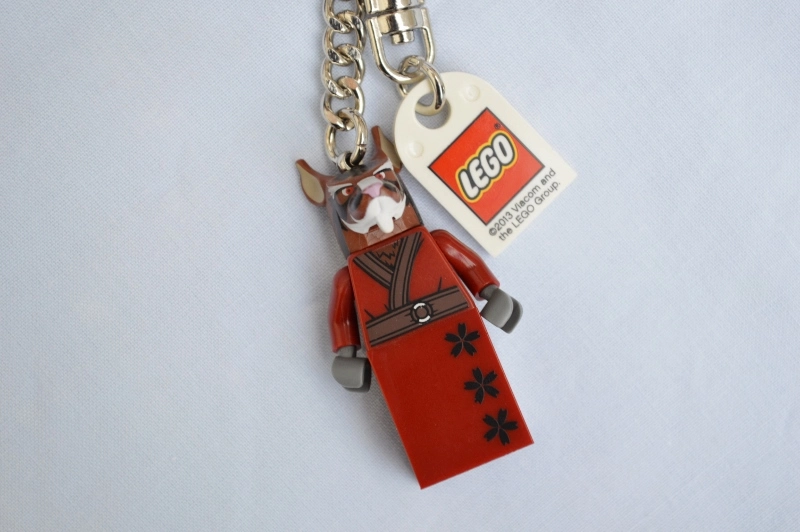 This awesome keyring is triple awesome – it's Splinter from Teenage Mutant Ninja Turtles, which I've loved since I was a kid, he's a rat, and it's lego!  I'm going to hang this from my bag because I'm cool like that.  Isn't he fab?!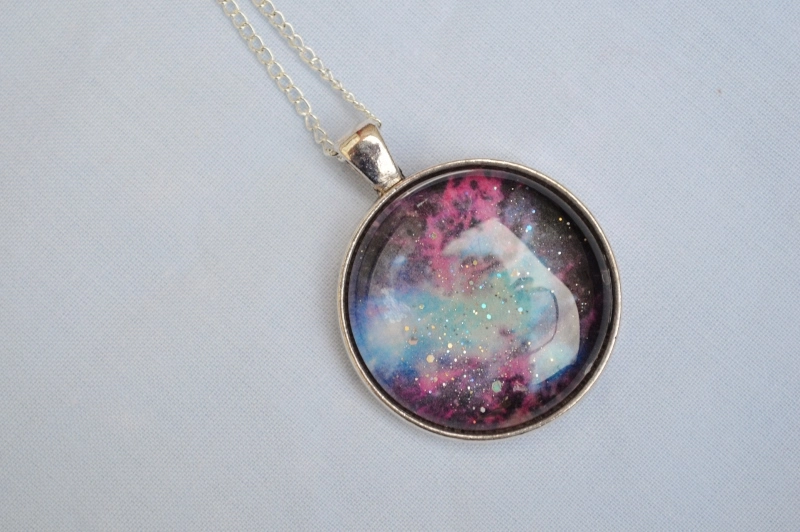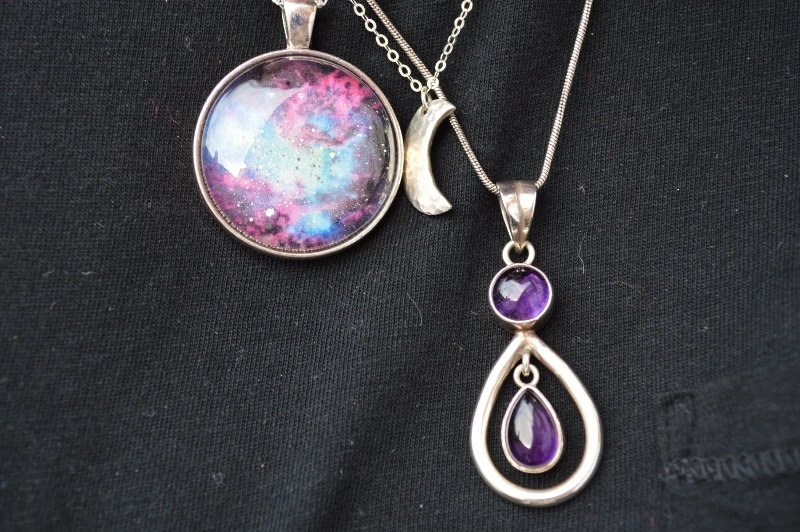 Chrissie made this galaxy necklace herself, and it's my favourite item that she sent me.  It's really well made, and purple, pink and turquoise happen to be my favourite colours.  I've been wearing it a lot since I got it, sometimes alone, but also layered with a couple of my other favourite necklaces, which I think looks great on a plain top.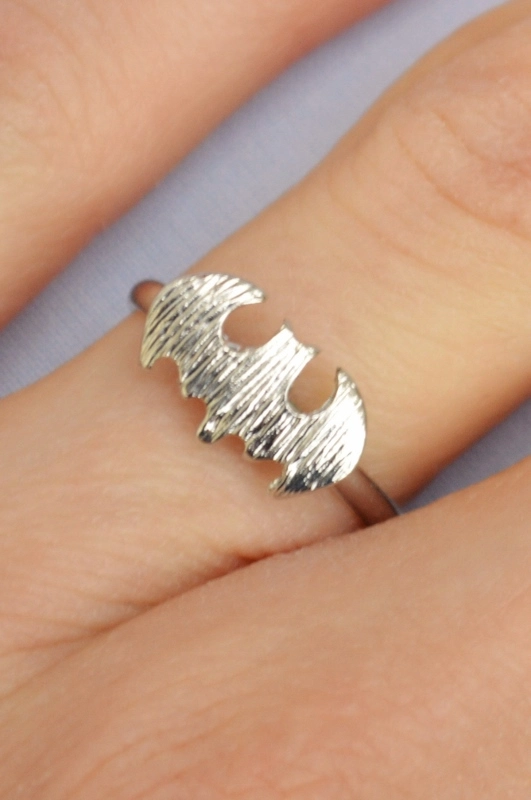 Batman!  A Batman ring!  I'm sure it's clear by now that I'm a big Batman fan, and this ring is absolutely fab.  I really like how subtle it is, whilst also being super cool.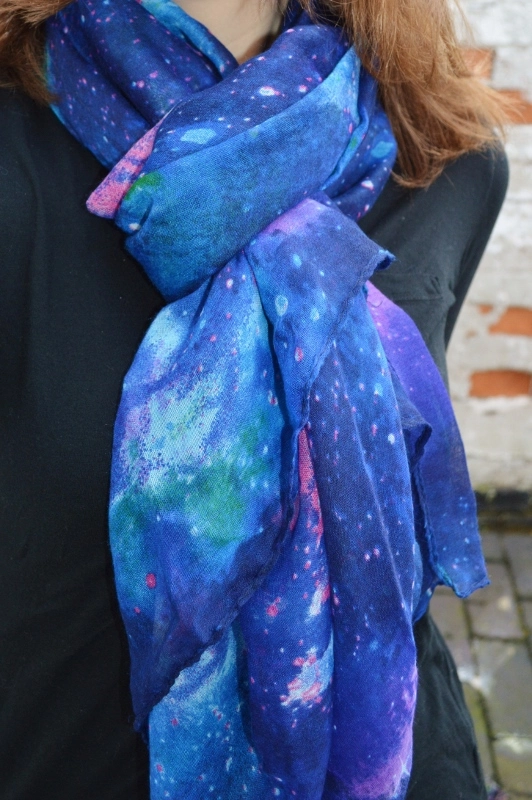 This pretty galaxy scarf has the same colour palette as the necklace Chrissie made, and is so soft and snuggly and warm.  I've been wearing this lately to add a splash of colour to some of my darker winter outfits, and it seems to attract compliments!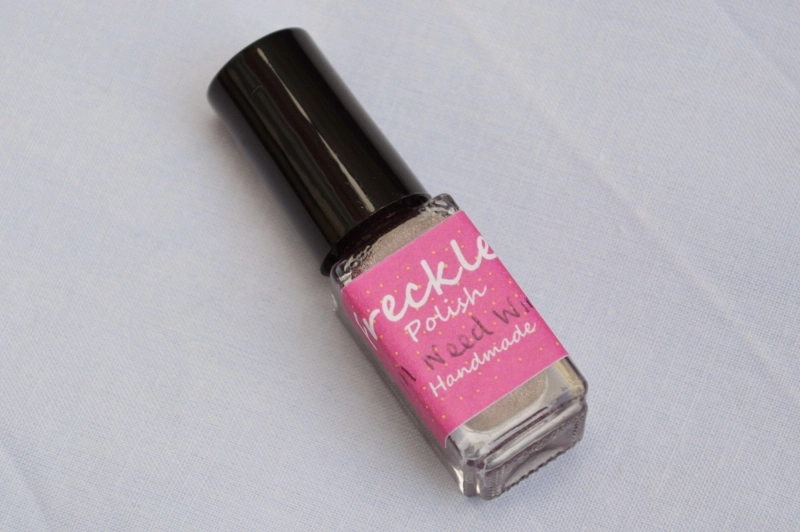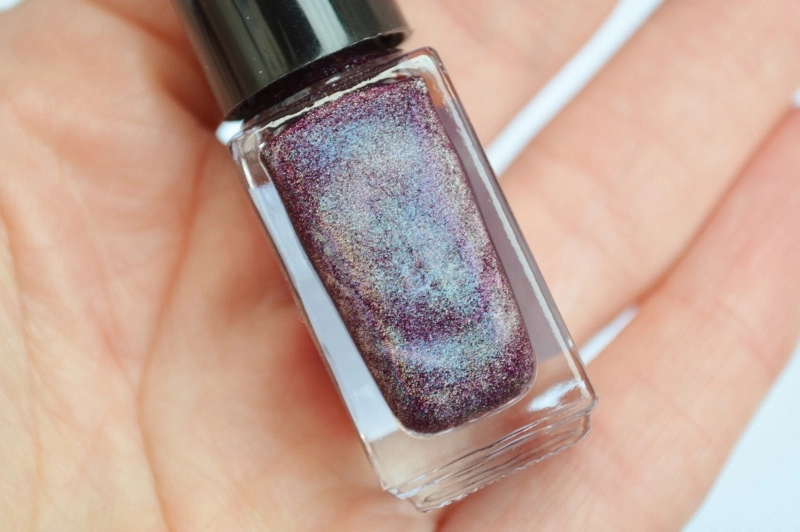 Purple shades and holo effects are two of my favourite things to decorate my nails with, so this nail polish from Freckles Polish is perfect for me.  The shade is called 'I'll Need Wine', and is a rich purple colour, a bit like red wine, with a beautiful holo shimmer.  Unfortunately I didn't get any photos of me wearing it, but it applies nicely and is stunning on – fabulous for the festive season.  Chrissie recently sent me some stamping plates too, so I plan on creating some looks soon using them and this polish, which I'll be posting about soon.
I'm really happy with everything Chrissie sent me (thanks Chrissie!), and I hope we can do another swap one day!  To see what I sent Chrissie in return, you can check out her post here.
Have you taken part in any Christmas swaps this year?  If so, what did you send/receive?  I'd love to see your posts about it!
Naomi x
8
Bubbles & Butters are a new and exciting bath and body company whose fun, vibrant image matches their lively range of products and scents.  The company currently have three main ice cream-inspired scents in their range – Feeling Hot Hot Hot Mango, Scream If You Wanna Go Strawberry and Crazy For Chocolate, but they will soon be introducing a Nice Ice Baby Vanilla scent.  The Bubbles & Butters collection of products features four body must-haves – bath bubbles, shower bubbles, body butter and lip balm.
I was recently very kindly sent a box full of Bubbles & Butters products to review, and after a couple of weeks of bubbly, buttery pampering, I am ready to share my thoughts on the range!
The products I received were…
Scream If You Wanna Go Strawberry Bath Bubbles
Crazy For Chocolate Shower Bubbles
Scream If You Wanna Go Strawberry Lip Butter
Crazy For Chocolate Body Butter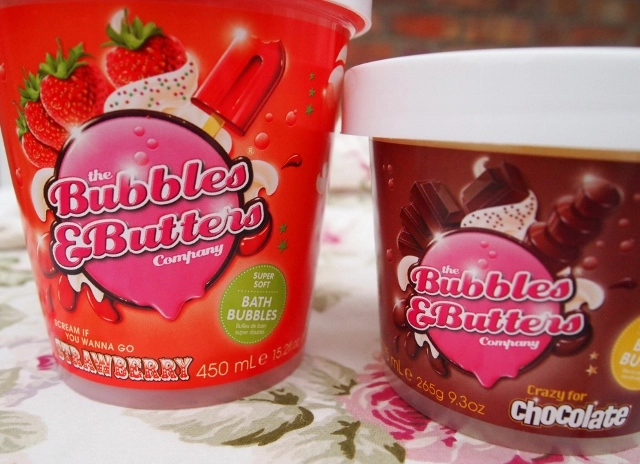 I really love Bubbles & Butters bright and quirky packaging – it's modern and eye-catching, and would definitely stand out on any shelf!  The shower bubbles come in a classic, large squeezy tube, the bath bubbles and body butter both come in chunky screw top tubs, and the lip balm has a clickable lid and looks like a miniature version of the bath bubbles.  The bright colours and scent names are just so fun as well, and bring to mind spontaneous, carefree summer days – just what we all need reminding of during the cold winter months!
Here's what I think of each product…
Scream If You Wanna Go Strawberry Bath Bubbles
Scream If You Wanna Go Strawberry Bath Bubbles is a gorgeous bright red and has a very strong strawberry scent.  In fact, it smells just like a strawberry ice lolly, and looks a bit like a melted one too!  At first I didn't think the packaging was practical for a bubble bath, but it's actually quite easy to control how much bubble bath you pour, and it doesn't make a mess of the tub.  I find it is best to add a fairly generous glug of the bath bubbles to the bath water a few minutes before turning the tap off, as the bubbles foam up really well, extremely quickly.  The bubbles give the water a delicate pink tinge, and the strawberry scent lingers in the air too, which is lovely.  The bath bubbles have a wonderful moisturising effect on the skin, which softens without leaving a horrible soapy layer behind like some bubble baths do.  Overall, Scream If You Wanna Go Strawberry Bath Bubbles is a great example of a quality bubble bath, and at £6.00 for 450ml it's a nice little treat for you and your skin.
Crazy For Chocolate Shower Bubbles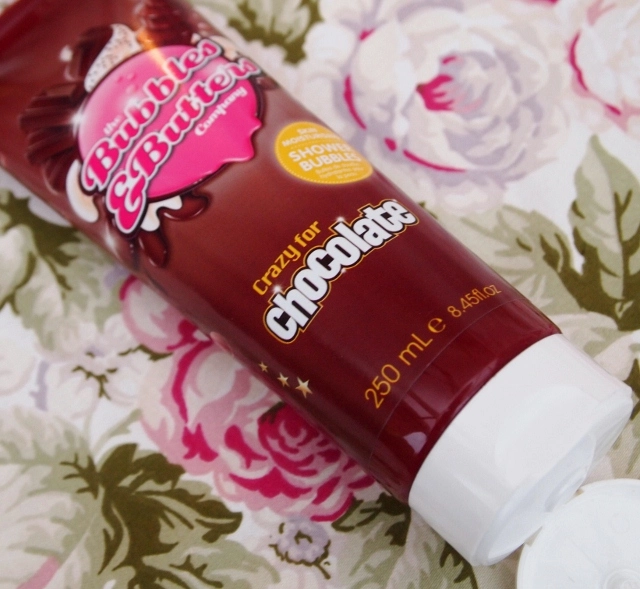 The Crazy For Chocolate Shower Bubbles is my favourite Bubbles & Butters product out of the ones I have tried, and I have used it almost every day since I received it.  It isn't brown like you'd expect, but a clean-looking white shade, and has a rich, sweet scent of cocoa.  The gel is very creamy and lathers into masses of moisturising bubbles quicker than any other shower gel I have ever used!  Because of its impressive lathering abilities, a little goes a long way with these bubbles, so a £2 coin size is enough for your whole body.  After using Crazy For Chocolate Shower Bubbles, I always find that I can smell the chocolate scent on my skin for a long time, and if I use it in the bath with the Strawberry Bath Bubbles the scent layers to form chocolatey, strawberry goodness!  The Shower Bubbles cost £4.00 for 250ml – I feel are purchase coming on!
Scream If You Wanna Go Strawberry Lip Butter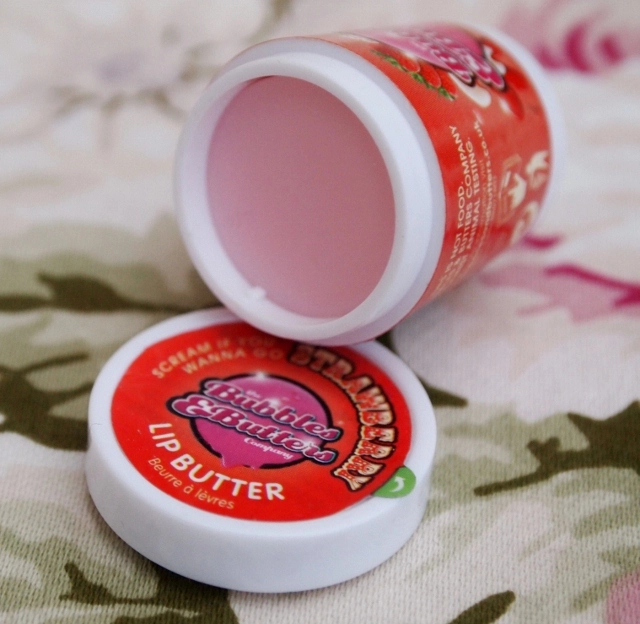 This lovely little lip butter is the perfect size for your pocket, make up bag or handbag.  It is a delicate pink colour and smells just like McDonald's strawberry milkshake – yum!  I'm a sucker for lip balms and this is a great one.  It doesn't leave any colour on the lips, but it does make them shine and, most importantly, it smooths and softens your lips whilst also protecting them from the elements.  Luckily, it isn't waxy or greasy, so it doesn't make your lips feel horrible.  Bubbles & Butters Lip Butters cost £2.00 for 4 grams.
Crazy For Chocolate Body Butter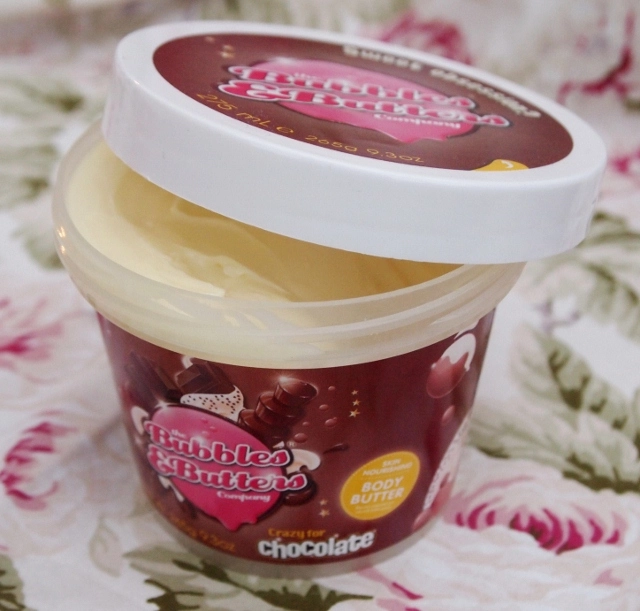 Last but not least, Crazy For Chocolate Body Butter.  As I've mentioned before, I am quite the hoarder of body butters so I know what makes a good one, and this most definitely is.  It is whipped to creamy perfection and smells richly of chocolate, just like the Shower Bubbles, so they compliment each other really well.  The butter massages in evenly and quickly, leaving no greasy residue behind, whilst locking in oodles of moisture which lasts all day through.  In sum – I love it!  All of the Body Butters in the range sell for a fantastic £6.00 for 275ml.
Every skin treat in the Bubbles & Butters range is top-notch – they look great, smell good enough to eat (I don't advise you do, though) and, most importantly, they do their job and they do it well!  I love how affordable each product is, and they really are brilliant value for money.  Overall, Bubbles & Butters are a breath of fresh air in a sometimes rather dull area of beauty, and I can't wait to try their new vanilla scent when it is launched!  If you'd like to know more about Bubbles & Butters, you can visit their website here.  Their products are currently not available from the website, but they are opening an online shop very soon, so keep an eye out!  However, you can find Bubbles & Butters in some large Tesco stores, or online at The Bath and Body Shop.
Which Bubbles & Butters product would you most like to try?
Naomi x
8

My third Chocolate Treat Week post is all about make up.  Believe it or not, I had to search high and low for chocolate scented and coloured make up products, but I found a couple of great ones in the end.  I've also created a yummy eyeshadow look to share with you, which uses three different shades of chocolate brown.  Enjoy!
For Lips… Palmer's Dark Chocolate & Peppermint Lip Butter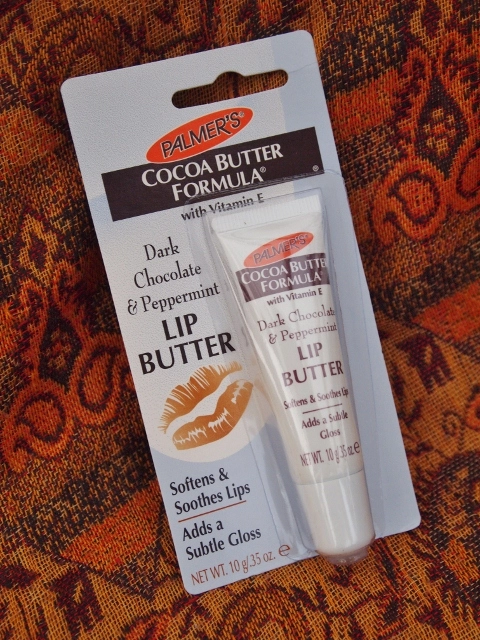 In my high and low search for chocolate lip products I discovered a myriad of chocolate lip balms, but none of them seemed to cut the mustard as a gloss, rather than just a protective balm.  In all honesty I was close to giving up, but then I found this…  Palmer's Dark Chocolate & Peppermint Lip Butter.
The Lip Butter has a lovely creamy formula which feels amazing on the lips.  You can tell from how it feels that it is intensely enriching, and because it's a butter and not a gloss it feels smooth and moisturising rather than sticky.  It  is also light in colour so doesn't leave a tint on the lips, but as the packaging states it adds a 'subtle gloss', which is what makes it makeup in my eyes.  The glossy shine it adds lasts for a long time, and can be worn over lipstick as well as directly on the lips.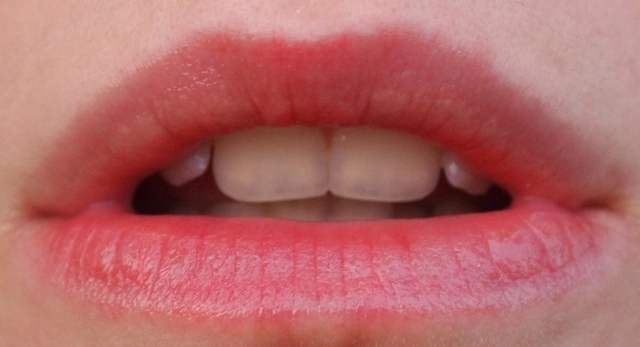 The minty chocolate scent of the Lip Butter is absolutely divine.  The fact that it is dark chocolate means that it isn't too sickly sweet, and the freshness of the peppermint gives it a sharp edge.  The mint also feels wonderful on the lips as it gives the lip butter a pleasant tingle.  Though it doesn't claim to be a plumping product I think it does have a slight, natural-looking plumping effect, but without the pain that some plumping glosses can cause!
Palmer's Dark Chocolate & Peppermint Lip Butter definitely does what it says on the tin.  It 'softens & soothes lips' almost instantly and leaves them feeling protected, but it has a big advantage over most lip balms by adding that 'subtle gloss'.  The Lip Butter is available in lots of high street shops (there's a list here), and usually retails for about £2.75, which is an excellent price considering it is a gloss AND a protective balm in one.
For Eyes… MUA Malt Chocolate Intense Glitter Eyeliner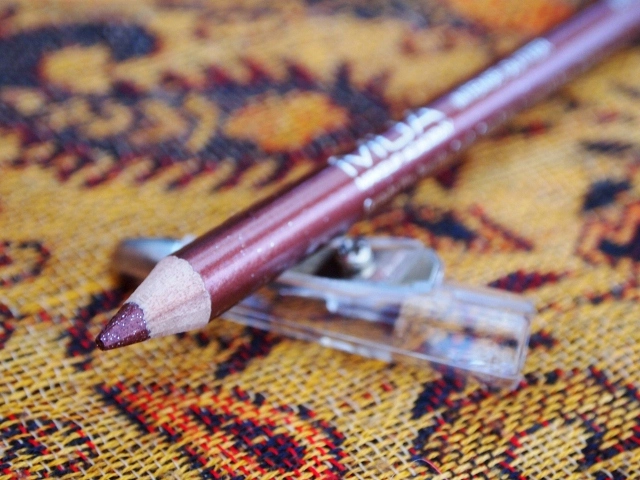 MUA's Malt Chocolate Intense Glitter Eyeliner is another quality MUA product.  Like all of their glitter liners it costs just £1, which is outstanding value as there's even a pencil sharpener incorporated into the lid!  The eyeliner is very creamy so it applies like a dream to both your waterlines and your upper and lower lash lines without pulling the skin at all.  The glitter is very fine too, so it adds a lovely shimmer without causing any irritation or heaviness on the eye.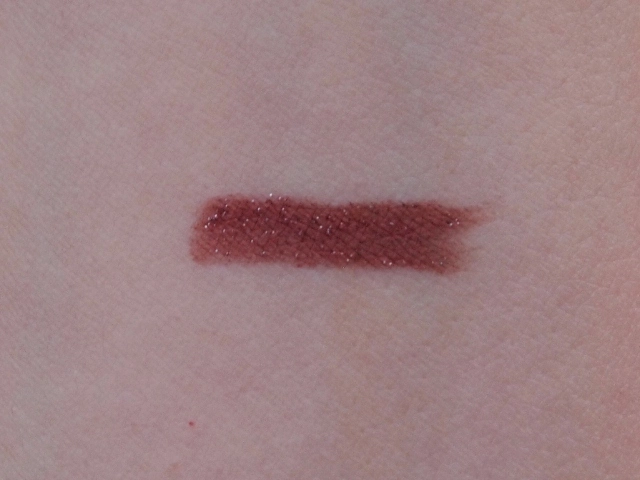 Malt Chocolate is a pretty, highly pigmented shade with a bronze tinge to it, which gives it that 'intense colour finish' – far from the dull, uninspiring look of most brown eyeliners!  What I like about this liner is that, once it dries, it doesn't smudge and it lasts a good long while before it comes off, keeping its bold colour for the duration of wear.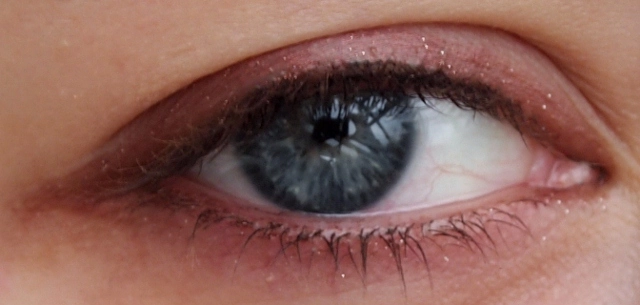 The eyeliner is also impressively versatile.  MUA state that it can be worn all over the eyelid, as a lip liner or as an all-over lip colour as well as an eyeliner, and due to its creaminess I think it would make a great lip product as it wouldn't be drying at all.  What a fab thing to throw into your suitcase for a holiday or into your clutch on a night out!
If you'd like to try any of MUA's Glitter Intense Eyeliners they are available in Superdrug stores or online here.
Create the Look… Triple Chocolate Eyes

The above look was created using three different shades of chocolate coloured eyeshadow.  MUA's Chocolate Box Trio Eyeshadow would be perfect for this, but I actually used their Immaculate Collection Palette.  All you need to use to copy this look is a white chocolate shade as a highlighter, a milk chocolate shade as your main colour, and a dark chocolate shade for shadows and creases.  The shades I used from the Immaculate Collection were these…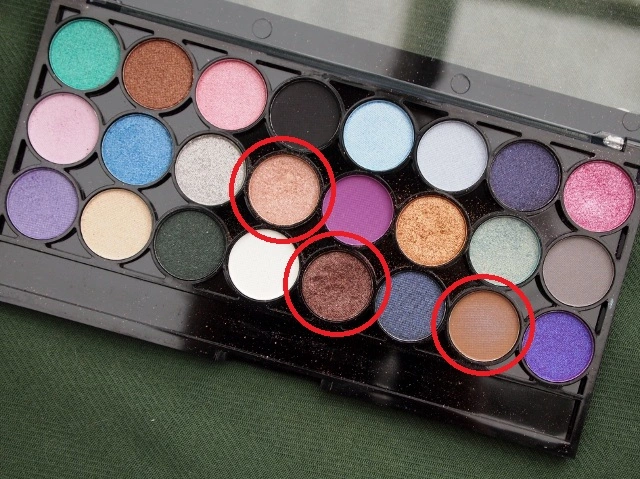 White Chocolate: Shade 12
Milk Chocolate: Shade 23
Dark Chocolate: Shade 21
And here's how you get the look:
Prepare your eyelids right up to the brow bone with your preferred eye primer.
Apply your milk chocolate shade to your eyelid using a flat eyeshadow brush, from corner to corner and up to the crease.
Using another flat eyeshadow brush sweep your white chocolate shade above the milk chocolate shade, up to the brown bone.
Using a shading brush, apply the dark chocolate shade along the crease of your eye, thickening the line at the outer corner and taking it down to the corner of your lashes.
Blend the dark chocolate shade into the edge of the milk chocolate shade with a clean eyeshadow brush.
Using a fine brush, apply a small amount of the white chocolate shade to the inside corner of your eye and a third of the way under your lower lash line.  Fill in the rest of your lower lash line with the dark chocolate shade.
Brush any loose eyeshadow from your face using a clean brush and finish with a generous coat of your favourite mascara, preferably brown.
The Last Rolo…
The Last Rolo is where I hand over the last few words of each Chocolate Treat Week blog post to another blogger.  In the run up to Chocolate Treat Week I asked five of my favourite bloggers a couple of questions about their favourite chocolate treats, and today's answers come from Claire of Nocturnal Beauty.
Can you recommend any chocolate scented, flavoured or themed beauty/fashion products?
I can definitely recommend the Whipstick lip balm from Lush. It's my by far my favourite chocolate scented product that I've tried. It smells just like chocolate orange, and it isn't overly sickly or too sweet, it smells absolutely divine. I do catch myself smelling the tin quite a lot! It feels lovely too and leaves a bit of a brown tint to the lips. It's perfect for anybody who loves chocolate!
What is your favourite chocolate treat to eat, and why?
My favourite chocolate treat to eat is probably chocolate cake. I eat far too much cake and it's a wonder I have any teeth left. I also make some seriously good chocolate fudge!
Thanks for reading today's Chocolate Treat Week installment!  Please check back tomorrow for a post all about chocolate themed nails, featuring some new nail art!
Naomi x