Posts tagged
Metal
2
Today my fiancé and I decided to go out for lunch, to one of my favourite bars (the Orange tree in Leicester – they serve a cracking veggie roast!)  Afterwards, we went for a leisurely wander around town, did a spot of shopping and checked out the new Richard III monuments near the cathedral.  A lovely casual day called for a casual outfit, so I threw on this gorgeous draped hoodie with a basic tee, and my favourite pair of jeans.  I love anything acid wash and polka dots, and these jeans combine the two, and are made of light, stretchy denim so are incredibly comfortable.  They're a real wardrobe staple and have seen me through Spring and Summer, but will also be great for Autumn, worn with a pair of chunky boots.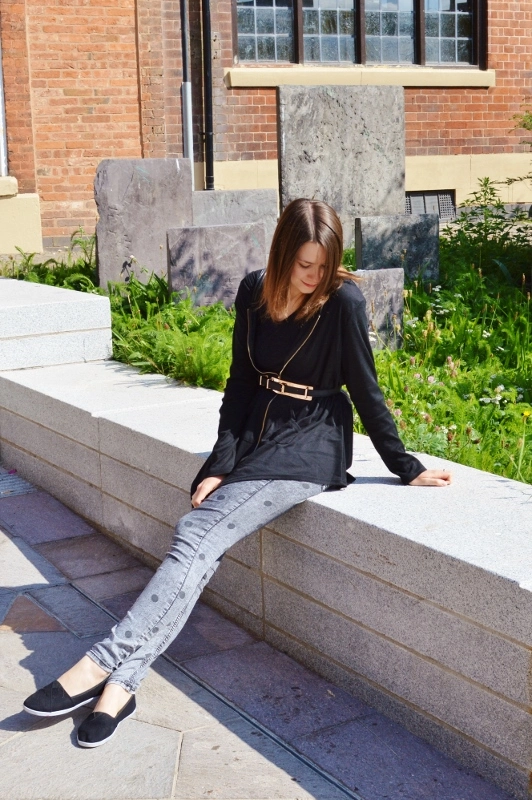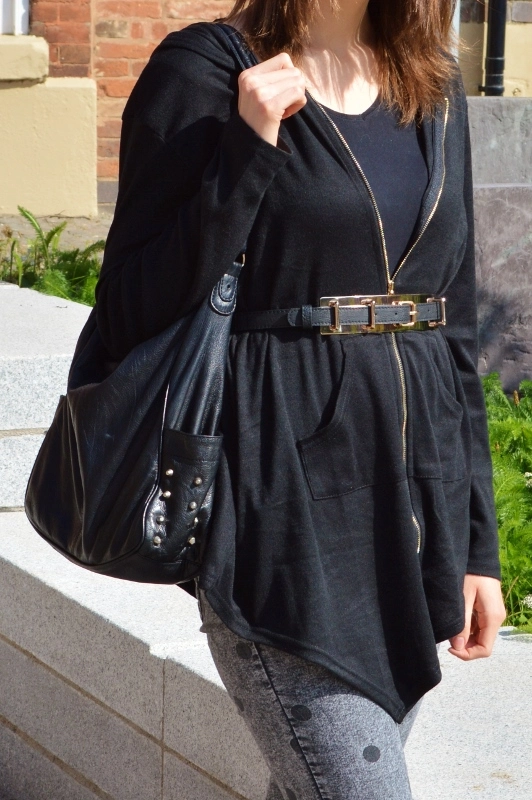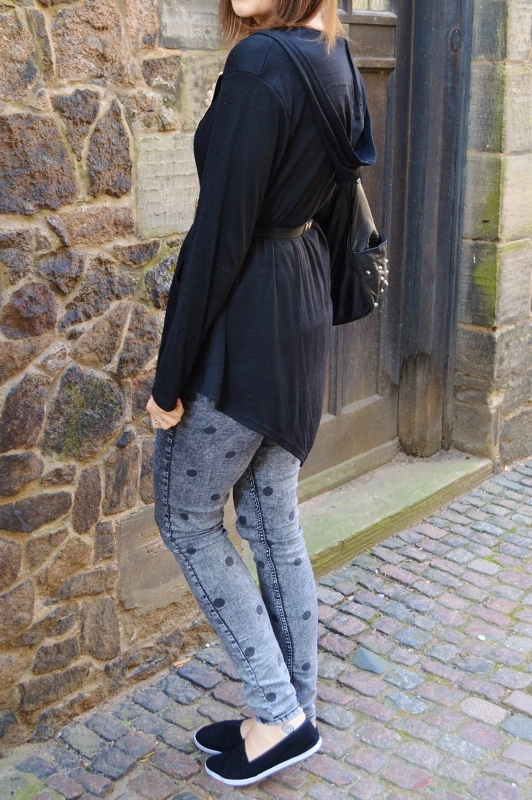 DressLink.com Draped Hoodie / H&M Polka Dot Acid Wash Jeans / Primark Basic T Shirt / Primark Metal Waist Belt / Primark Canvas Shoes / Thrifted Topshop Leather Stud Bag
I ordered this oversized draped hoodie from DressLink.com a few weeks ago.  It was originally intended to be for my mum, but unfortunately it doesn't quite fit her right, so she let me have it.  Believe it or not, this is an XXXL, but Asian sizes are a LOT smaller than our Western sizes, so it fits me, a size 10/12, like a baggy hoodie.  There's no way it's a UK size 20 like the website suggests!
Tops like this are absolutely perfect for this time of year.  It was sunny today, so too warm for a coat, but there was a hint of Autumnal coolness in the air, so it kept me nice and cosy, and the hood is great for when you want an extra bit of warmth.  I also really love the length and draped style of the hoodie as it gives it a slightly witchy edge, and though it looks good baggy, I adore the more tailored shape of it when worn with a waist belt over the top.
What pieces will be seeing you through the Summer to Autumn transition?
Naomi x
2
I was recently contacted by the lovely Julie of independent jewellery retailer Accessories Boutique, who very kindly offered me the chance to choose a piece from her online store to review.  Accessories Boutique is a veritable, virtual treasure trove of individual pieces that have been specially chosen to suit all styles, and they stock everything from necklaces and bracelets, to scarves and bags.  There are hundreds of beautiful pieces available, so much so that it took me a while to choose one, but I eventually settled on this stunning Heavy Spike Bracelet, which retails for £18.00.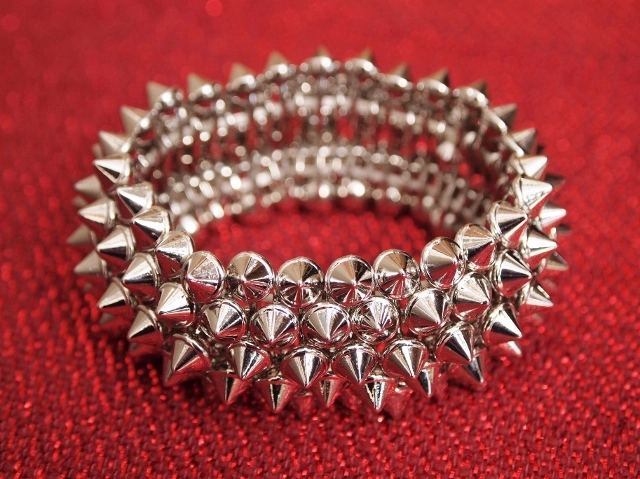 I've always had a thing for studs and spikes on accessories, and used to wear a lot of them during my 'Goth' teen years, but unlike the cheap, tacky stuff I had back then, this bracelet is classy, eye-catching, and a bit more 'grown up'.  It consists of five rows of high-shine metal spikes, which are blunted so they won't snag on clothes, and are securely joined at the back and strung onto robust elastic.  As its name suggests, it is also quite heavy, but not to the point that it's uncomfortable to wear.  Everything about this bracelet, especially the weightiness, oozes quality, and it is incredibly well made.  It fits really well too as it's slightly curved, so has an elegant shape and sits neatly against the wrist.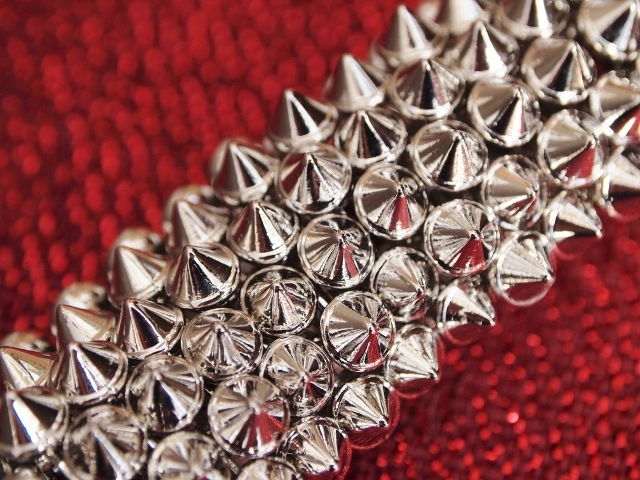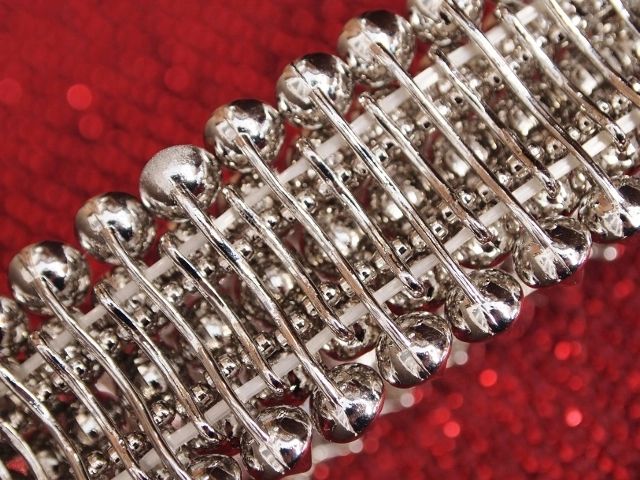 This is undoubtedly a statement piece which is perfect for the current Gothic and Biker trends, and it is also very versatile.  I usually wear a lot of thin bracelets stacked on top of each other, but this is so big and bold I can get away with wearing it on its own, with whatever I'm wearing that day, and it always grabs people's attention.  In fact, I love it so much that I plan on featuring it in a few up and coming outfit posts, so check back soon for those.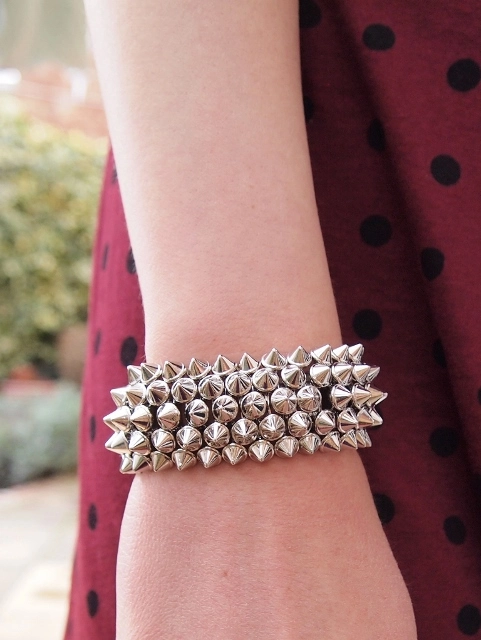 You can get your own Heavy Spike Bracelet, and loads of other gorgeous pieces, online at Accessories Boutique, and if you spend £20 delivery is free.
Happy shopping!
Naomi x
*This Heavy Spike Bracelet was sent to me by Accessories Boutique for review purposes.  All opinions expressed are honest and my own.*