Posts tagged
Belt
0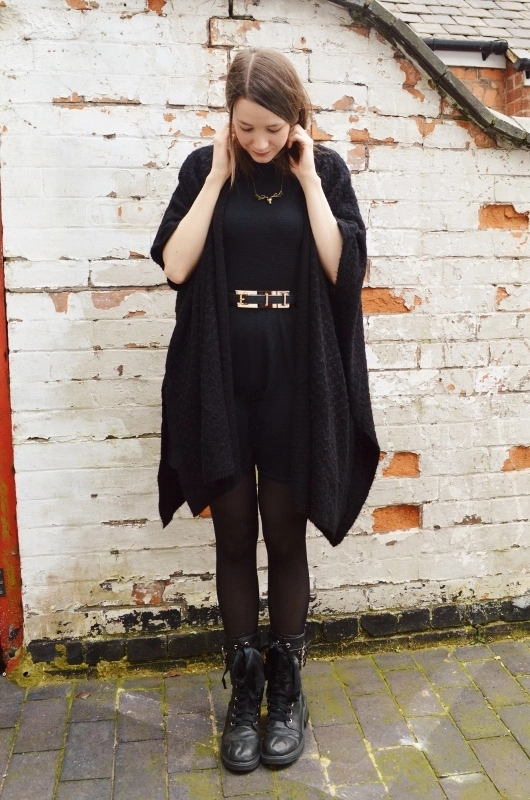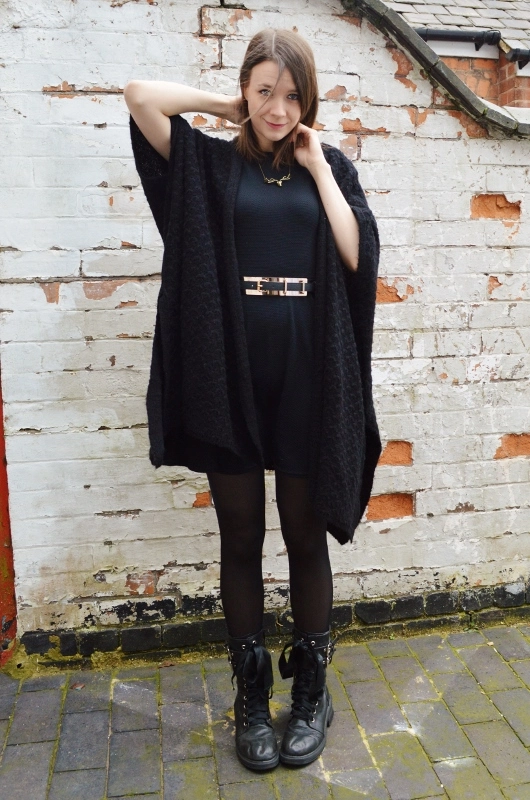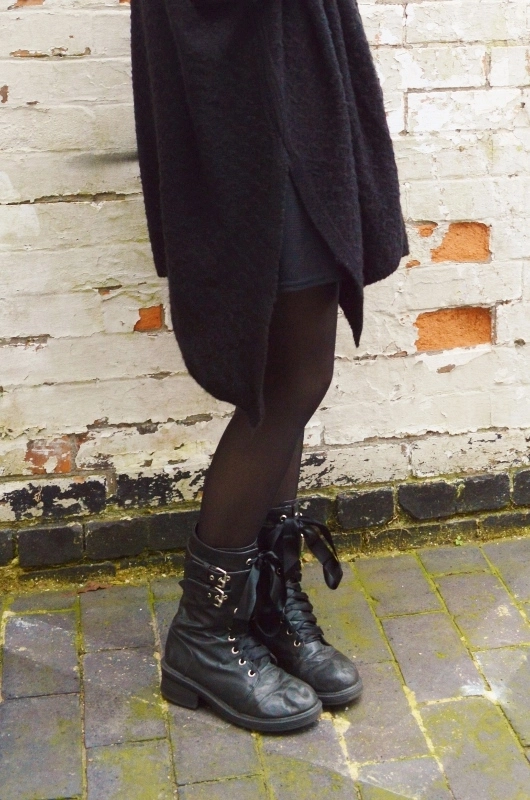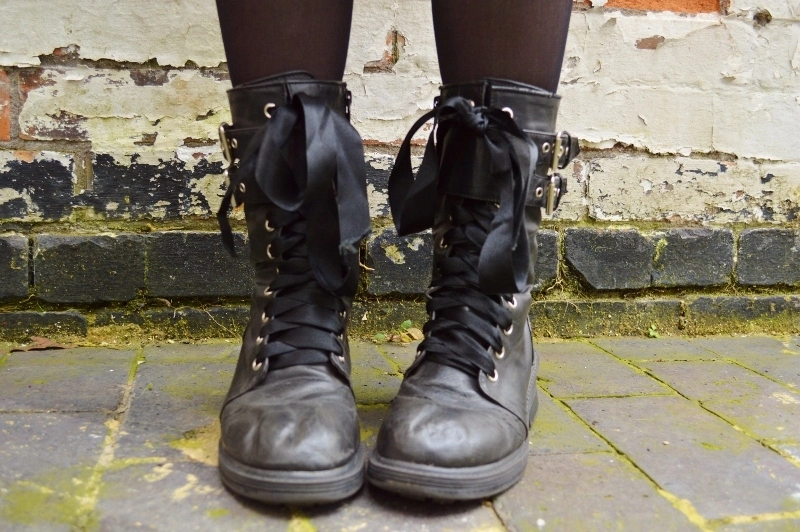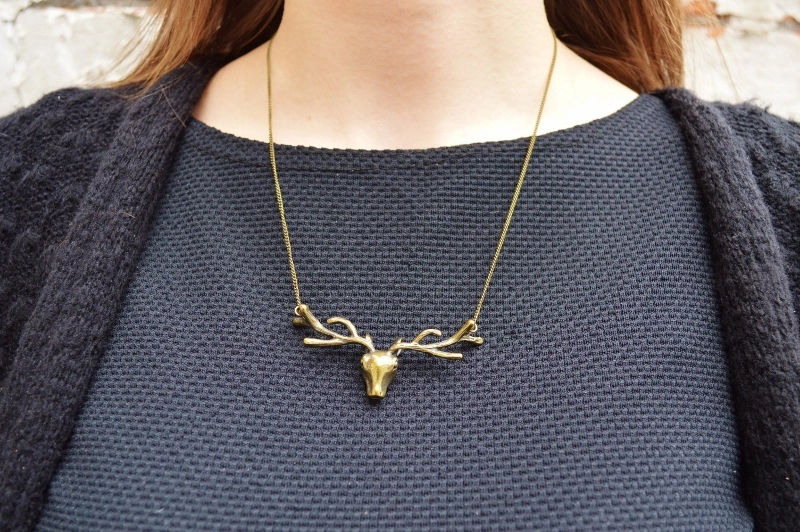 Primark Skater Dress / Primark Light Knit Cape / Primark Metal Waist Belt / Unbranded Stag Necklace / Schuh Biker Boots
After my foray into brightly coloured floral last week, today's outfit post is back to my usual 'black on black'.
I can't get enough of my new Primark cape at the minute.  It's lovely and light so is perfect for every day wear during spring, and looks great with pretty much anything.
The dress is one of my wardrobe staples, and has already seen me through a couple of years of wear.  I'm not usually a fan of high necks as I find them irritating, but this one is surprisingly comfortable and flattering.  Team it with a statement necklace, like this antique gold stag head, and a waist belt, and you're good to go.
I found the boots lurking at the back of my wardrobe last week.  I haven't worn them for years, and they were a bit battered when I pulled them from the depths of my closet, but I think they look all the better for it.  They were originally from Schuh, but I replaced the laces with black ribbon when I first bought them.
Naomi x
2
Today my fiancé and I decided to go out for lunch, to one of my favourite bars (the Orange tree in Leicester – they serve a cracking veggie roast!)  Afterwards, we went for a leisurely wander around town, did a spot of shopping and checked out the new Richard III monuments near the cathedral.  A lovely casual day called for a casual outfit, so I threw on this gorgeous draped hoodie with a basic tee, and my favourite pair of jeans.  I love anything acid wash and polka dots, and these jeans combine the two, and are made of light, stretchy denim so are incredibly comfortable.  They're a real wardrobe staple and have seen me through Spring and Summer, but will also be great for Autumn, worn with a pair of chunky boots.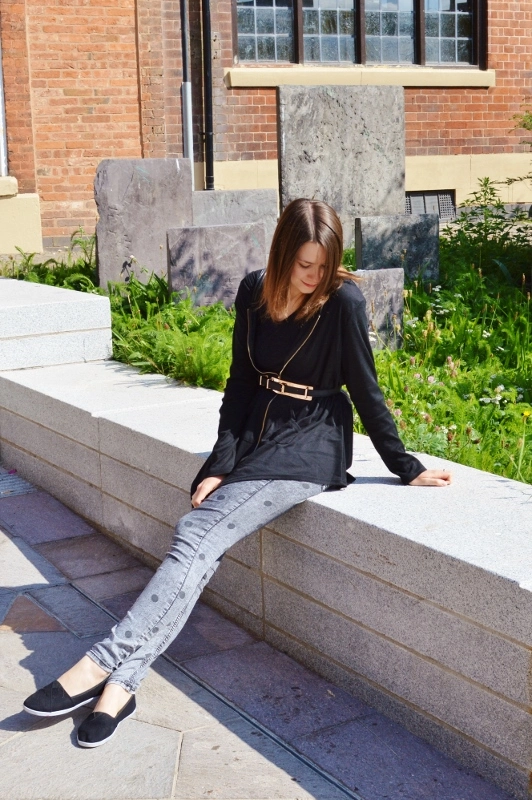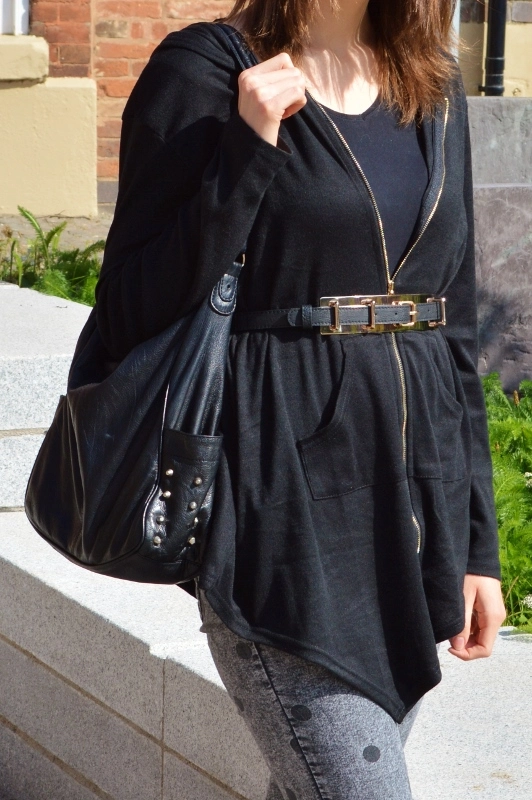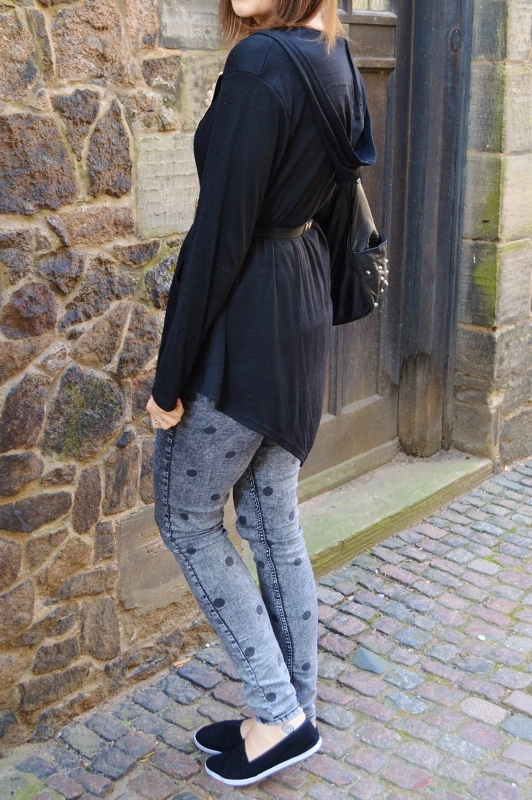 DressLink.com Draped Hoodie / H&M Polka Dot Acid Wash Jeans / Primark Basic T Shirt / Primark Metal Waist Belt / Primark Canvas Shoes / Thrifted Topshop Leather Stud Bag
I ordered this oversized draped hoodie from DressLink.com a few weeks ago.  It was originally intended to be for my mum, but unfortunately it doesn't quite fit her right, so she let me have it.  Believe it or not, this is an XXXL, but Asian sizes are a LOT smaller than our Western sizes, so it fits me, a size 10/12, like a baggy hoodie.  There's no way it's a UK size 20 like the website suggests!
Tops like this are absolutely perfect for this time of year.  It was sunny today, so too warm for a coat, but there was a hint of Autumnal coolness in the air, so it kept me nice and cosy, and the hood is great for when you want an extra bit of warmth.  I also really love the length and draped style of the hoodie as it gives it a slightly witchy edge, and though it looks good baggy, I adore the more tailored shape of it when worn with a waist belt over the top.
What pieces will be seeing you through the Summer to Autumn transition?
Naomi x
2
Last Sunday I visited my favourite car boot sale once again, and came away with yet another decent fashion haul.  I managed to find a few things that I've actually been looking for for a while, which I was very pleased about, as well as a few other unexpected items.  Here's what I bought…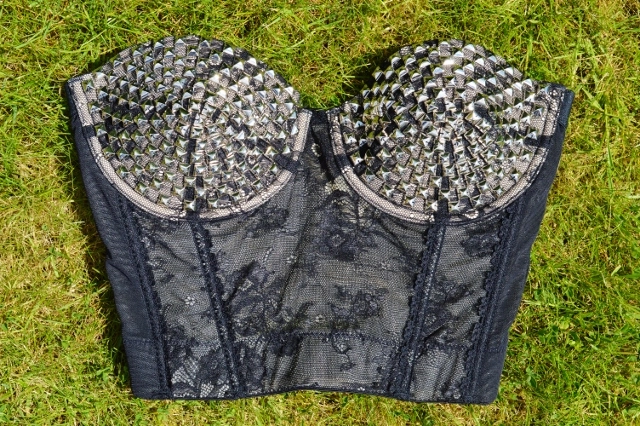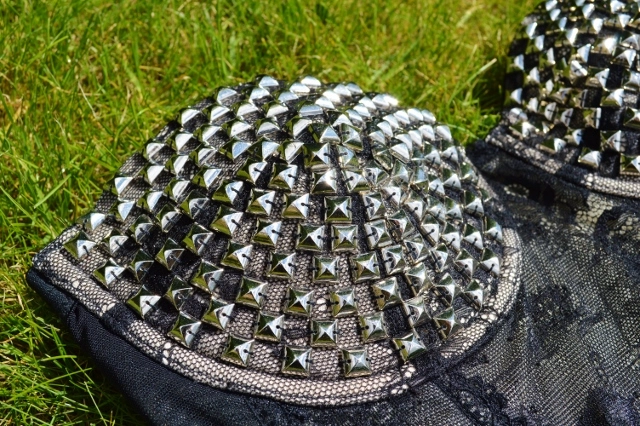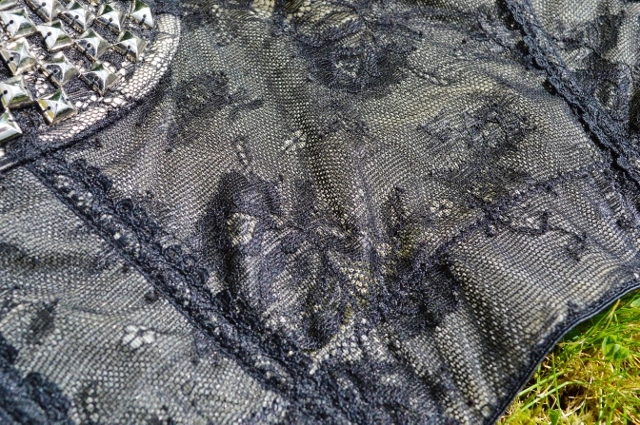 Topshop Studded Lace Bralet £5
This cost a bit more than I usually like to spend on items at a car boot sale, but I just couldn't resist the studs and lace!  Topshop bralets seem to be really popular at the moment, and this one has an RRP of £38, so I'm pleased to have found one in my size at a fraction of the price.  According to the lady I bought it from it is unworn too, other than being tried on.
New Look Cutout Heart Dress £2
I've been wanting a cut out heart dress for ages, so when I spotted this under a huge pile of clothes on one stall, I snapped it up.  It's exactly my size too!  I love it, and it looks like it's never been worn which is a bonus.
Sans Souci Polka Dot Dip Hem Blouse £2
This is one of my favourite finds of the day.  I'm currently on the look out for more summer tops, and this will be perfect for warm, sunny days.  The dip hem and button back detail are really lovely, and are what caught my eye when I saw it on the rail.  Sans Souci isn't a brand I'm familiar with, but the blouse still had a TK Maxx tag attached, and it cost £9.99 new.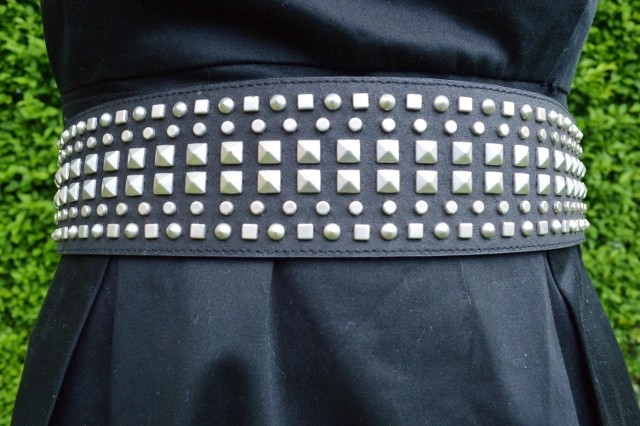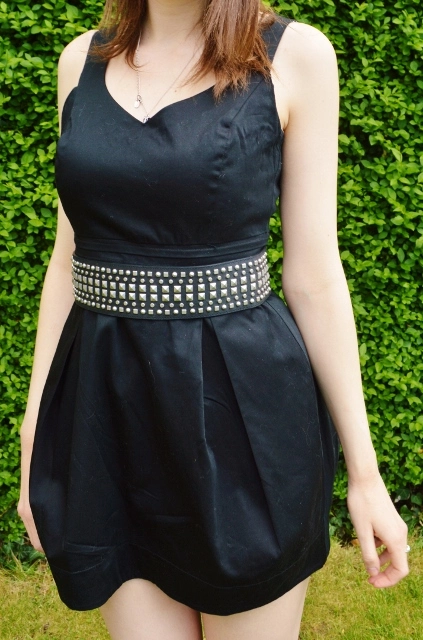 Oasis Leather Studded Waist Belt £1.50
Again, I've been trying to source a decent waist belt for a while, so this was another bargain I couldn't pass up.  The belt is made from real leather, and still had its Oasis tags attached so is brand new.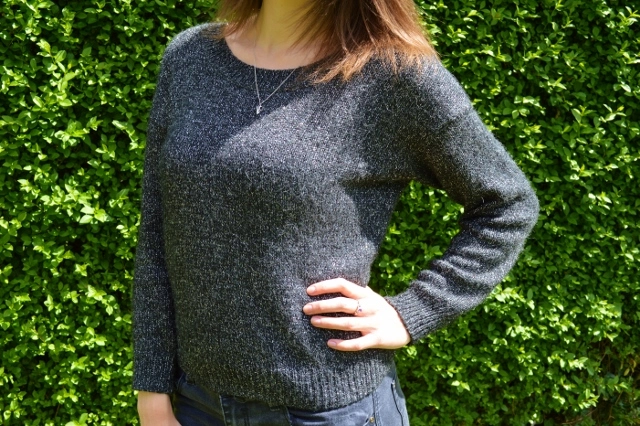 H&M Silver and Grey Jumper £1
It's not like I need another jumper, but I actually saw a similar jumper to this in H&M last season and wanted one, so I bought it anyway.  I thought it'd be itchy, but it's actually nice and soft, and I know I'll get plenty of wear out of it.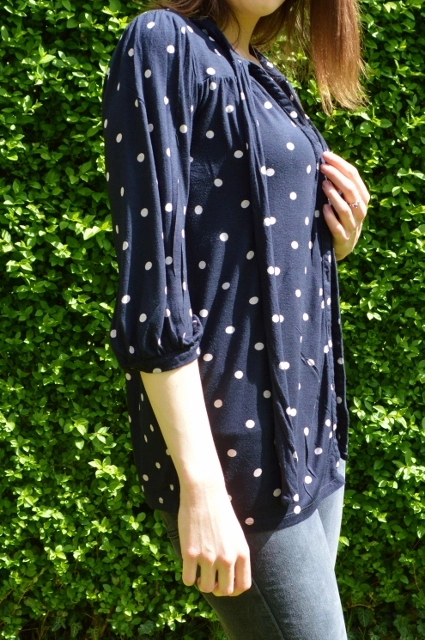 Next Oversized Polka Dot Shirt 25p
This shirt is three sizes too big for me, but I bought it to wear it as an oversized cardigan during cool summer evenings.  And anyway, at 25p I couldn't say no.
Stuart Little Soft Toy 50p
And just because I have a soft spot for cuddly toys and rodents, I brought Stuart Little home for 50p.  He has slightly tatty whiskers and was a little grubby, but after a quick bath he's now squeaky clean (excuse the pun!)
Total: £12.25
What do you think of my latest thrifty finds?  Which piece stands out for you?
Naomi x