Posts tagged
Accessorize
6
Well!  After weeks of preparation – shopping, cooking and decorating – Christmas Day has been and gone, and we're all probably a few pounds heavier than we were this time last week!  I hope you all had a wonderful time, celebrating in your chosen way with the people you love, and I hope Santa brought you everything you wished for.  I personally had a great time!  The highlight of Christmas for me is playing games and doing quizzes with my family, and they were definitely done in abundance.
Christmas isn't just about the presents, but I got some really lovely fashion and beauty related things this year, so I thought I would share them with you today.  I also got a lot of chocolate, baking equipment, geeky stuff (including a bat detector which I've been wanting for AGES) and books – my friends and relatives know me well!
So, here are some of my Christmas gifts.  Apologies for the strange colouring in a few of the photographs…  They were taken in bad lighting!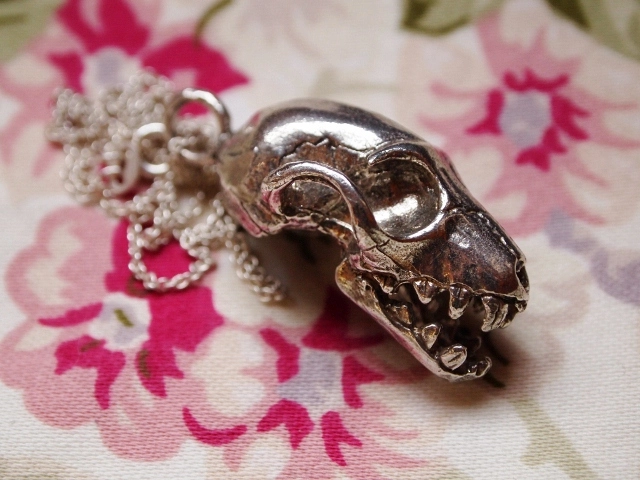 My dad bought me this absolutely beautiful sterling silver Bat Skull necklace.  He mentioned that he got it from Etsy and it was handmade in New York by an obviously very talented maker.  I instantly fell in love with it when I opened the box, and in my surprise I ended up dropping the box in my mug of tea, woops!  I adore bats so I am going to treasure this piece.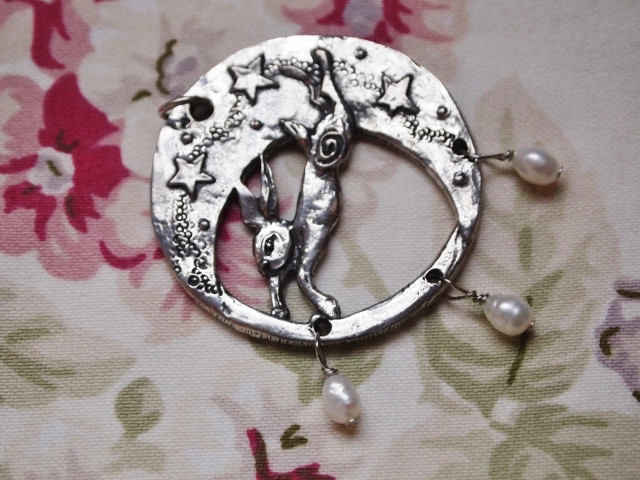 I also love hares, so my dad gave me this large pewter moon hare pendant as well.  Isn't it stunning?  I need to find a chain for this pronto so I can start wearing it.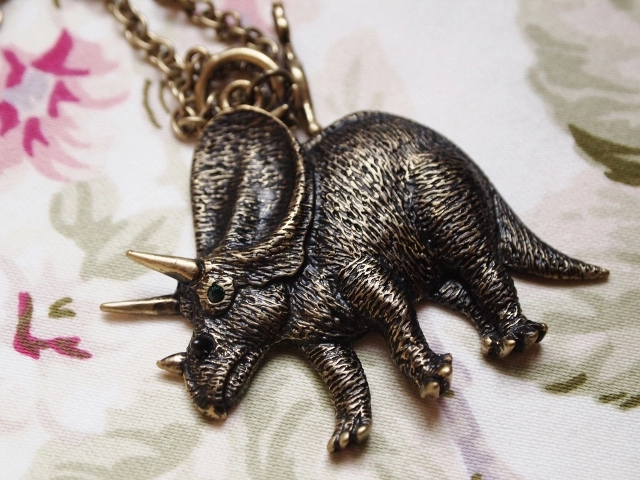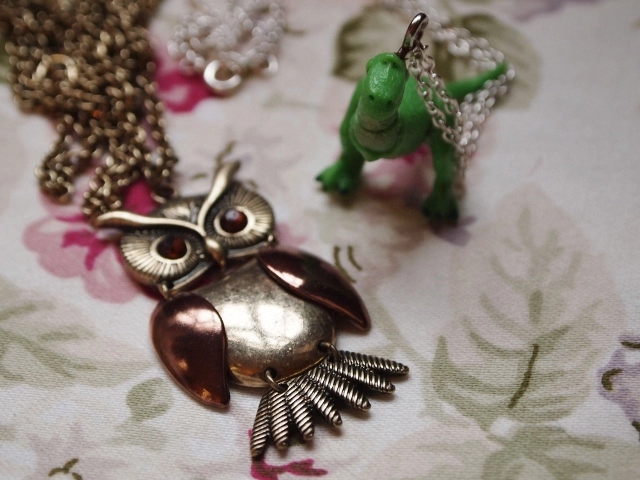 The dinosaur at the top was from my sister, Rex from Toy Story was from my fiancé, and the owl was from my fiancé's sister.  Owls, dinosaurs and necklaces are a few of my favourite things, so I was very pleased to receive all three of these beauties.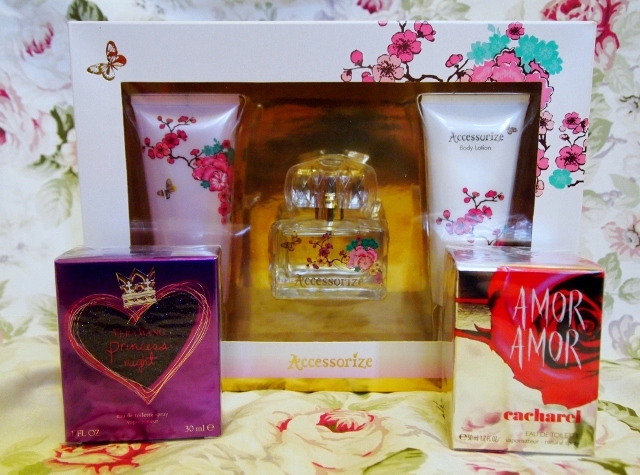 I received three different perfumes this year, all of which are replacements for perfumes I already have.  Cacharel's Amor Amor (one of my all time favourites), Vera Wang Princess Night, and an Accessorize Gift Set.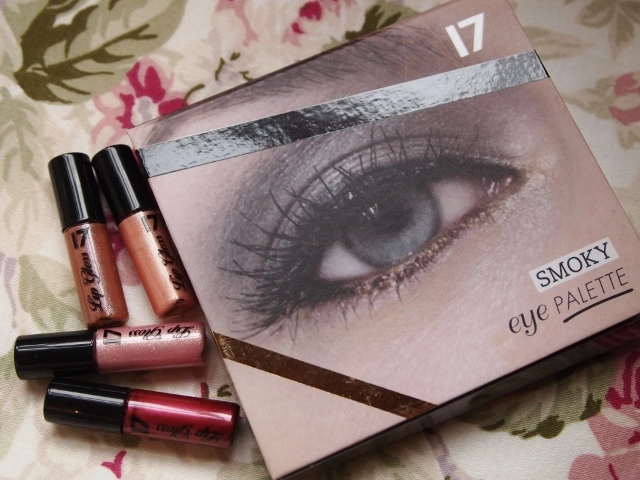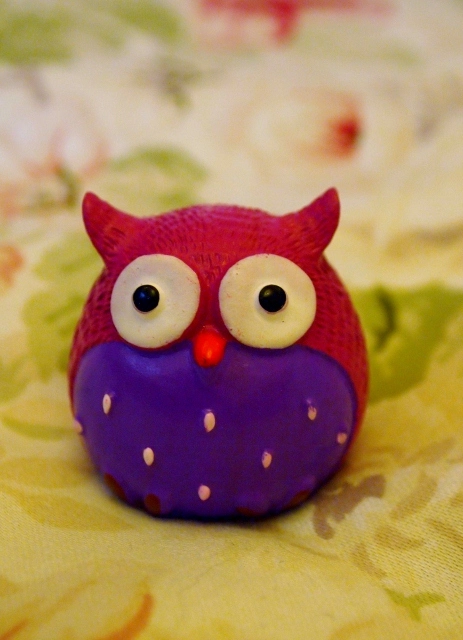 I didn't get much make up this year, but my cousin gave me 17's Smoky Eye Palette and a few little 17 lip glosses.  The red gloss is gorgeous!  The guy at the bottom is a rather cute owl lip balm.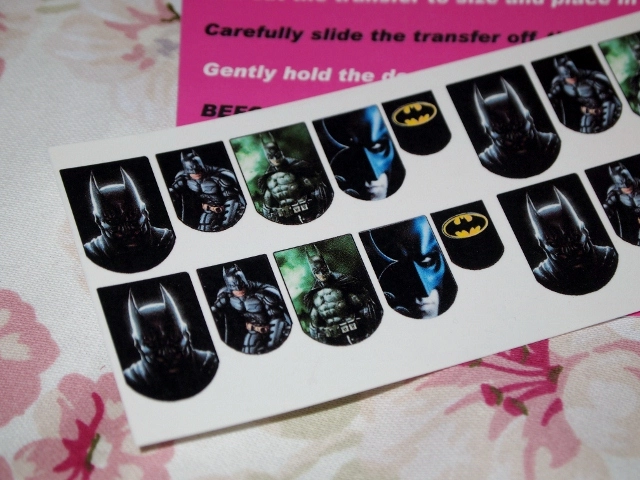 How amazing are these?!  My fiancé's sister gave me these Batman nail transfers.  I was so excited when I opened them and I cannot wait to give them a go.  Definitely expect a review of these soon.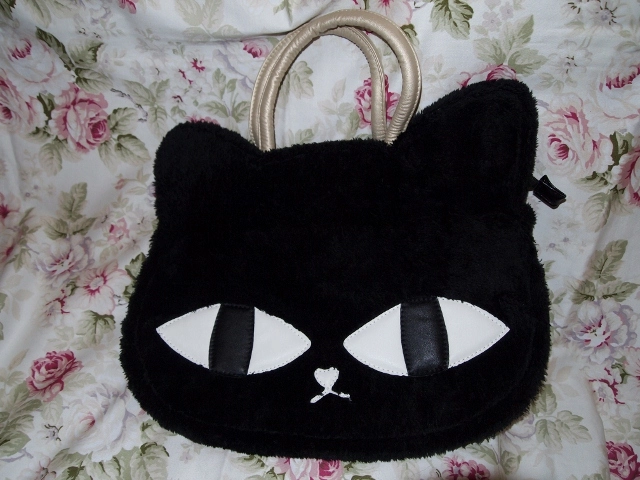 This cat bag from my mum was one of my favourite gifts this year.  It's big and furry and very soft – it needs to stop raining now so I can use it!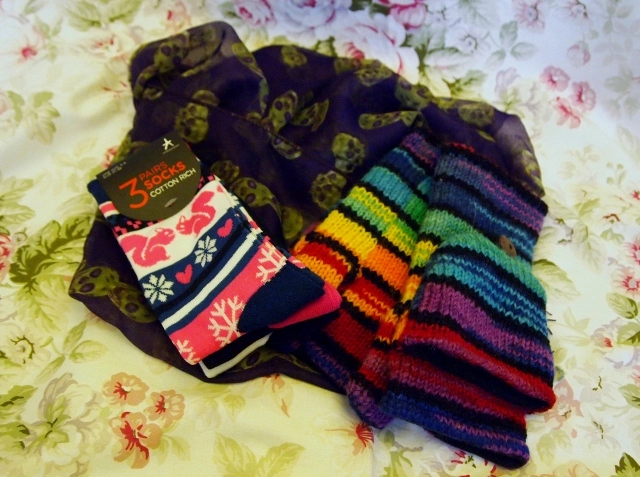 Christmas wouldn't be Christmas without a scarf, gloves or socks, and this year I got all three.  The scarf is purple with green skulls and is nice and light – ideal for spring.  The socks have squirrels on them, one of my favourite animals, and the rainbow mitten gloves are SO SNUGGLY – win!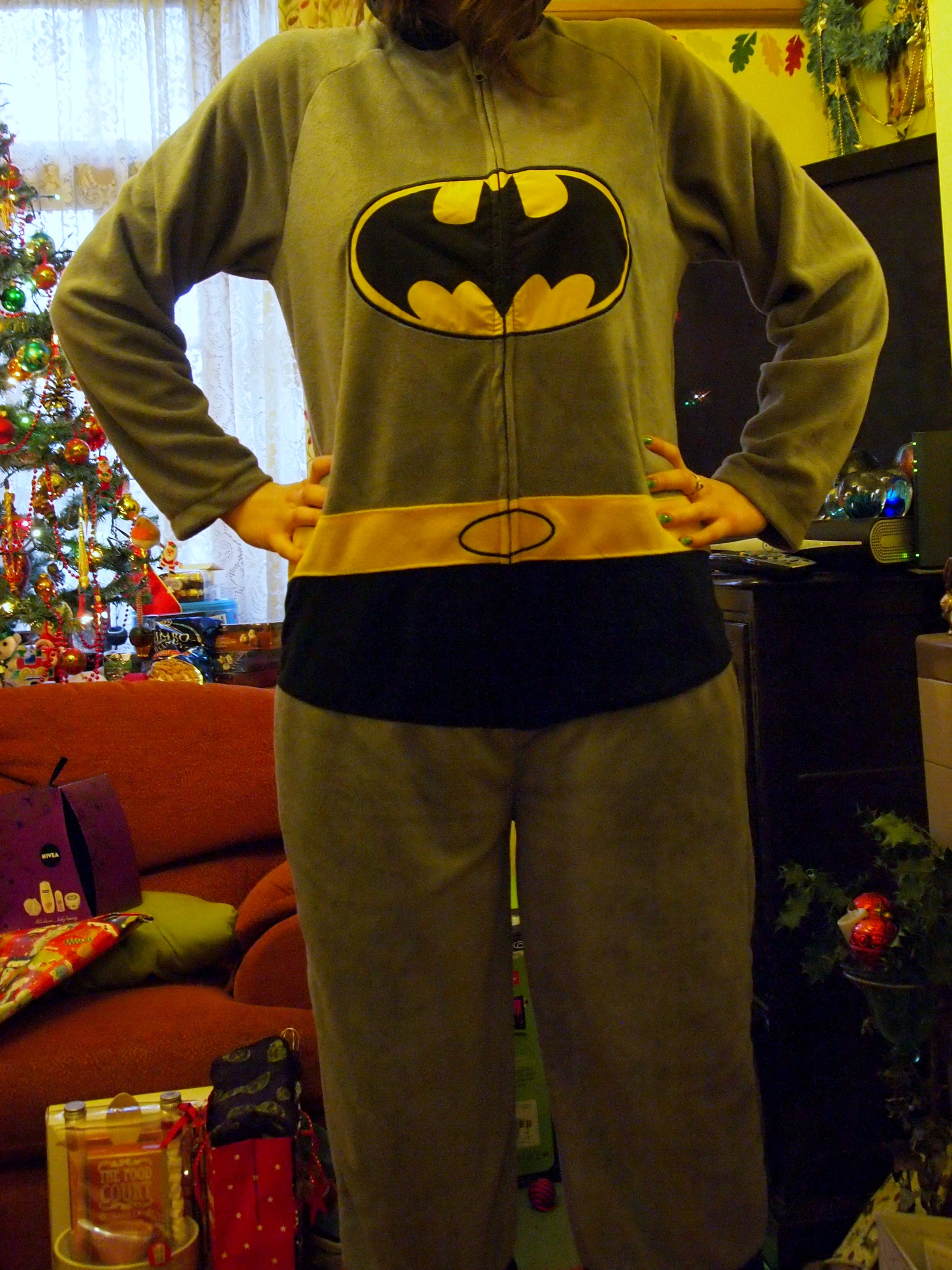 Not the best photo in the world but my mum got me a BATMAN ONESIE!  Amazing, right? <3
A massive thank you to everyone who spoilt me this year, I am extremely grateful.  Did you get anything fashion and beauty related for Christmas this year?  I'd love to see your hauls too!
Naomi x
8
A couple of weeks ago I bought this Accessorize Baked Duo Eyeshadow from Superdrug.  At the time it was on offer for £2.22, but this particular range of eyeshadows cost £4.45 each at full price.
I always enjoy browsing the Accessorize stand when I'm in Superdrug as the product packaging is always so attractive, and the Baked Duo is no exception.  The gold butterfly detail on the lid is very pretty, and the packaging is very well designed as it always closes firmly and stays shut.
The eyeshadow itself is also quite beautiful to look at, and looks a lot like a planet which is in its name – 'Venus'.  For one, it is domed, which I've always found aesthetically pleasing in an eyeshadow, and the two different coloured sides are very ethereal.  One side of the shadow is a rich, luxurious purple (Left), and the other is a dusky pink swirled with silver (Right).
As you can see above, my initial swatches came out quite faint which worried me slightly.  I thought Accessorize had gone for image over quality and let the product suffer for the sake of the packaging, but I tried to reserve judgement until I'd tried it out properly, so here is the look I created with 'Venus'…
To create this look I applied the pink shade across my entire eyelid, and the purple shade along the natural crease of my eye, down to the outside corner, using a shading brush.  Then, again using the shading brush, I blended a mix of both shades from the outside corner of my eye to the centre of my eyelid.  Finally, with a fine angled brush I applied a thin line of purple across my top lash line, and halfway across my lower lashline, and the pink shade to the inner corner of my eye and the other half of my lower lash line.
Despite my concerns, the eyeshadow is actually quite highly pigmented, and is very easy to apply.  It smoothes on evenly and takes very little effort to build up a layer of bold colour, and the formula is extremely light so it doesn't feel caked on or heavy on the eyelids.
Eight hours after application the eyeshadow is still going strong, and I didn't even use an eyeshadow primer to keep it in place.  It hasn't smudged or gathered in the creases of my eye, and the colour still looks bright.  The only issue I have with it is that it has gone quite shiny and wet looking, but that's because I have oily eyelids which can't be helped.
Overall, I am impressed with this Duo.  The packaging is gorgeous, the colours are stunning and, probably most importantly, the eyeshadow is good quality and long-lasting.  This was a definite steal at £2.22, but it'd also make a nice little treat at £4.45.
Have you tried any of Accessorize's cosmetics?
Naomi x
21
I had a fairly good week for bargains this week and bought quite a few fun things (despite telling myself that I wouldn't spend anything this week!) so for those of you that like a good haul post, I thought I would share my collective haul with you.
First off, on Monday I nipped into town to buy some new boots to wear in the Autumn.  I knew exactly which pair I wanted so I was in and out of Schuh in just a few minutes, which is quite unheard of!  I went for these Blowfish Ranuku Boots in black which are usually £45, but I got them for £40.50 with a 10% student discount – doing a postgraduate degree does have its benefits!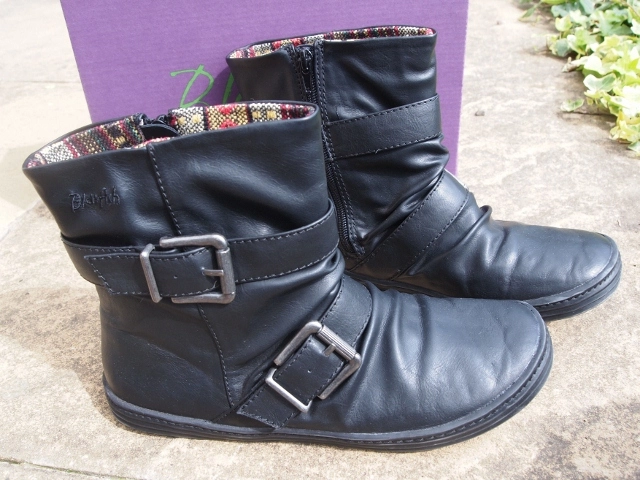 It's been quite cold this week so I've worn the boots a few times already and they are SO comfortable!  They're very versatile too, and look great with dresses or skinny jeans.  A very good buy.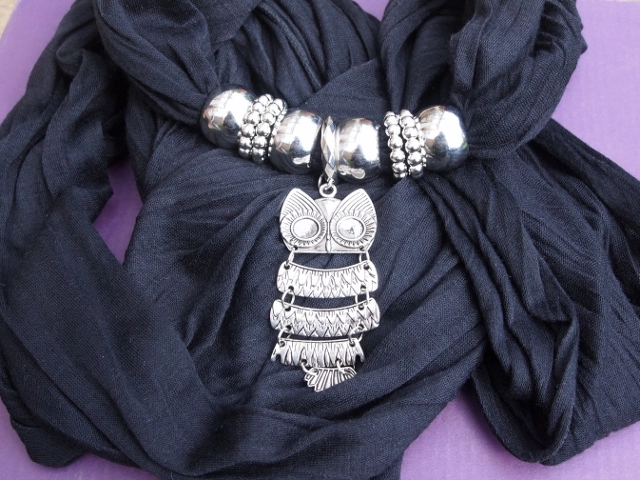 On my way to get the bus home I passed through Primark (always a mistake) and spotted this gorgeous owl scarflace.  I have always loved owls, AND scarves, so I just had to have it.  It was supposed to be £4 but the eyes were missing on most of the scarves so it had been reduced to £3.  I can always just stick some beads on myself if I want it to have eyes!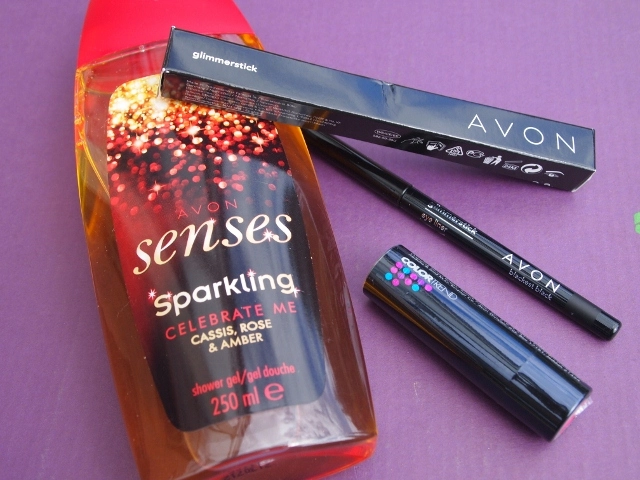 On Tuesday I received my Avon delivery.  In amongst all the items for my customers were a few goodies which I'd ordered for myself, including repurchases of my usual Glimmerstick Eyeliner and Colortrend Concealer, as well as a small bottle of Avon's new Sparkling Senses Shower Gel (look out for it in Brochure 17).  It smells gorgeous!  I also ordered two nail varnishes from the new Colortrend range in Violet Freeze (which I reviewed here) and Peekaboo, and a lovely little star necklace.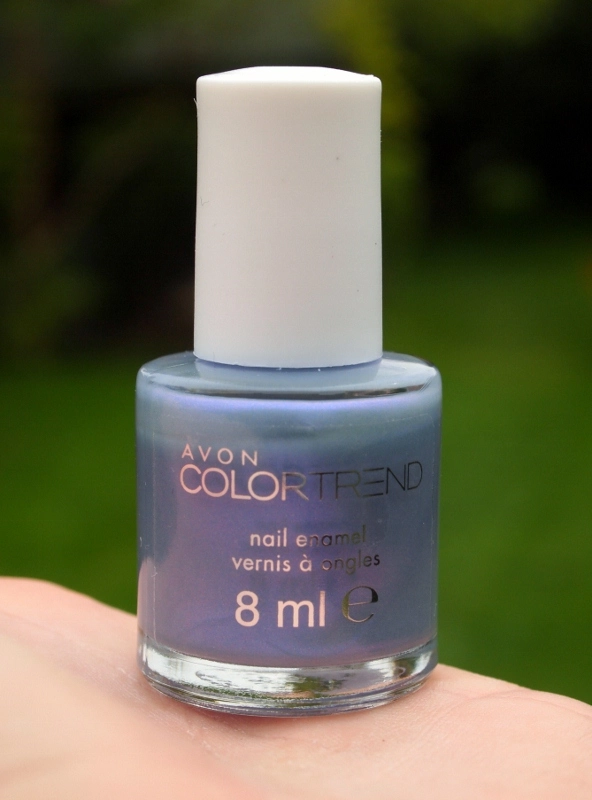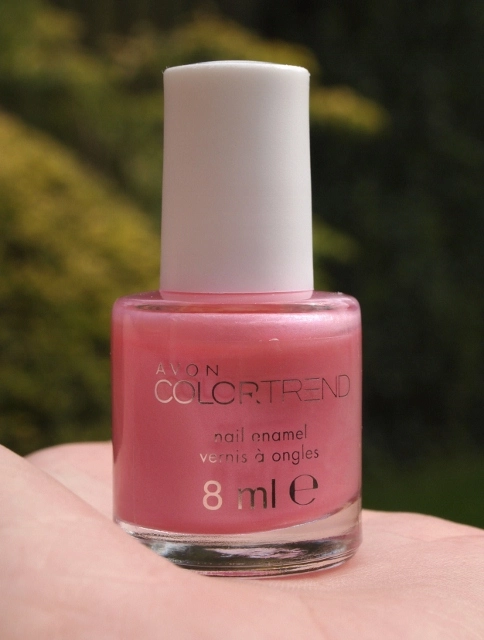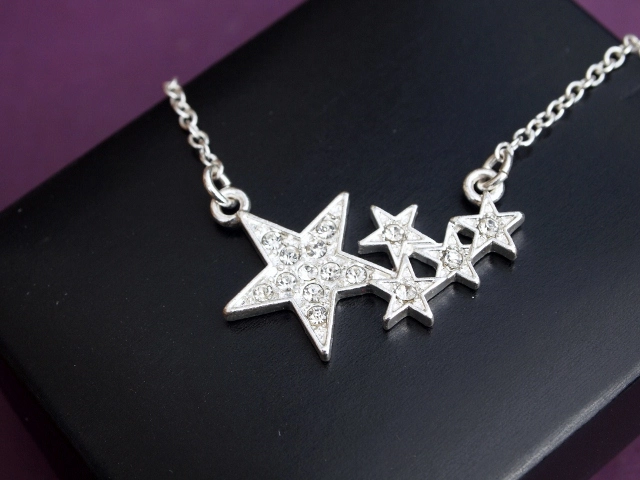 Yesterday I went to see the Paralympic flame pass through Leicester with my mum, and whilst we were in town we also did a bit of shopping.  For the past few weeks I've been checking Superdrug every few days for MUA's new nail varnish shade, Frozen Yoghurt, but to no avail.  However, I managed to pick it up yesterday for £1 (FINALLY), and I also bought an Accessorize Eyeshadow Duo for £2.22.  Isn't the packaging lovely?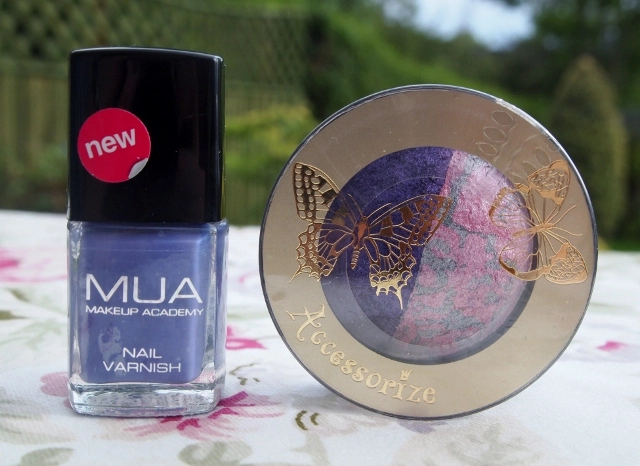 The Accessorize eyeshadow was actually on offer for half price, down from £4.45, as were a lot of their lip glosses, and their nail varnishes were 2 for £5.  I'm not sure when the promotion ends but it's worth having a look because they have some really pretty stuff!
My last few items are all from Primark.  As I mentioned earlier I love owls, so I couldn't resist these £2 owly fingerless gloves, ready for Autumn/Winter.  They're so cute!  And I love that they can be turned into mittens as well.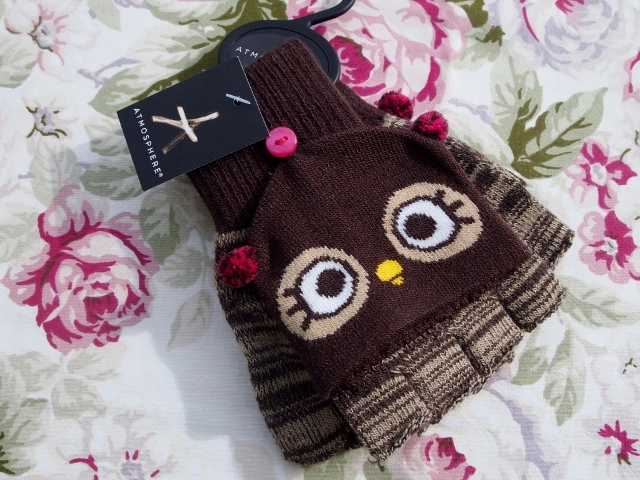 I spotted this Bambi sweater in Primark a few weeks ago for £10, but I resisted.  I was surprised to see it in the sale yesterday at just £5, and luckily one of the two that I found was in my size, so I caved and bought it.  Bambi used to be my nickname when I was younger so it seems quite fitting, and the soft, suede effect elbow patches are quite a nice touch.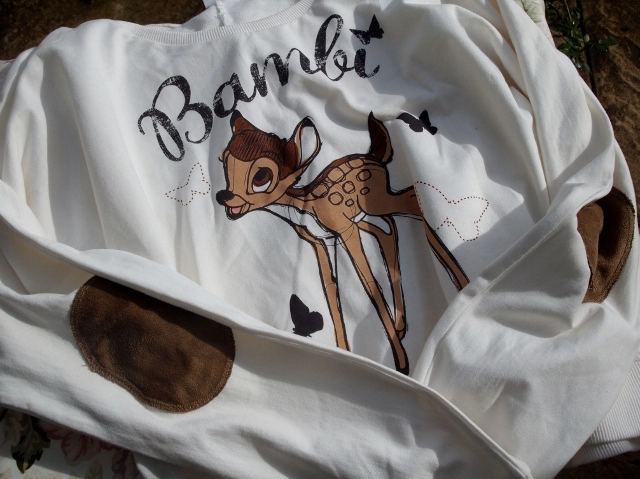 Last but not least, another owl!  This time, a purple owl print t-shirt which only cost £3.  It's quite a long, fitted tee but it looks great on with skinny jeans.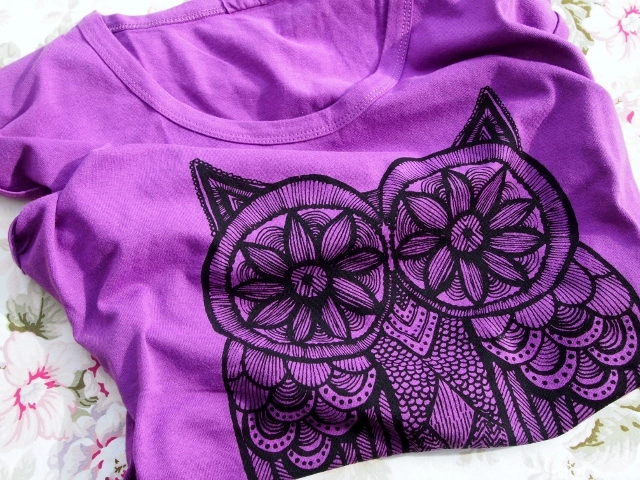 And that's it!  What have you been buying this week?  Are you getting ready for Autumn yet, or are you clinging on to the summer for as long as you can?
Naomi x