Posts tagged
Bespoke
8
Four Beautiful Keys is a Suffolk-based online jewellery boutique, specialising in unique and handcrafted pieces, created using traditional silver smithing techniques.  I have always been a fan of silver, rather than gold, jewellery, and it was the company's creative use of silver that first drew me to them when I spotted them on Twitter.  So, when Four Beautiful Keys offered to send me an item to review I was thrilled, and happily accepted.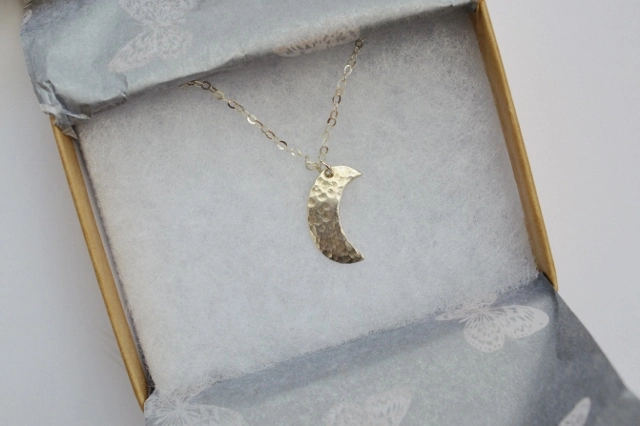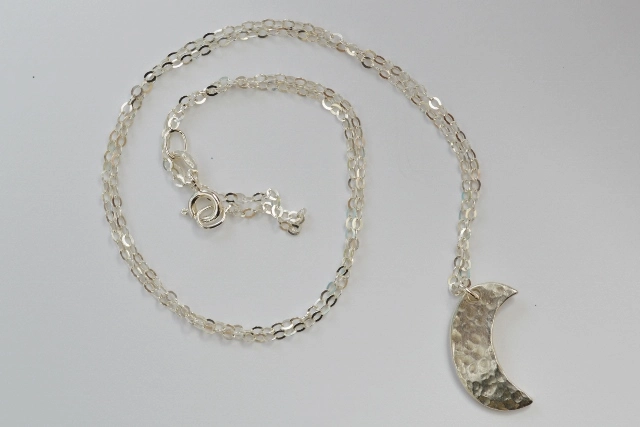 I didn't get to choose my piece, but after browsing the website I was secretly hoping for one in particular, and to my surprise it was the one I received – how lucky am I?!  Ever since childhood I have been fascinated by the moon, and this dainty moon necklace is just so perfect for me.  The pendant itself is made from hammered 925 silver, and is just under 2cm high.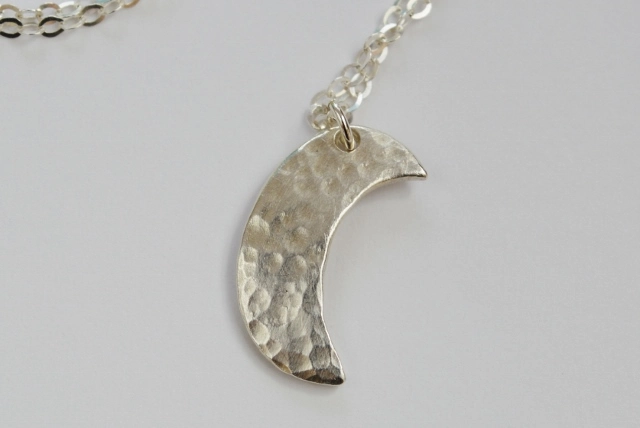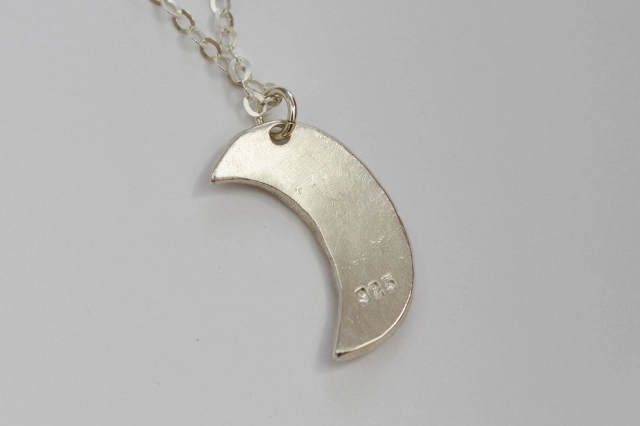 I'm a very tactile person, and I find the shape and texture of the pendant really pleasing, and I often find myself absent-mindedly fiddling with it.  That may sound odd, but to me it's a good thing as it makes it feel that little bit more special.
The moon came on an 18 inch chain, which is the ideal length for me and sits right above the neckline of most of my clothing, but Four Beautiful Keys give you the option of a variety of chain lengths, from 16 inches to 20 inches, at no extra cost.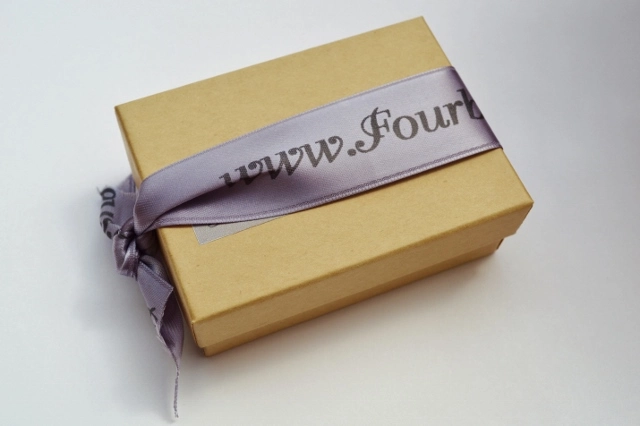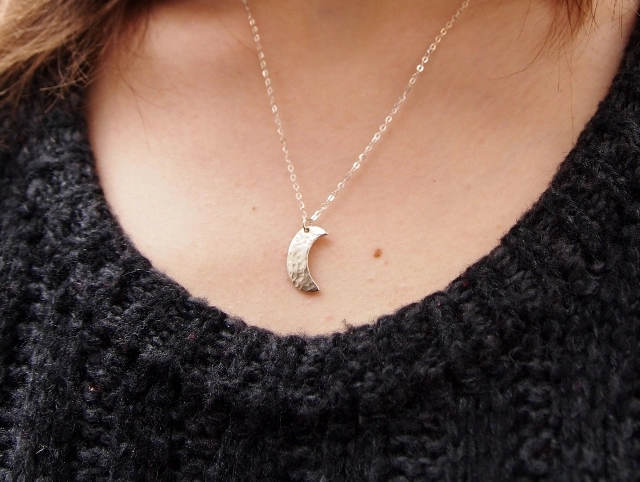 At £24.00 for a bespoke piece of jewellery, this necklace is incredibly affordable, and it even comes packaged in a cute little gift box, so would make a gorgeous gift for someone special.  It's such a versatile piece too, and I've worn it with pretty dresses, but also baggy jumpers and jeans, and it always looks great.
Four Beautiful Keys also sell a wide variety of other items, including personalised disc necklaces, jewellery gifts for mum and bridesmaids, bracelets, earrings, rings, silver charms, and an array of other silver necklaces.  To browse the full range, you can visit the Four Beautiful Keys website here, and you can also find them on Twitter and Facebook.
Naomi x
*This Moon Necklace was sent to me by Four Beautiful Keys for review purposes.  All opinions expressed are honest and my own.*
5
Whilst browsing Twitter a few weeks ago, I noticed that an independent jewellers called Biggley were looking for bloggers to review some pieces from their new range.  As a fan of silver jewellery, which they specialise in, I jumped at the chance of applying, and was lucky enough to be chosen as one of the few bloggers to receive a piece.
Biggley are based in Glasgow, and are made up of a small team of qualified jewellers and designers, who handcraft a variety of beautiful, bespoke jewellery.  They make a wide range of pieces for women, men and children, from necklaces and bracelets, to rings and earrings, most of which is made of high quality sterling silver.
The piece I received is the D Shaped Ring from Biggley's latest collection.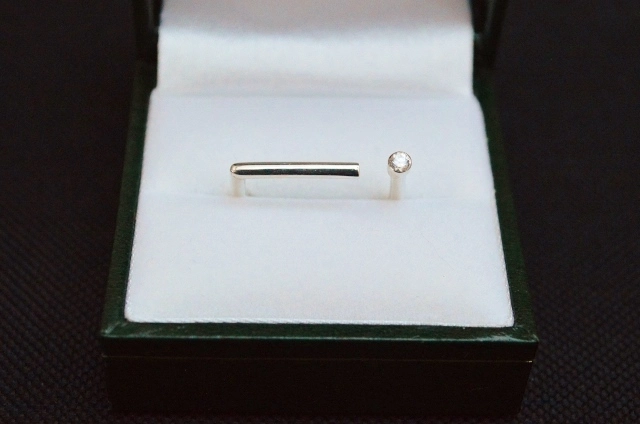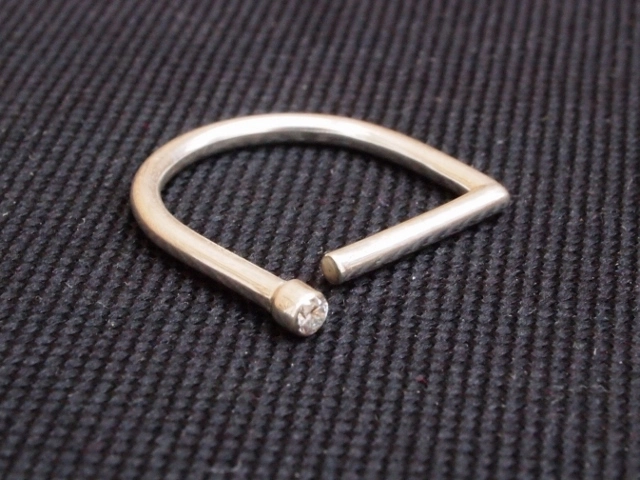 The ring is really unusual as it breaks away from the typical circular design of a ring, with a straight bar which sits across the top of the finger.  The ring is crafted from sterling silver, and is set with a single cubic zirconia stone, which has a brilliant shine to it.  As soon as I saw the ring I was really taken with how unique it is, and I think it's absolutely stunning.  Unsurprisingly, my mum does too, and she keeps asking me for it, so I keep having to hide it from her!
The ring also fits really nicely, and is an absolute pleasure to wear as it goes with any outfit, and due to its shape doesn't spin round, so feels comfortable on the finger.
Biggley's jewellery is all bespoke as every single piece is crafted by hand to a high standard, and is made to order.  This doesn't mean you have to wait a long time for your item though, as they aim to have all pieces ready to post within seven days of the order being placed.  I am genuinely impressed by just how perfect this ring is.  It's flawless, and has obviously been made with care and attention to detail, by an extremely skilled and precise jeweller.  I love it.
The D Shaped Ring costs £40, which for a quality piece which is made especially for you, is extremely affordable.  To view Biggley's current jewellery collections, click here.  You can also follow them on Twitter and Facebook, where they will soon be launching an exciting giveaway, so keep an eye out for that!
Naomi x
*This sterling silver ring was sent to me by Biggley for review purposes.  All opinions expressed are honest and my own.*
15
A few weeks ago I was asked by Amy of Nails by AB to review a set of her gorgeous false nails.  Amy is a trained beauty therapist and her new business, Nails by AB, specialises in creating personalised designer nails which are painted according to your own specifications, and then posted out to you.  Having seen some of Amy's designs on Twitter I was hugely impressed so, of course, I jumped at the chance to try some of her nails for myself.  The design I asked for and swiftly received was a set of bang on trend owls.
The nails came very nicely packaged in a drawstring bag, and a handy little tube of nail glue was also provided.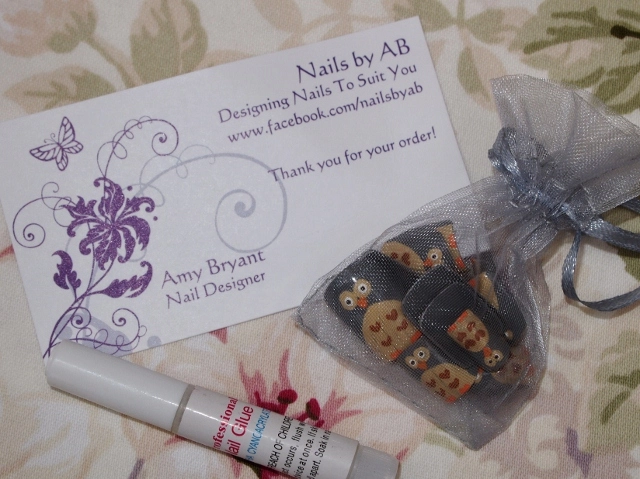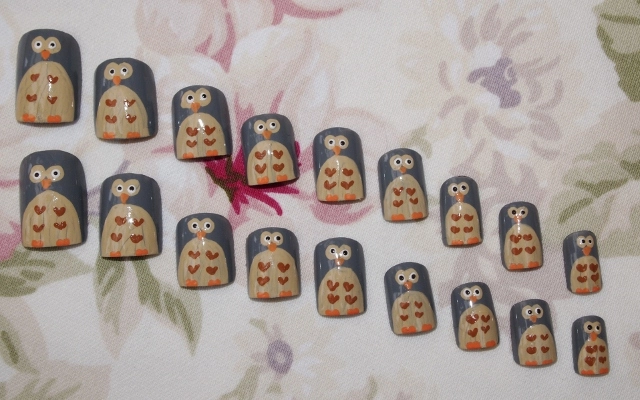 This stunning owly set contains 18 nails (9 pairs of differently sized nails), so you're guaranteed to find a complete set that fits you in amongst them.  A set of 18 owl nails costs £8.50 (including UK postage), which is incredible value for money considering the amount of effort that goes in to painting them!  However, if you want a smaller set (which usually costs less) Amy will ask you to measure the width of your nails upon ordering, so that she can choose, tailor and shape your nails specifically to fit you.  How great is that?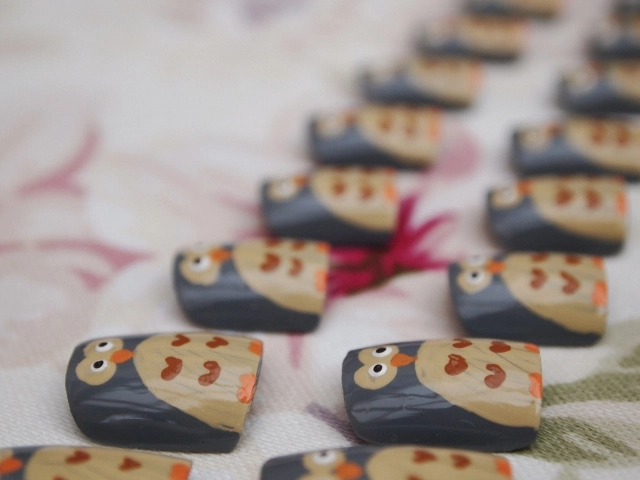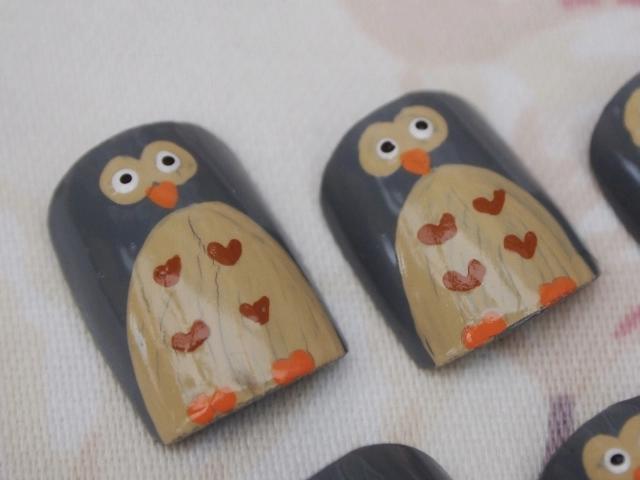 As I'm sure you can tell from my photographs, the quality of these nails is excellent.  The design is simple, yet really carefully and neatly painted, and the colours used are really bold.  I absolutely love these little owls, they're just so cute, and it is obvious that Amy has a real talent for nail art!
Both my sister and I have tried these nails on and we both agree that they are very comfortable.  The nails themselves are made of plastic, which is thin enough to be flexible and look like a natural nail, but not too thin so that they break easily.  The glue that is provided keeps the nails on for a good while (basically until you decide to take them off), so if you want your nails to last longer than just a night out, these will.
The photographs below were modelled by my sister.  She has far shorter nails than me so I thought it would be a good idea to show that the nails stay put even on short nails…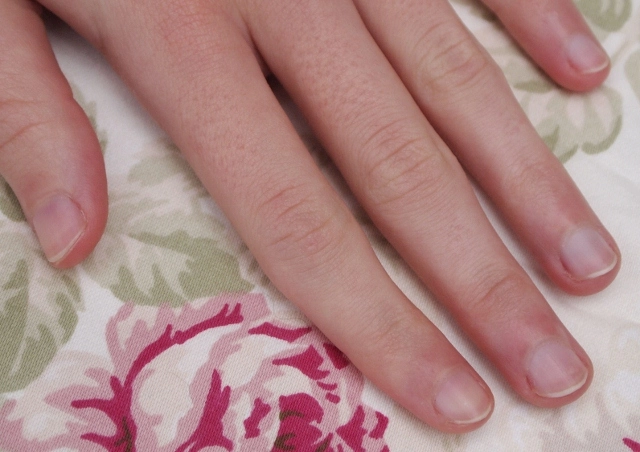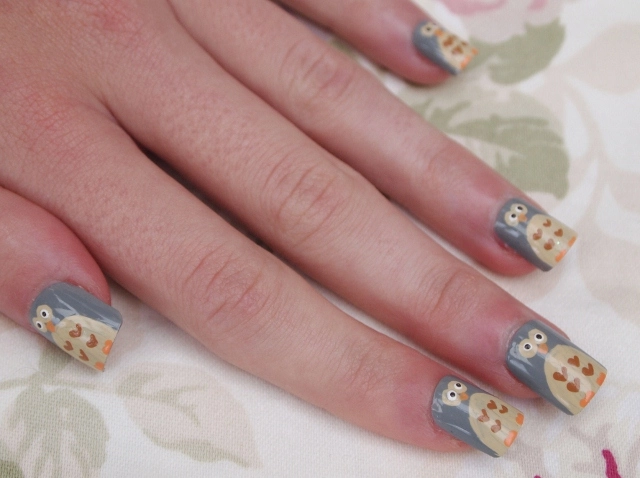 The Nails by AB range features many quirky, bespoke designs, including the latest Moustache Nails which cost £9.50 a set and celebrate Movember, with £4.00 of the proceeds being donated to the Movember charity.  However, Amy is more than happy to paint a set of nails to your own design if you have something specific in mind.  Nails by AB nails start at £6.50 a set, but only go as high as about £10.00, which is so worth it when you consider what you'd pay for a salon manicure.
If you would like to order some pretty little nails from Nails by AB, you can do so via Amy's website, on eBay (under nailsbyab), through the Nails by AB Facebook page, or even through the Nails by AB Twitter account.  Payment can be made through PayPal or Credit/Debit Card, and once payment has cleared your nails should hopefully be in the post to you within 2-3 days, sent FREE by second class post.
Nails by AB's products and service are top class, and it is obvious that so much care and passion is put into Amy's work, so please help to spread the word about this nifty little company!
Naomi x