Posts tagged
Avon
0
Welcome to the latest UK Avon brochure, Brochure 2!  Brochure 2 is a special one as it brings you Avon's January Sale early with their Pink Kiss Sale.  Click the image below to be taken straight to this exciting brochure.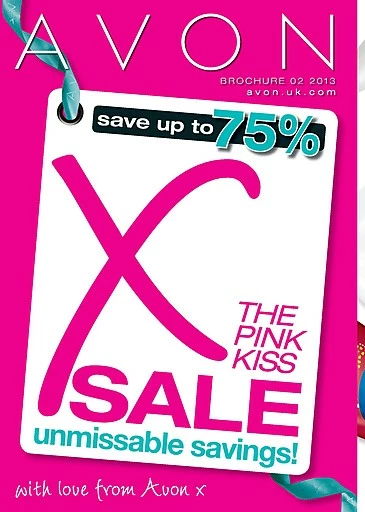 The Pink Kiss Sale offers up to 75% off your Avon favourites – from make up and bath and body to jewellery and designer watches, it's all discounted and it's all amazing value for money.  As usual, I will list my Brochure Highlights below, but believe me when I say this brochure is a highlight in itself!
What to look out for…
Page 2 – Buy one choose TWO free on all Avon hand creams.
Page 12 – ALL Ultra Colour Rich Lipsticks just £2.99 each, choose from shimmer, satin and metallic finishes.
Page 14 – Glimmerstick Eyeliners for only £1.99 each, and SuperShock Max Mascara for a bargainous £3.99!
Page 22 – Your Special Pink Kiss Offer!  Spend £9.95 across the brochure and take advantage of incredible savings on selected fashion items, including Avon's gorgeous Sassari Cape and French Connection sunglasses.
Page 38-39 – Buy one choose one half price on all pyjamas, slipper boots, robes and other nightwear.
Page 57 – Introducing Avon's NEW Petal Impressions Nailwear Pro+ nail varnish, in six pretty floral shades, just £3 each (RRP £6).
Page 78-79 – Buy one choose one free on all Colortrend lip gloss and lipstick.
Page 121 – Avon Breast Cancer Crusade socks, baking set and pin badge, all £2 and under with proceeds going to charity.
Page 129 – Introducing NEW Soft & Smooth Facial Hair Removal Cream, with an introductory price of £2.50 (RRP £4).
Page 138-143 – 5 for £4.99 on Senses Soap and Shower Gel, Bubble Bath and Naturals hair products.
Page 144-147 – 3 for £4 on Naturals kid's and bath and body products, Simply Delicate and On Duty Deodorant.
Back Page – Dazzling Diva Mascara better than half price at £2.99!
And of course, there are many, many more fantastic bargain offers to be found – the whole brochure is one big sale!
If you would like to place an order with me, you can visit my Personal Online Brochure here, or by clicking the brochure image above, and either submit your order through the brochure or via email at bewitcheryblog@gmail.com.  Postage is charged as standard second class Royal Mail prices, and orders will be posted on or after December 4th 2012.  Visit my Order Avon From Me page for more information.
Happy Browsing!
Naomi x