Posts tagged
Skater Skirt
1
 Primark Light Knit Cape / Primark Floral Skater Skirt / Primark Basic T Shirt / Primark Tights / Gifted Cloudbusting Silver Necklace
It would seem that Spring is finally here, and brighter weather calls for brighter clothing!  I've been trying to add a few more colourful pieces to my mostly black wardrobe lately, and this skater skirt from Primark is a good start.  It's floral and made of crepe, two things I'm not usually a fan of, but at £3 in the sale I thought I'd give it a go, and was pleasantly surprised.  It's a lovely shape and very comfortable, and though I bought it to with the intention of wearing it to work, I can see it becoming an all round favourite this season.
The black cape was also in the Primark sale, half price at just £7.  It's a lovely soft lightweight knit, so is perfect for keeping covered during the spring months, when it isn't quite warm enough for bare arms.
As you may have seen in my 25th Birthday Haul post, this gorgeous necklace was gifted to me by my fiancé for my birthday.  It's made of 925 silver and was personalised especially for me.  Cloudbusting by Kate Bush is one of my favourite songs, and holds many special memories, so I absolutely adore it.
Have you been enjoying the warmer weather this weekend?
Naomi x
2
My summer wardrobe is usually full of bright florals, but this year I've really been embracing basics, and sticking to my favourite polka dots and stripes.  Most of my new summer purchases are black, white, and grey, which may sound drab, but I like to add a splash of colour here or there with a bold statement piece or a pastel bright, and a quirky item of jewellery.  Today's outfit is the epitome of that, and combines a cute black skater skirt from H&M, with a simple stretch tee from Primark.  I wanted to wear this outfit without tights, but unfortunately it wasn't that warm today, and there was a bit of a breeze!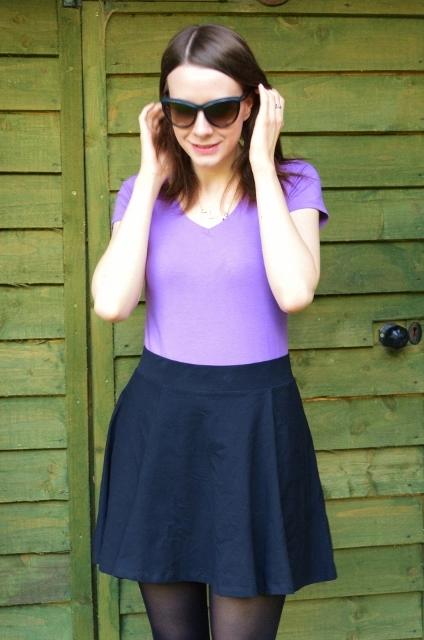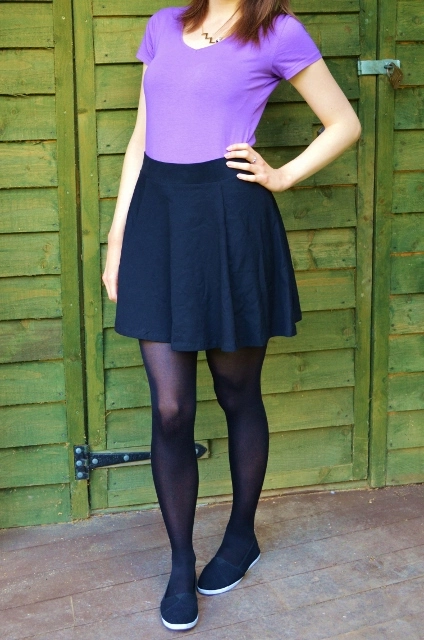 Primark Stretch Tee / H&M Skater Skirt / Primark Shoes / Alexander McQueen Cateye Sunglasses / Eclectic Eccentricity Necklace
To finish the outfit, and add a bit of interest, I wore my Alexander McQueen sunglasses, which I love, love, love and have been teaming with everything this season (look out for a special McQ style post coming soon), and this amazingly cool necklace from Eclectic Eccentricity.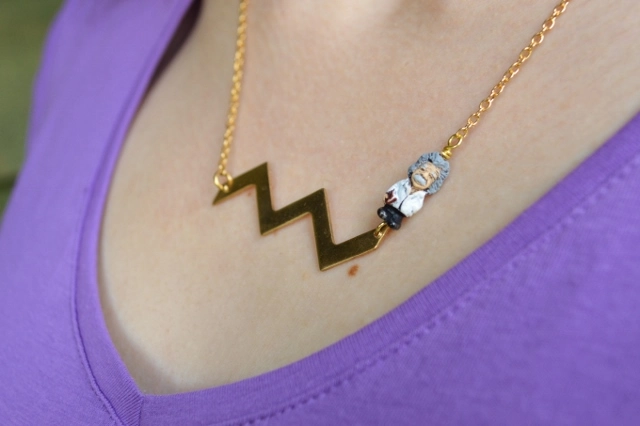 Eclectic Eccentricity is a British brand who specialise in creating quirky pieces from vintage components.  Their pieces are all so unique and unusual, and I have a wishlist as long as my arm of items from their website!  This necklace is their You're On My Wavelength Einstein necklace, which features a gold toned geometric frequency wavelength, and a teeny tiny, but very detailed, figure of Einstein.  Who knew he could be so cute?!  I'm a big science fan, so this necklace is right up my street, and it's definitely a talking point.  I love how it hangs as well and it sits perfectly, just where I want it.  You can grab your own here for £16.50.
What do you think?  Would you wear this necklace?
Naomi x
*This You're On My Wavelength Einstein Necklace was sent to me by Eclectic Eccentricity for styling purposes.  All opinions expressed are honest and my own.*
1
I didn't do much shopping during the recent spring sales, but I did place a little order with USC at the start of April.  Unfortunately they use Yodel as a courier, who are notoriously unreliable, and it took over two weeks for my parcel to arrive – not great considering I paid £3.99 postage!  At one point I was told my parcel was lost, but then it miraculously turned up the next day!  Though I'm not happy with the service I received, the items I got were sort of worth the wait.  One of said items is this gorgeous acid wash denim skater skirt, which was reduced from £22 to just £3.50.  Acid wash was all the rage in the 1990s, the decade of my childhood, and though fashion wasn't the greatest in those days, I do quite like acid wash denim, and this skirt makes me feel all nostalgic.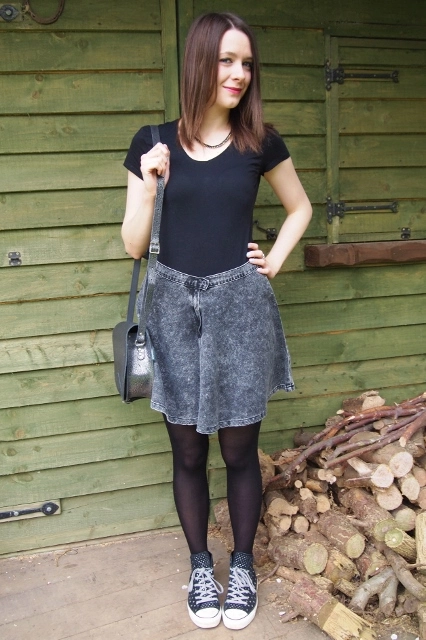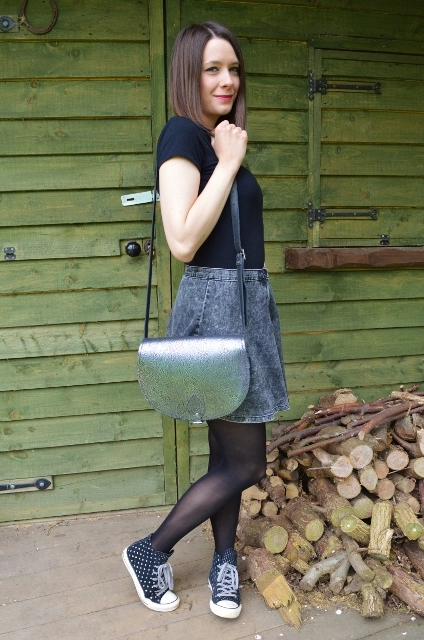 Glamorous Acid Wash Skater Skirt / Primark Black T Shirt / Primark Sheer Black Tights / Converse Suede Polka Dot Hi-Tops / Zatchels Gothic Lace Saddle Bag / Claire's Spike Necklace
I really wanted the skirt to do the talking with this outfit, so I paired it with a plain black tee and sheer black tights.  I was considering wearing heels too, but in the end I settled for Converse as I think they suit skater style clothing well, and my partner and I were heading to the cinema so I thought I'd keep it casual.
Finally, to pull the outfit together, I accessorised with a grey spike necklace from Claire's, and my metallic silver Gothic Lace Saddle Bag by Zatchels, just to bring out the silver in my shoes and to match the grey in the skirt.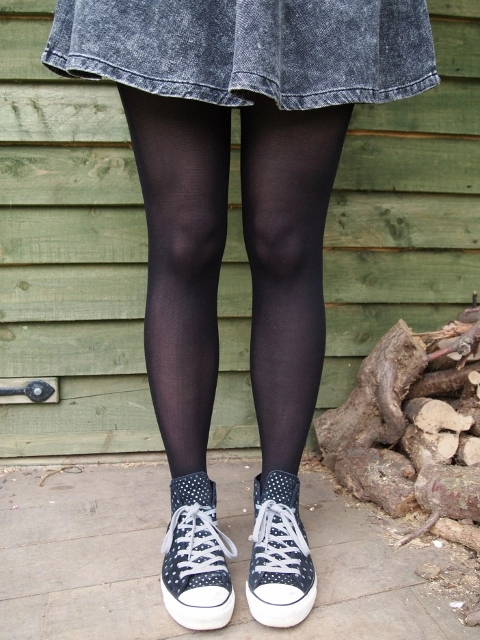 I also got a beautiful dress in my USC order which I absolutely love, so check back soon to see how I style it!
Naomi x