Posts tagged
Velvet
3
On Sunday I decided to indulge, yet again, in one of my favourite hobbies – thrifting – and got up bright and early to go to two car boot sales in Leicestershire.  In particular I was hoping to find some bargainous clothes to add to my spring/summer wardrobe, and though I came away from the first car boot with nothing (how disappointing!), the second was a veritable treasure trove of fashion!  For the grand total of just £4.50 I managed to get a waterfall cardigan, a thin knit jumper, a t-shirt, and my absolute favourite find of the day, a pair of wedge shoes.
Z Black and grey striped waterfall cardigan £1.50

Next Thin knit black jumper 50p
River Island Skeleton heart t-shirt 50p
Truffle Black velvet wedge shoes £2.00
Total: £4.50
I'm really pleased with this little thrifty haul, and I'm looking forward to styling each item in outfit posts in the near future.  Which is your favourite piece?
Naomi x
10
Just before Christmas I was lucky enough to win a Ciate Velvet Manicure set in one of Baobella's 12 Days of Christmas giveaways on Twitter – thank you Baobella!  Baobella are a new online beauty community who are all about 'the beauty of sharing'.  They haven't launched yet, but there is a lot of excitement surrounding their new website which is almost ready to go live, and they are already making a name for themselves on Facebook and Twitter.  Keep an eye on their social feeds for more information about the community!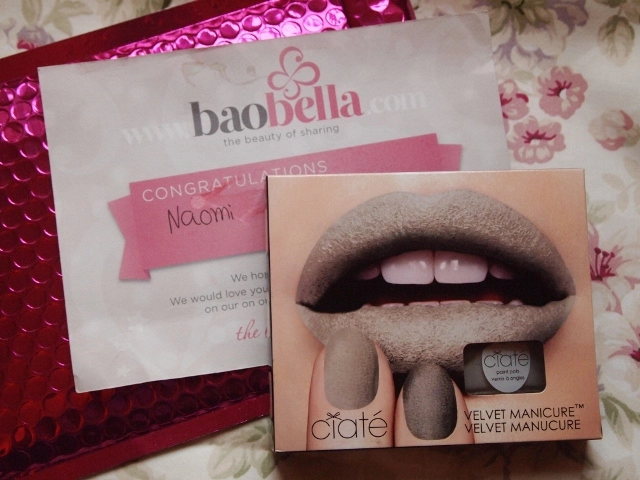 When Ciate first launched their Velvet Manicure many moons ago, my first impressions weren't good.  I initially thought the velvet looked too thick on the nail, and somewhat unhygienic, but that was before I knew exactly what it was.  As I found out more, my opinions soon changed and I was intrigued to try it for myself.  So, as you can imagine, I was very excited when this arrived in the post.
My prize was delivered in a bright metallic pink bag, and even contained a little certificate of congratulations – lovely touches which made the parcel a pleasure to open.  The set I received is Ciate's most neutral velvet manicure – Mink Cashmere – which contains a full-size Ciate Cream Soda Paint Pot, an 8.5g bottle of grey crushed velvet powder, and a Little Black Brush.  The box also contains a set of instructions, and a plastic tray to catch the excess powder in.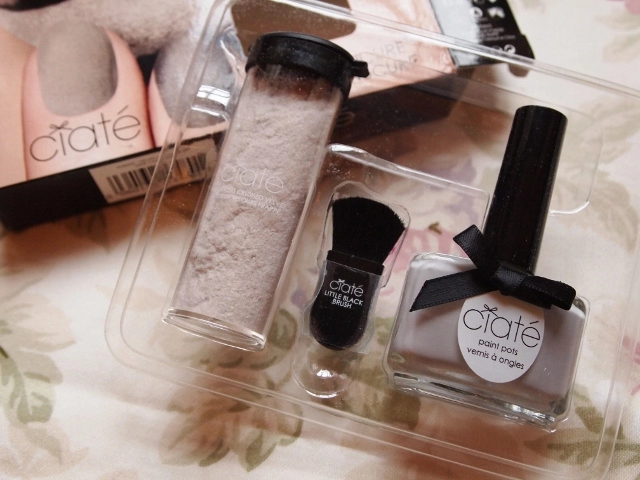 I was slightly worried that the Velvet Manicure would be tricky to apply, but true to Ciate form it is actually extremely easy.  It's really important that your nails are clean before using this, so before I started I wiped my nails with Sally Hansen nail varnish remover, and painted on my favourite Sally Hansen base coat.
The first step in the manicure is to apply a thin coat of Cream Soda to each nail – easy peasy.  As with every other Ciate Paint Pot I have ever tried, Cream Soda has a nice, creamy formula which applies evenly, with no fuss, and dries quickly.  Once the first coat is dry, a second, slightly thicker coat, is applied.  At this stage, the velvet powder is sprinkled over the wet nail, so it's best to do one nail at a time so the varnish is wet enough to hold the powder.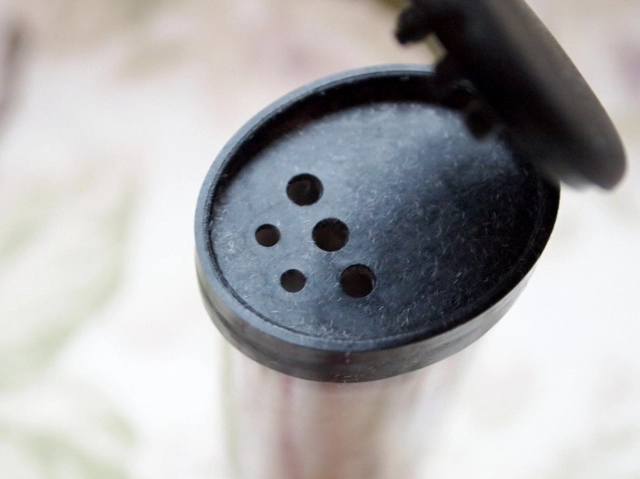 The pot that the velvet comes in has a secure lid with five holes in it, which allows for mess-free, simple application.  All you do is shake the pot gently over your wet nails until they are completely covered with a thick layer of velvet.  Just make sure you have the tray underneath to catch the bits that miss!
Next, use the Little Black Brush to tidy up.  My advice is to wait a few minutes for the velvet to set before doing this, or you might brush off a bit too much and make a mess of your nails, and nobody wants that!  Just lightly sweep over the nail to knock off the excess fibres, and then sweep around the edge of the nail, as the powder tends to stick to the skin a little.  Then, again using the brush, gather the fallen velvet together in the tray and tap it gently back in to the pot.
And that's it!  Easy, right?  The velvet sets firm in around 10 minutes, and so far has stayed put, which is a good sign. It's survived a good few hand washes too.  Here are a couple of swatch photos of the Velvet Manicure.  Since this was a test run I have only used the velvet on one nail for a ring finger manicure, but now that I know it's up to scratch I will be doing a full velvet manicure next time!
Without Flash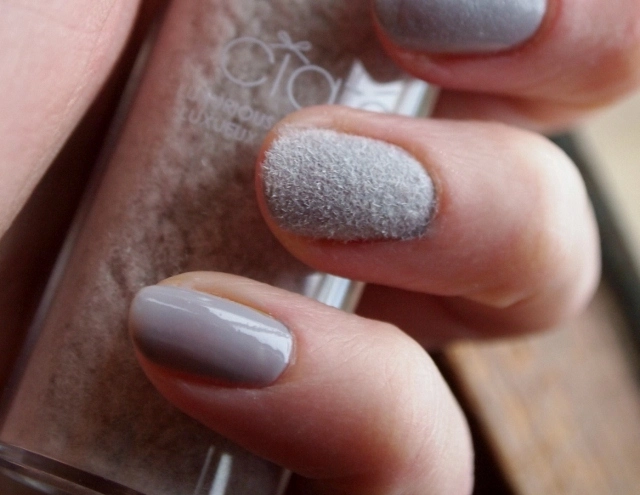 With Flash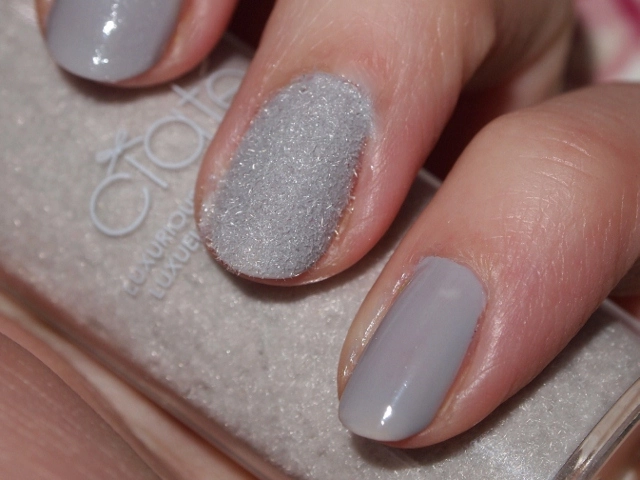 On the nail, the velvet feels really soft and smooth, like real velvet, and isn't too thick at all.  Because the fibres are so fine, they don't clump together, rather, the coverage is very even and looks and feels no thicker than two coats of nail varnish.  Both the varnish and the velvet are a delicate grey colour, not my usual choice, but they look extremely classy and I love them both.  I'm definitely a Velvet Manicure convert!  I think I'll be asking for the other two shades, Berry Poncho and Blue Suede, for my birthday in February.
To see the full range of Ciate's Velvet Manicures, visit their website here.  The sets retail for £14.00 each, which is excellent value considering they include a full-size Paint Pot!  Oh, and don't forget to check out Baobella too.
Naomi x