Posts tagged
Relax
0
Valentine's Day is also my birthday, so happens to be one of my favourite days of the year. As soon as January comes around I start looking forward to that special day in the middle of February, as not only do I get to enjoy it, but it adds a bit of brightness to the gloomy winter for people everywhere! I'm also a firm believer that Valentine's Day doesn't have to be miserable for those who aren't in a relationship, as it gives you the perfect excuse to treat yourself, or spend time with family or friends.
So, in celebration of Valentine's Day, over the next week or so I'll be bringing you my pick of the best, affordable Valentine's gifts – perfect for your loved one or even for yourself!  Today's pick is this adorable little set of Love Hearts Tea Lights, available from It's A Wot.
Since I moved out of my mum's house and in with my fiancé, I've become more and more interested in interior design, and making my home look pretty, and these tea lights help me do just that.  They come beautifully wrapped in a Love Hearts wrapper, so they look like a super-sized tube of sweets, and inside you get six tea lights, each of which comes in a sturdy plastic holder.
The tea lights come in three colours – pink, purple and blue – with two of each in the pack, and they all have an iconic Love Hearts message printed on top.  The pink ones say "Kiss Me", the purple ones say "Love Me", and the blue ones say "Hug Me".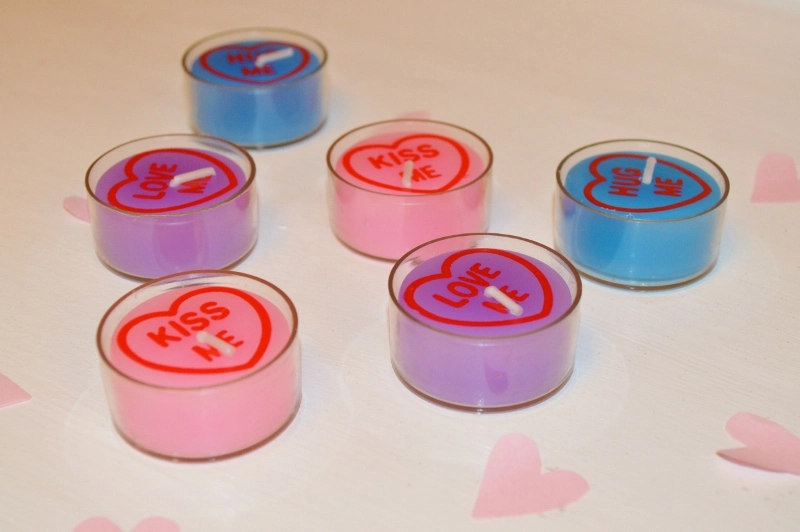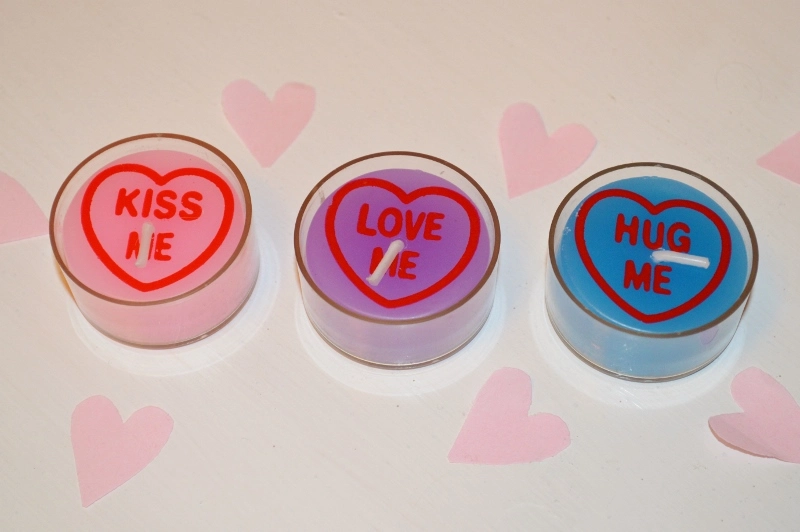 Despite their small size, the tea lights burn really well.  I had them on for several hours the other evening and the flame hardly made a dent in the wax, and they don't produce much smoke, just a steady flame.  My only issue with the candles is that they aren't scented, but it's not a deal breaker and I still think they're lovely.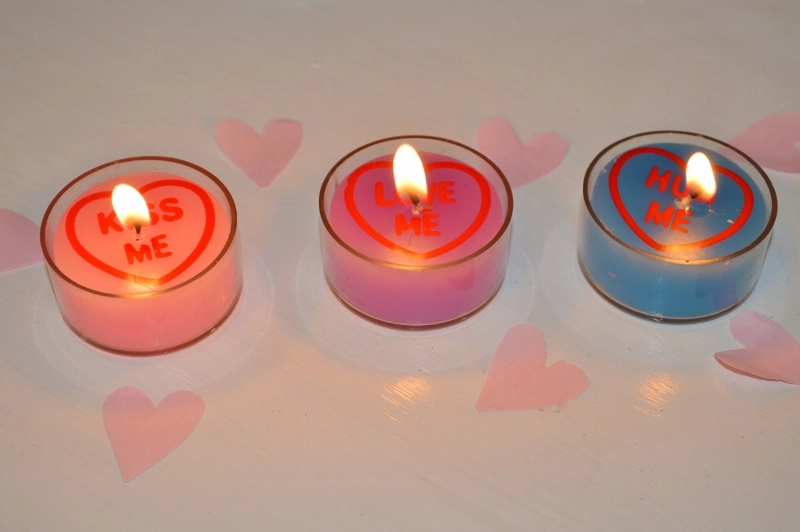 At just £1.84 for a set of six, these tea lights would make an ideal Valentine 's Day 'stocking filler' for someone who loves cute and quirky little house gifts.  They'd also be great for adding a touch of romance to your Valentine's evening, or even just to help you unwind and relax after a busy day.  Want some?  Get them here.
Naomi x
*These Love Hearts Tea Lights were sent to me by It's A Wot for review purposes.  All opinions expressed are honest and my own.*
24

In my first Chocolate Treat Week post I will be sharing with you the very best chocolate scented skin care, bath and body products that I have been using lately.  Whenever I have the house to myself of an evening I like nothing better than to run myself a relaxing bath and treat myself with an indulgent beauty regime, and the following four items are the perfect products for a chocolate themed pamper session.
Bathe with… Handmade Soaps Chocolate Bath Treats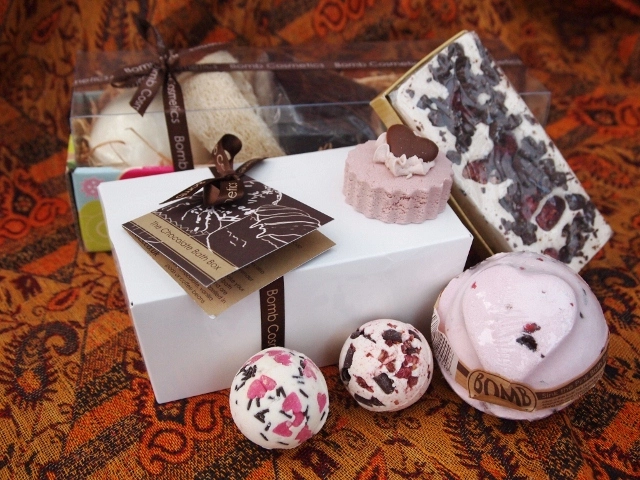 I recently discovered a fab little company called Handmade Soaps, who stock and sell a large range of soaps, bath bombs, bath melts and gift sets, all of which are very appealing to the eye as well as the nose.  Among their range they have quite a few wonderful chocolate scented bombs, melts and sets.  The chocolate products pictured above are (clockwise from the top): Chocoholics Gift Set, Fruity Creamy Bath Bar, Chocolate Bath Meltz, Sink the Pink Bath Bomb, Very Berry Bath Creamer, Love Cloud Bath Creamer and Chocolate Ballotin Gift Set.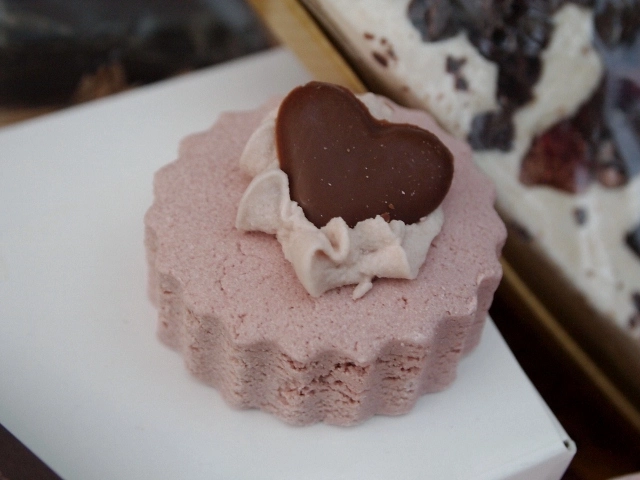 I have a lot of bath products from Handmade Soaps so I haven't tried all of them yet, but my favourite so far has to be the Chocolate Bath Meltz, which costs £2 for one melt.  As you can see, it looks absolutely lovely – almost like a fancy chocolate truffle, especially with the cute little chocolate heart sitting on top!  The melt combines Cocoa and Arabica Coffee to give it its rich chocolatey aroma and colour, and also contains Lavender and Ylang Ylang essential oils for added relaxation.  I used this melt over the weekend and it really is glorious.  I popped it into the water just before the bath was full and then got straight in.  I recommend doing this as it's when the melt fizzes that you are met with its beautiful scent.  Unlike some bath products that I've tried, this one doesn't fizz too violently so you don't get bombarded by the bomb whilst you're trying to relax.  In fact, I actually found it quite therapeutic watching it spin in the water!  My favourite thing about the Chocolate Bath Meltz is how intensely moisturising it is.  I really wasn't expecting such a dainty melt to have much effect on my skin, but it made my skin feel creamy and smooth even when I was still in the water, which resulted in long-lasting softness – impressive!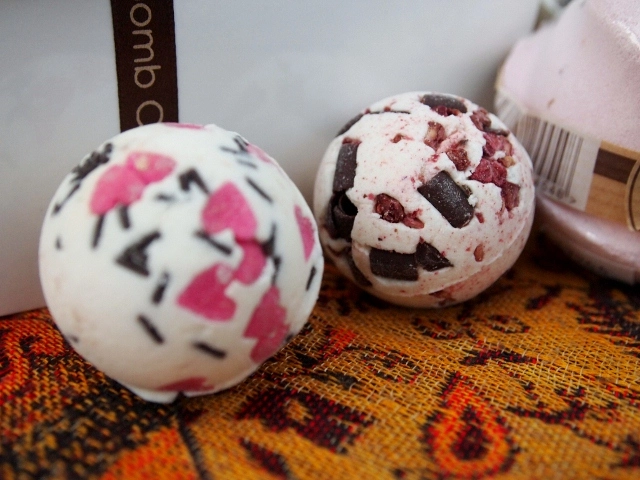 Handmade Soaps pride themselves on their customer service so if you decide to order anything from them you won't be disappointed!  They deliver their items quickly and they even have a 'remarkable wrapping' policy so everything you receive will be as beautifully wrapped as possible.  Everything they sell is already reasonably priced, but Handmade Soaps have been kind enough to give me a special discount code to share with you so that you can get 10% off everything you order!  The code is 'bewitchery10' – just enter it at the checkout to get your 10% discount.
Exfoliate with…  Betty Buff 'Scrummy Choco' Sugar Scrub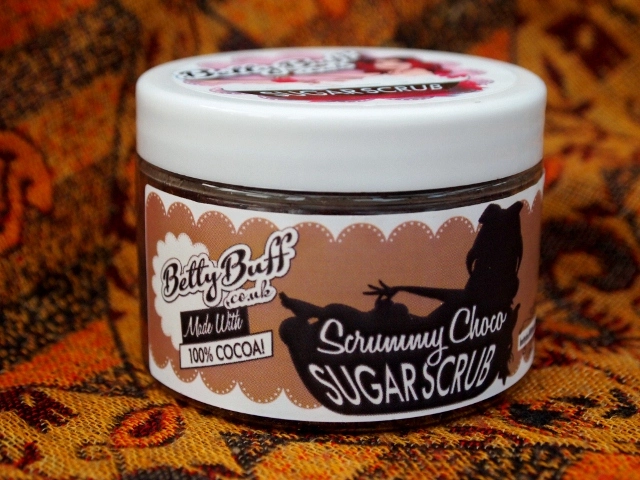 As I've mentioned in several of my previous posts, Betty Buff's Sugar Scrubs are my absolute favourite go-to exfoliators.  All of Betty Buff's scrubs are high-quality and handmade to vintage recipes.  They contain no parabens or artificial colours and fragrances either, so are excellent for use on sensitive skin like mine. 

As well as containing granulated sugar, Evening Primrose Oil, honey and glycerine, 'Scrummy Choco' is made with 100% cocoa which gives it an incredible scent.  As Betty Buff says, it really does smell 'good enough to eat' (but please don't!), almost like a chocolate brownie or uncooked cake mix…  It honestly made my mouth water when I first smelt it!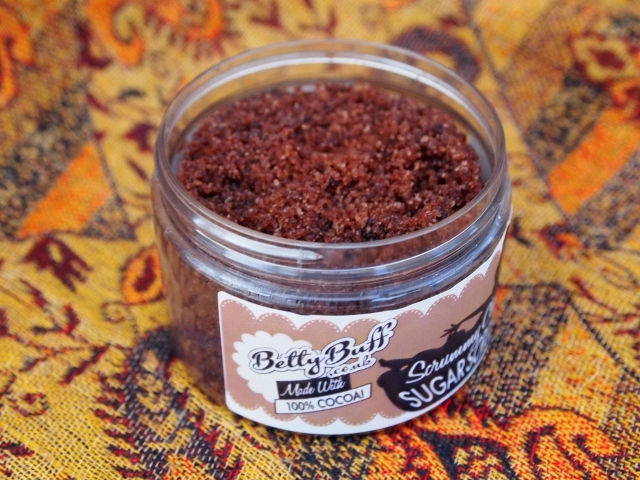 I have been using this for a while now and the effects are very noticeable.  The cocoa makes the scrub delicately moisturising, and always leaves my skin feeling silky smooth, and my dry patches caused by the drying summer weather have all vanished!  Due to the rich colour of the scrub it also leaves a light brown sheen on the skin, which sounds odd but actually looks great, especially if you already have a tan you want to accentuate.
Betty Buff 'Scrummy Choco' Sugar Scrub comes in three different sizes.  The size pictured is the 150ml version, which costs £6.50, but there's also a 250ml tub available for £8.00 and a 100ml sampler for £4.00.  A little goes a long way with Betty's scrubs so each size is fantastic value for money.  If you'd like to try it for yourself, which I highly recommend you do, you can purchase it here.
Moisturise with… Vaseline Cocoa Radiant Rich Feeling Lotion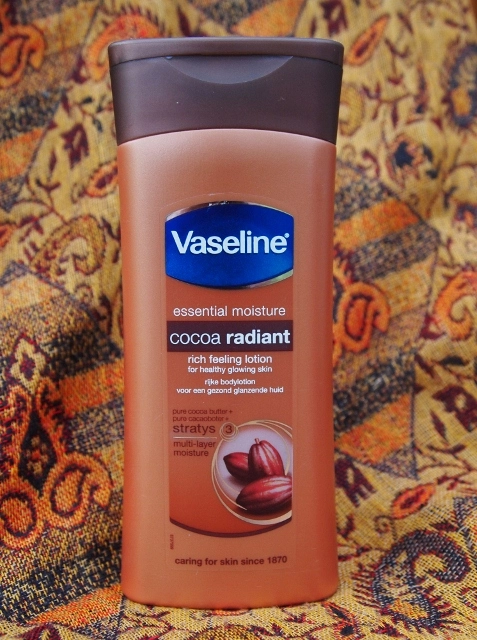 Vaseline's Cocoa Radiant Rich Feeling Lotion is ideal for those who aren't too keen on beauty products with a strong chocolatey aroma or appearance.  The lotion is pale in colour and delicately scented with cocoa beans so it isn't overpowering, and it also has a very delicate formula.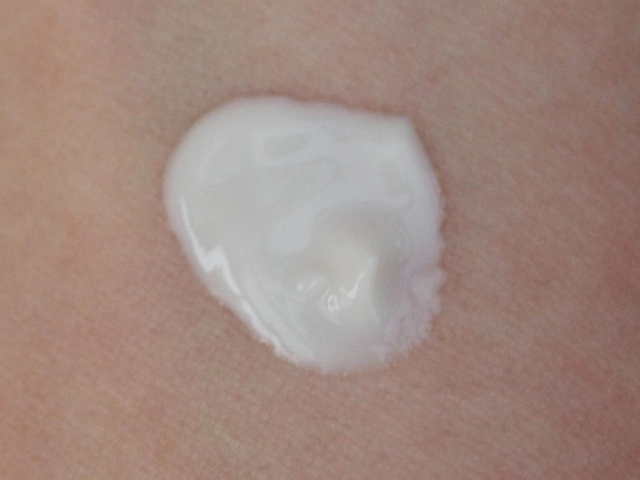 Cocoa Radiant is rich like a body butter, but also lovely and light so it doesn't feel heavy on the skin.  It absorbs quickly without being greasy, rather, it leaves behind a soft creaminess which makes skin feel healthy and supple.  I like to use this after exfoliating and also after shaving as it is protective so prevents any drying or soreness.  What I love most about this lotion is how long the scent lingers…  After a day of wear I can always still smell a sweet tinge of cocoa on my skin which is nicely comforting.
Vaseline's Cocoa Radiant is currently on offer for £2.63 in Superdrug for a 400ml bottle, which is a massive bargain for such a quality product so grab it cheap while you still can!
Cleanse with… Montagne Jeunesse Hot Chocolate Self Heating Face Mask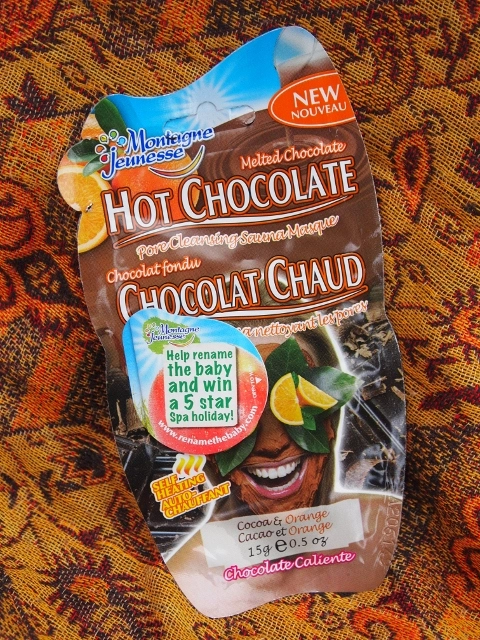 After a relaxing bath and moisturising session, a face mask is the perfect way to finish an evening of pampering.  Now that Autumn is here and the weather is getting colder, it's time to step away from the cooling masks and use something a bit more seasonal…  So, what's better than a self heating mask?  Montagne Jeunesse's Hot Chocolate Self Heating Face Mask is currently top of my face mask list as everything about it is luscious and screams 'me time'!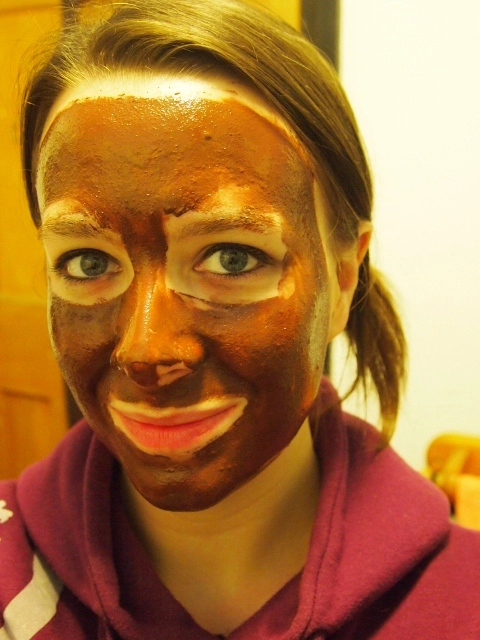 I used this mask last night and couldn't get enough of it.  The formula is fairly thick, basically like melted chocolate, so it is a little bit difficult to apply but it is well worth the effort.  As soon as it touches your skin it heats up to a comfortable temperature which feels incredible and helps to soothe tired skin and muscles.
The mask is scented with cocoa and orange – a winning combination in my eyes (and nose).  The orange cuts through the sweetness of the chocolate to give a decadent scent which makes for a delicious fifteen minutes of wear, and a good few hours of gorgeous smelling skin.
The mask stays wet and doesn't dry like a conventional clay mask so it is quite easy to wash off, but its deep colour can make a mess so make sure you use an old towel!  Like all of Montagne Jeunesse's products, their Hot Chocolate mask is vegetarian and natural, and it contains orange oil which is refreshingly moisturising.  As such, the mask is extremely nourishing to the point that you don't need to use any moisturiser after wearing it.
Montagne Jeunesse's Hot Chocolate Self Heating Mask is available on their website for £1.09 per sachet, but I've also seen it in Wilkinson, Asda, Superdrug and Boots.  I only used half a sachet for one application so you could get two uses out of it if you're lucky, which is always a bonus.
The Last Rolo…
The Last Rolo is where I hand over the last few words of each Chocolate Treat Week blog post to another blogger.  In the run up to Chocolate Treat Week I asked five of my favourite bloggers a couple of questions about their favourite chocolate treats, and today's answers come from Donah of Sweetjellybean.
Can you recommend any chocolate scented, flavoured or themed beauty/fashion products?
Although I try to not use any products that are chocolate scented (as I've had enough of Palmer's Cocoa Butter when I was pregnant!), these days, I've been indulging myself with Leor's Chocolate Truffle Body Lotion. Surprisingly, this doesn't smell as strong as Palmer's but still has that lovely chocolate aroma that isn't distracting. so yes, I definitely would recommend this to anyone, who can't stand Palmers' but still love to indulge themselves in a chocolate-flavoured product.
What is your favourite chocolate treat to eat, and why?
Toffee Crisp! Can't get enough of this when I was pregnant (a hush-hush since I was not supposed to eat this, so this is my guilty pleasure haha) But I definitely don't mind having one bar or two every week.
Thanks for reading my first Chocolate Treat Week post – I hope you enjoyed it!  If you did, please come back tomorrow to read all about chocolate hair products.
Naomi x
*I was kindly gifted the Handmade Soap Bath products and the Betty Buff 'Scrummy Choco' Sugar Scrub by their respective companies for review purposes.  All thoughts and opinions expressed are honest and my own.*