Posts tagged
Relaxing
0
Valentine's Day is also my birthday, so happens to be one of my favourite days of the year. As soon as January comes around I start looking forward to that special day in the middle of February, as not only do I get to enjoy it, but it adds a bit of brightness to the gloomy winter for people everywhere! I'm also a firm believer that Valentine's Day doesn't have to be miserable for those who aren't in a relationship, as it gives you the perfect excuse to treat yourself, or spend time with family or friends.
So, in celebration of Valentine's Day, over the next week or so I'll be bringing you my pick of the best, affordable Valentine's gifts – perfect for your loved one or even for yourself!  Today's pick is this adorable little set of Love Hearts Tea Lights, available from It's A Wot.
Since I moved out of my mum's house and in with my fiancé, I've become more and more interested in interior design, and making my home look pretty, and these tea lights help me do just that.  They come beautifully wrapped in a Love Hearts wrapper, so they look like a super-sized tube of sweets, and inside you get six tea lights, each of which comes in a sturdy plastic holder.
The tea lights come in three colours – pink, purple and blue – with two of each in the pack, and they all have an iconic Love Hearts message printed on top.  The pink ones say "Kiss Me", the purple ones say "Love Me", and the blue ones say "Hug Me".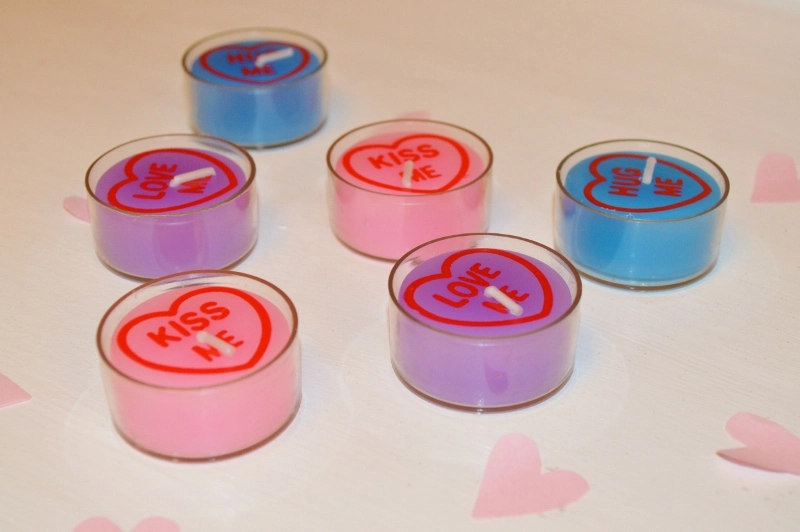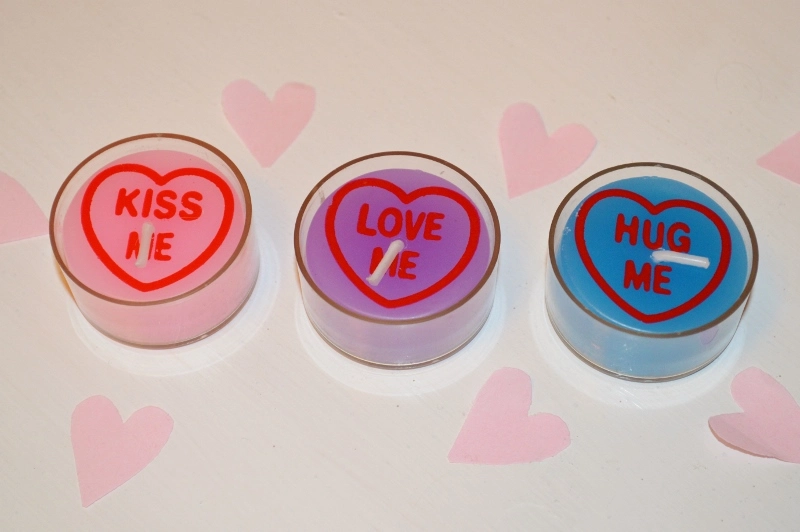 Despite their small size, the tea lights burn really well.  I had them on for several hours the other evening and the flame hardly made a dent in the wax, and they don't produce much smoke, just a steady flame.  My only issue with the candles is that they aren't scented, but it's not a deal breaker and I still think they're lovely.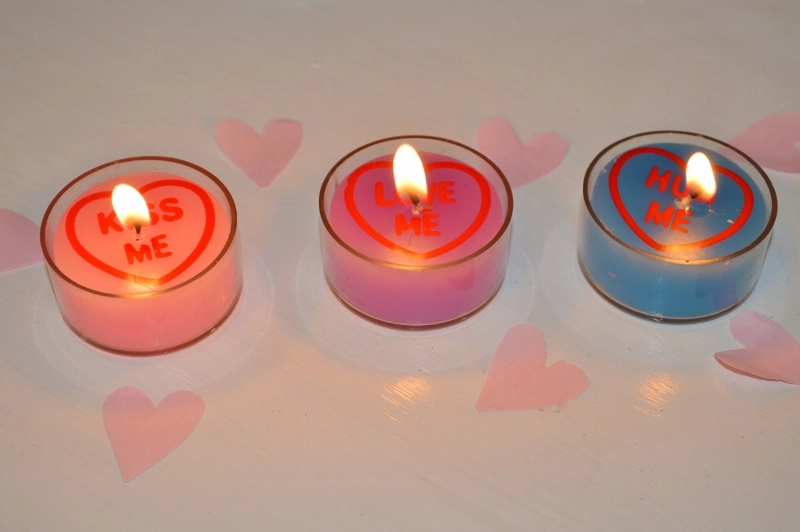 At just £1.84 for a set of six, these tea lights would make an ideal Valentine 's Day 'stocking filler' for someone who loves cute and quirky little house gifts.  They'd also be great for adding a touch of romance to your Valentine's evening, or even just to help you unwind and relax after a busy day.  Want some?  Get them here.
Naomi x
*These Love Hearts Tea Lights were sent to me by It's A Wot for review purposes.  All opinions expressed are honest and my own.*
2
Earlier this week I received an unexpected parcel in the post, which turned out to be the latest offering from BeTrousse – their Christmas Beauty Box.  A bit late I know, but better late than never!  This time, the box contains seven full-size products and retails for £19, saving you a whopping £78 based on the RRP of each product.  Here is what's in the box…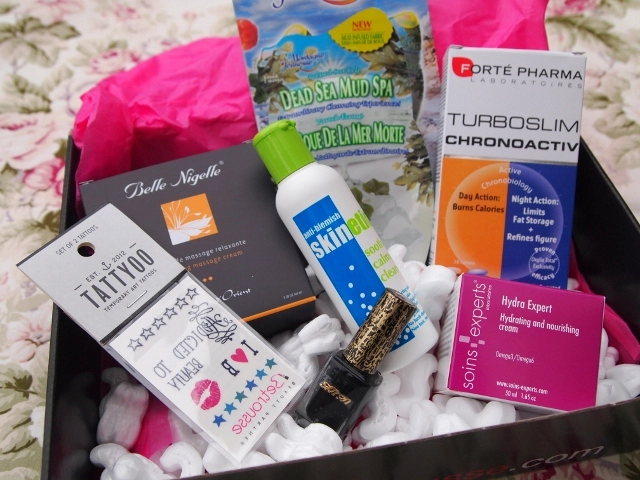 Tattyoo Temporary Tattoo Set
Charme D'Orient Relaxing Body Massage Cream
Skinetica Anti-Blemish
Montagne Jeunesse Dead Sea Mud Spa Mask
TurboSlim ChronoActiv Tablets
Soins Experts HydraExpert Cream
Saffron London Crackling Nail Polish
My first thoughts when I opened the box were mixed.  To start with, the contents weren't very Christmassy!  Given the name of the box I was expecting a bit of glitter and maybe some festive red lipstick, but there wasn't any in sight, and instead I was met with the usual abundance of skin care products.  Luckily, I love to pamper my skin, so I can never have too many lotions and potions!
As usual, BeTrousse have generously provided full-size products so you can really feel the effects of each product before deciding whether or not to repurchase.  So, for now, I will let you know my first impression of each item, and review them in more detail at a later date when I've given them a good go.
Tattyoo Temporary Tattoo Set – 2 sheets – RRP £5.00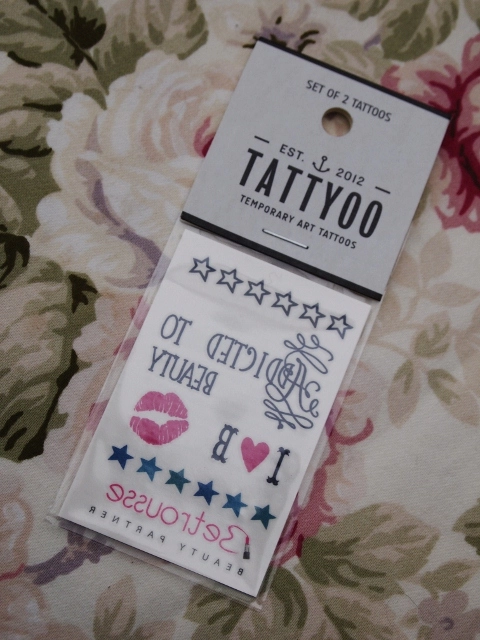 In all honesty I thought this was a strange addition to a beauty box.  I haven't used tattoo transfers since I was a child, and I can't think of a situation which would call for these.  Not for me I'm afraid, but having looked at Tattyoo's website they do have some amazing, affordable designs which might be fun to wear as an accessory when you fancy something a bit different and creative, without the committment of having a real tattoo!
Charme D'Orient Relaxing Body Massage Cream – 100ml – RRP £16.00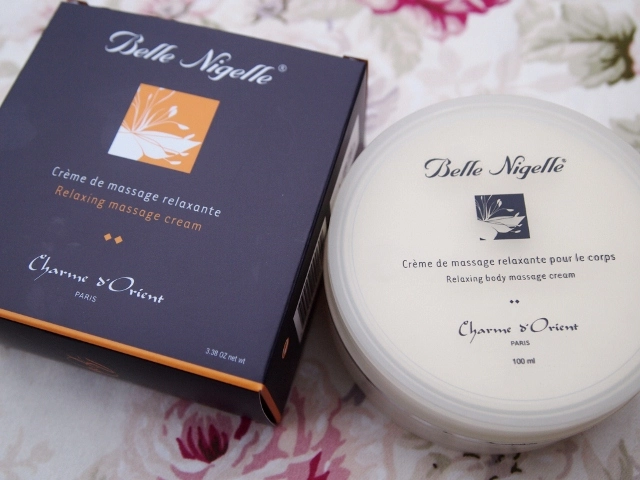 This Belle Nigelle relaxing body cream is easily my favourite product in the box.  If you've read my Omni Massage Roller review you'll know I love a good massage, so this is right up my street.  The cream itself smells absolutely beautiful as it contains cinnamon essential oils, and it has a light, smooth consistency which massages delicately into the skin without making a mess.  Ideal for relaxing muscles, I'm sure I'll be getting a lot of use out of this – a definite winner!  Not all boxes contain this though – the alternative product is a Bath & Massage Oil by the same brand.
Skinetica Anti-Blemish – 100ml – RRP £9.99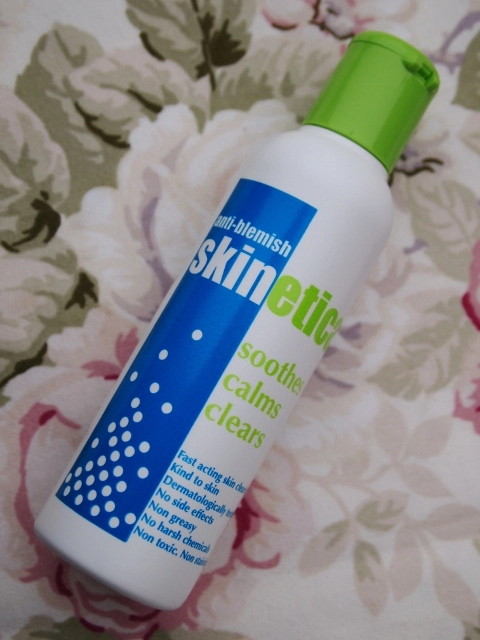 I'm always on the look-out for new spot clearing products, so Skinetica's Anti-Blemish was a welcome addition to the box.  I've only tried this on the back of my hand so far so I can't comment on whether it works, but it claims to show results within 2 to 3 days which is pretty impressive.  The liquid is clear and non-greasy, and contains no nasty chemicals, so it's bound to be gentle on the skin – a bonus for sensitive souls like myself!
Montagne Jeunesse Dead Sea Mud Spa Mask – 1 mask – RRP £1.49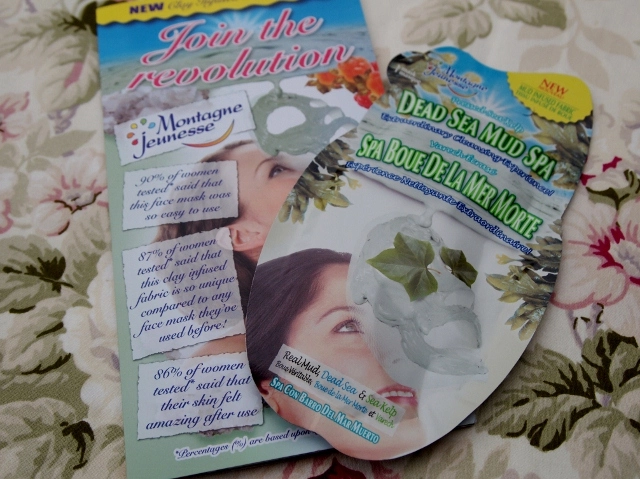 I have tried Montagne Jeunesse's Dead Sea Mud Spa mask before and I loved it.  They're such a lovely product for a girly pamper session, so I was glad to have another to add to my dwindling stash.  If you want to know more about what I think of the mask, you can read my review here.  At £1.49 they are a steal!
TurboSlim ChronoActiv Tablets – 28 tablets – RRP £29.95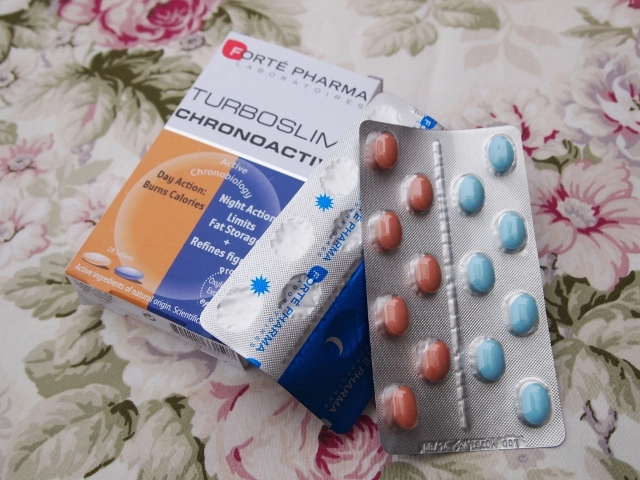 TurboSlim ChronoActiv appeared in BeTrousse's first box, and has popped up again in the Christmas box.  I have no intention of losing any more weight, so I won't be using these, and quite frankly I don't believe that weightloss pills actually work!  The box contains 28 pills and you're supposed to take 2 a day, meaning one box will last for 14 days.  The box states that you will start to see results after 15 days, so one box wouldn't make a difference anyway, and to buy another box costs £29.95.  A rather expensive investment for something that might not work!
Soins Experts HydraExpert Cream – 50ml – RRP £34.00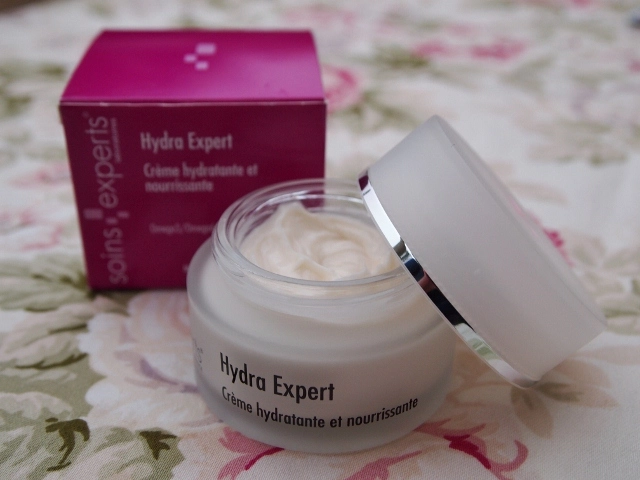 HydraExpert is formulated to have protective, soothing, anti-oxidant and hydrating properties – four things which my dry, sensitive skin needs!  I've only tried this on my hand so far and the cream has a nice consistency and very little smell.  Given its properties, I think it will make a nice addition to my skin care routine.
Saffron London Crackling Nail Polish – 14ml – RRP £0.75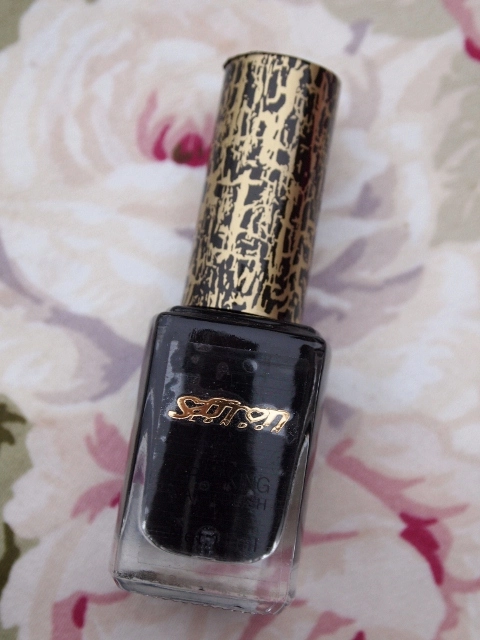 Last, and unfortunately least, is this – a bottle of Saffron London black crackle varnish.  The very same varnish was included in BeTrousse's last box, the Pretty Beauty Box, and I feel the same about it now as I did then!  The crackle trend is on its way out now, and considering I already have one of these I don't have much use for this, so I will be giving it away.
Overall, another mixed bag of products.  Some I love, some I don't, and the Christmas theme really isn't there at all.  However, if you're interested in trying one of the more expensive products in the box then this is definitely worth the £19 price tag, as you'll be saving money AND getting several other products to try.
Which product in the Christmas Beauty Box do you most like the look of?
Naomi x
*I was sent the BeTrousse Christmas Beauty Box by BeTrousse for review purposes.  All thoughts and opinions expressed are honest and my own*