Posts tagged
Candy
4
The March Degustabox, as usual, arrived promptly at the end of the month, and was stuffed full of exciting goodies.  A lot of familiar brands cropped up this time, including Jordans, Lindt, Crabbie's and Brioche Pasquier, but there were also a couple of new brands to try, namely BBQUE and Natvia.  There was also a good balance of food and drink, and sweet and savoury, which is always nice.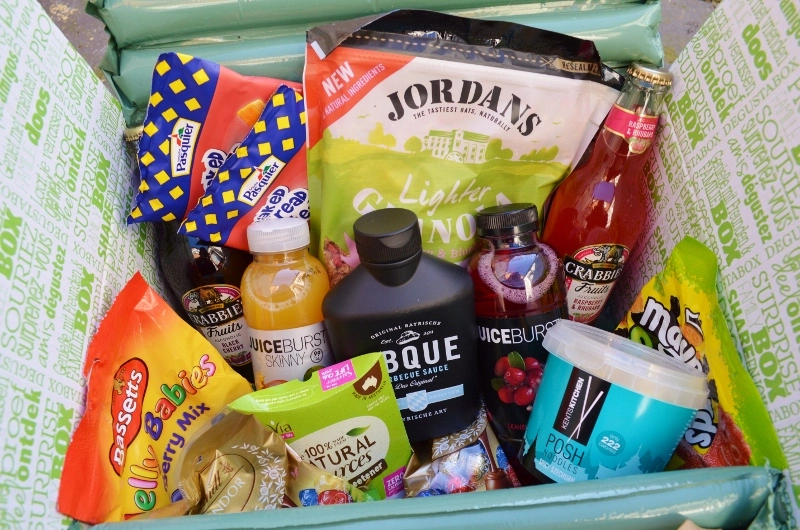 The March box was great value for money, as usual, containing fourteen individual items, with a combined total value of over £24.  Degustabox subscriptions cost an affordable £12.99 per month, which includes delivery, so you're making a great saving every time.
Jordans Lighter Granola (RRP £3.69)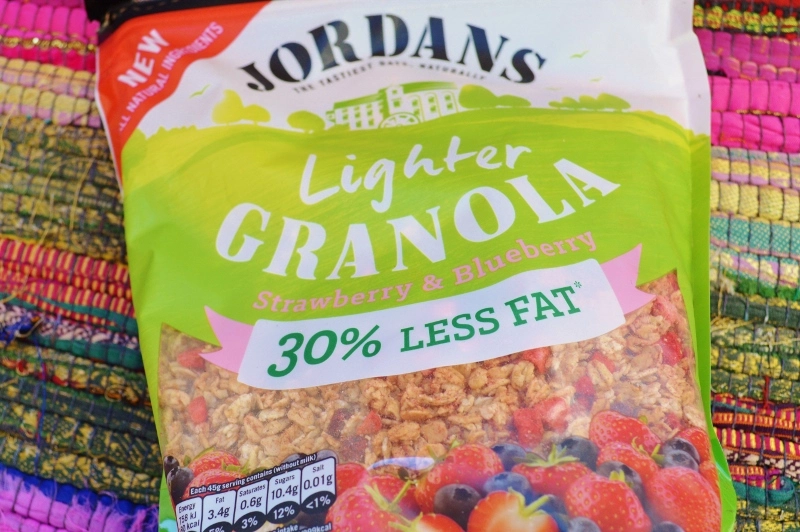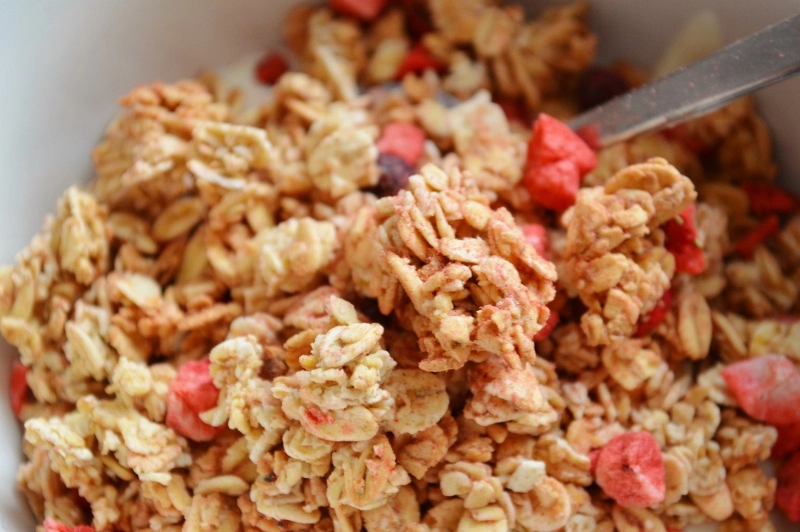 Granola is one of my favourite things to have for breakfast, and I'm quite fond of Jordans products, so this was a welcome addition to the box.  This particular granola is strawberry and blueberry flavour, and has 30% less fat than standard granolas, which is great news for the health conscious among us.  I've been eating this in the mornings with fruit yoghurt, and it is delicious.  The dried fruit pieces are tasty and plentiful, and soften nicely once wet, without going mushy.  The granola has a great crunch to it and is nice and sweet, but not overly so.  This one gets a big thumbs up from me.
Rating: 9/10
JuiceBurst Juices (RRP £1.25 each)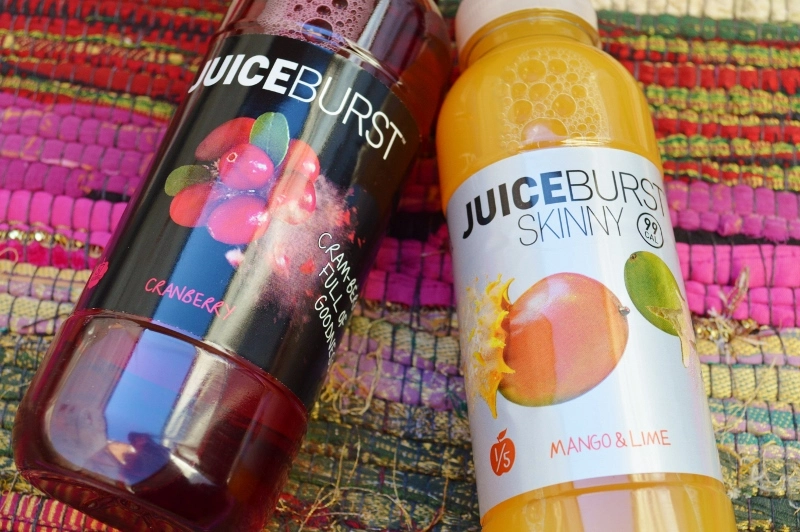 These JuiceBurst juices are a quick and easy way of getting one of your five a day.  I received two flavours in my box – cranberry, and mango and lime from the Skinny range, which contains fewer calories but all the goodness.  Mango is one of my favourite juice flavours, so naturally the mango and lime was my favourite.  It was sweet, but this was balanced nicely by the citrus tang of the lime.
Rating: 7/10
BBQUE Original Bavarian Barbecue Sauce (RRP £3.99)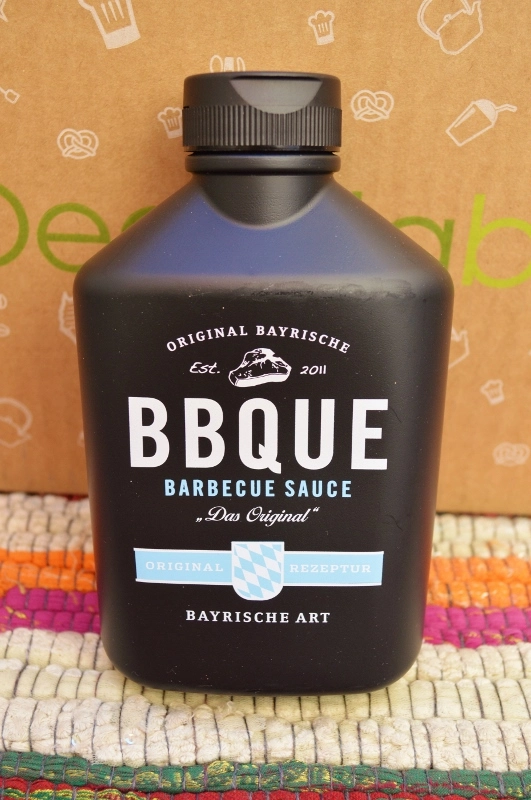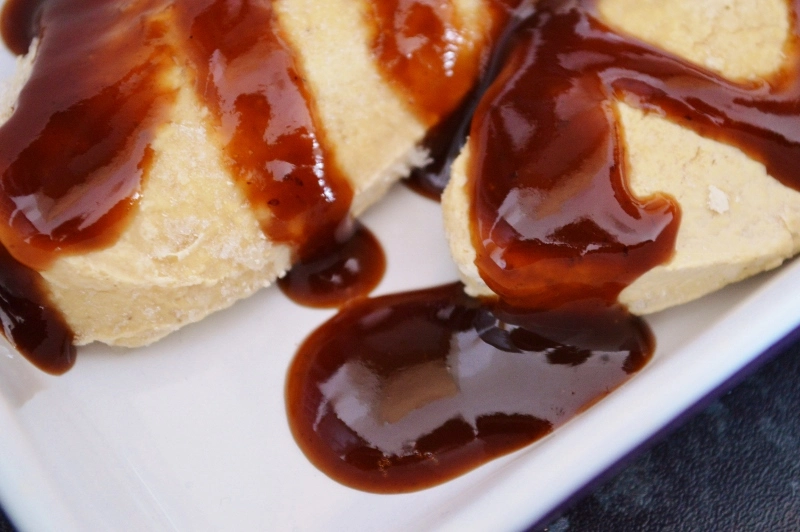 BBQUE Original Bavarian Barbecue Sauces come in four flavours – grill and beechwood, honey and mustard, chilli and horseradish, and original, which is the flavour I received.  I eat a lot of barbecue sauce so this sauce had a lot to live up to, but it actually ranks quite highly!  It's runnier than I usually like, which meant it didn't make a very good topping for my vegetarian chicken New Yorker, but the flavours of cranberries, beer, honey and apples are delicious.  I also really like the bold packaging and branding, although I did have to Google Translate all the German text before eating it, to check whether it was vegetarian!  (It is).
Rating: 8/10
Lindt Lindor Assorted Mini Eggs (RRP £2.00 each)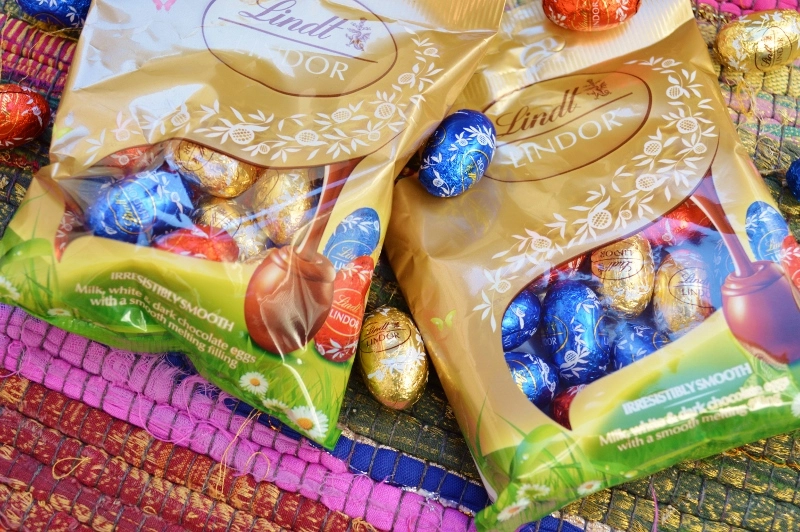 I never get bored of finding Lindt products in my Degustabox, and these were the perfect little treat for Easter.  Each bag contains a generous amount of foil wrapped chocolate mini eggs, in three different flavours – milk, dark and white.  Each egg is like a miniature Lindor truffle, and boasts the creamy chocolate and smooth filling that we all know and love.  The gold wrapped, white chocolate ones are my favourite.  Very luxurious, and great to share (if you really want to!)
Rating: 8/10
Maynards Sour Patch Kids (RRP £1.00) and Bassetts Jelly Babies Berry Mix (RRP £1.48)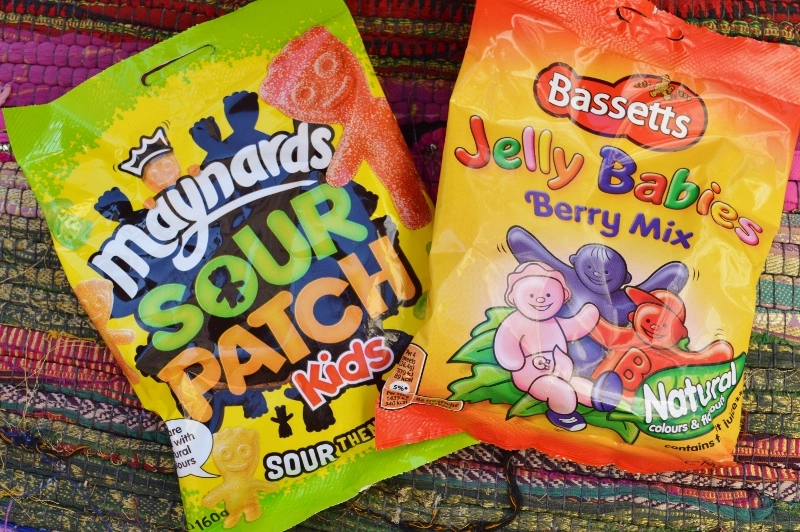 Unfortunately neither of these bags of sweets are vegetarian, so I'll be passing them on to someone else.  It's a shame really because I love sour sweets, berry flavours, and I was always a fan of Jelly Babies when I wasn't veggie.  I just hope Maynards and Bassetts decide to add some similar vegetarian-friendly offerings to their ranges soon!
Crabbie's Alcoholic Fruits (RRP £1.50 each)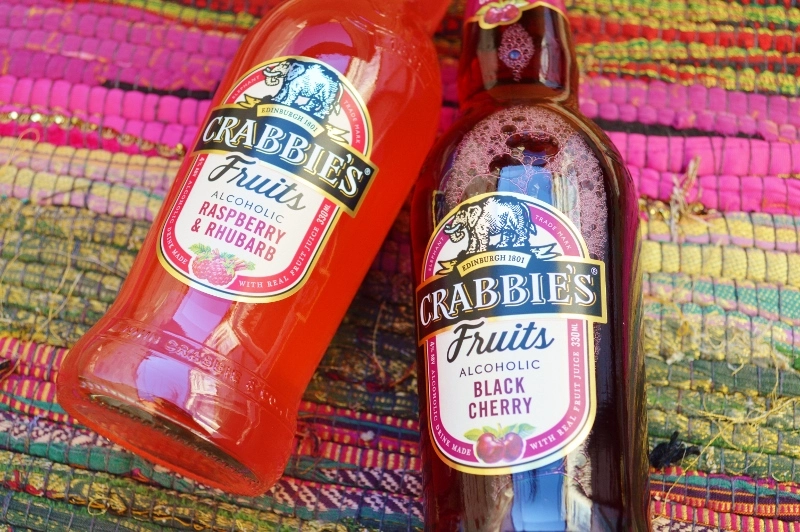 I really like Crabbie's drinks, and these alcoholic Fruits were the only product in the box that I'd tried before.  Unlike most of Crabbie's products, these flavours contain no ginger, but are made with real fruit juice, which give them a thirst-quenchingly fresh flavour.  I received two different flavours – raspberry & rhubarb, and black cherry, but they also have a zesty lemon flavour in the range.
Rating: 7/10
Kents Kitchen Posh Noodles (RRP £1.75)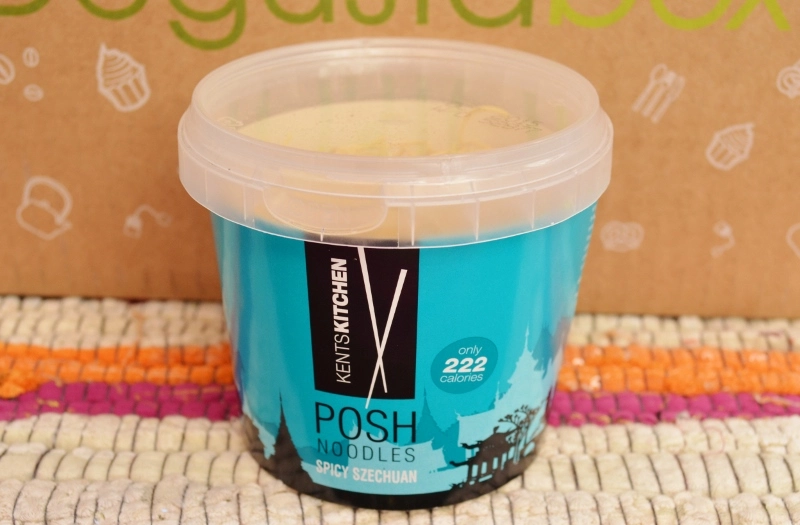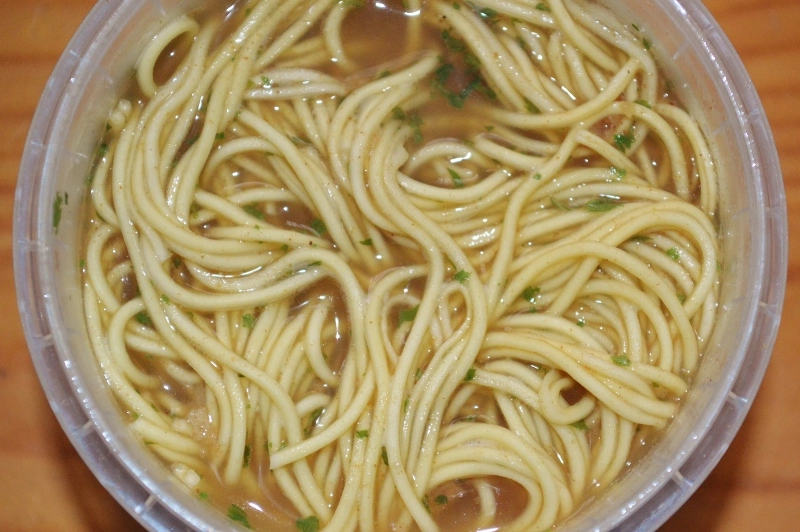 I had high hopes for these Kents Kitchen Posh Noodles, but they were quite disappointing, and not a patch on the Kabuto Noodles that appeared in the January Box.  The noodles were plentiful and had a great texture, but the positive points stop there.  The Szechuan flavouring was intense, but not in a spicy way.  The flavour actually made my mouth hurt and my tongue feel sore, almost like I was having an allergic reaction, which was incredibly unpleasant.  The noodles were also lacking any vegetables or soy pieces, which made them pretty boring after a while.
Rating: 5/10
Natvia Sweetener (RRP £2.00)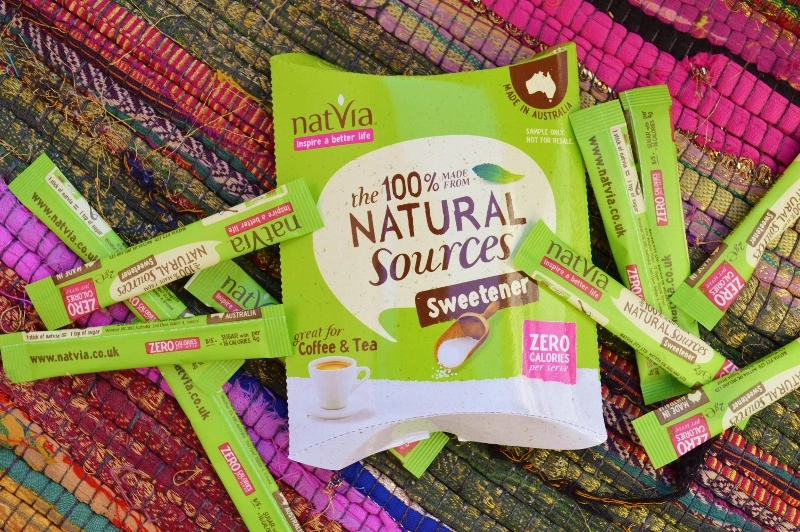 Natvia is a 100% naturally sourced alternative to sugar and artificial sweeteners, which is derived from stevia.  Stevia seems to be the 'in thing' at the minute, so I was keen to try these sweeteners out.  One of these in coffee is the equivalent of one teaspoon of sugar, and to be honest it's hard to tell the difference in terms of taste, which can only be a good thing!  And even better is the fact that Natvia contains zero calories.  I think I'll be using these in baking next to see how they compare to my usual caster sugar.
Rating: 7/10
Brioche Pasquier Baked Bread Bites (RRP 50p each)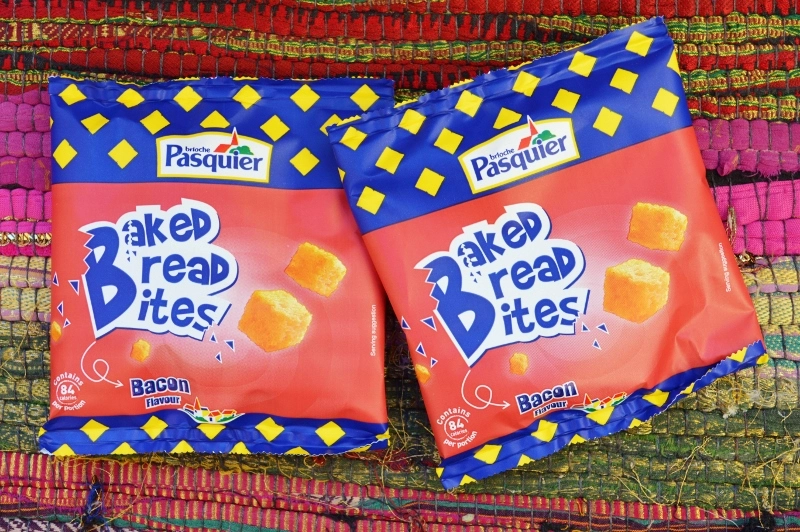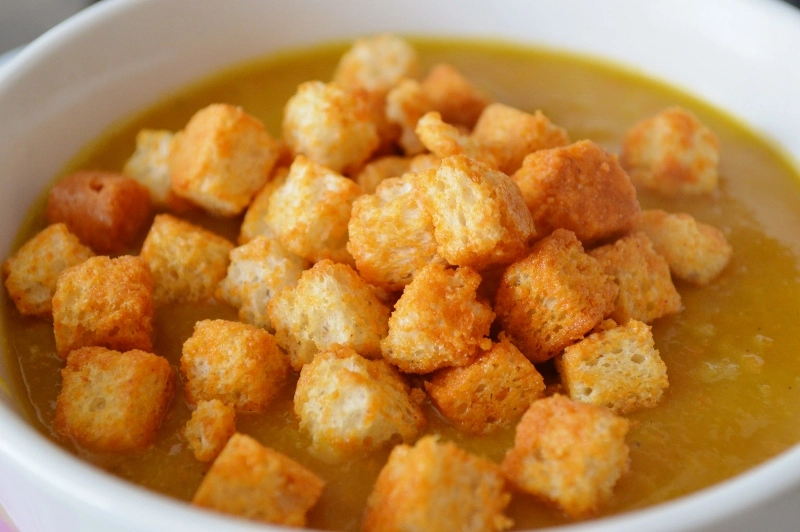 Before now, I'd only ever tried Brioche Pasquier's sweet breakfast products, so it was nice to try something from their savoury range.  The box contained two of these little bags of bacon flavoured baked bread bites, which will be launching in shops soon.  Despite being a vegetarian, bacon happens to be one of my favourite crisp flavours, and I really enjoyed the smoky taste of these.  They also had a lovely crunch to them.  The bites are healthier than your average crisp, containing less saturated fat, no artificial flavours, colours or preservatives, and less than 90 calories.  They're also quite versatile, and work well as a snack, but also as a crouton-type topping for soup.
Rating: 7/10
If you fancy giving Degustabox a go yourself, you can get a £3 discount by entering code 2S7LB at the checkout.  You can also follow Degustabox on Twitter and Facebook for more exclusive offers.
Naomi x
PS. You can check out the rest of my Degustabox reviews here.
*This Degustabox was sent to me for review purposes.  All opinions expressed are honest and my own.*
0
Valentine's Day is also my birthday, so happens to be one of my favourite days of the year. As soon as January comes around I start looking forward to that special day in the middle of February, as not only do I get to enjoy it, but it adds a bit of brightness to the gloomy winter for people everywhere! I'm also a firm believer that Valentine's Day doesn't have to be miserable for those who aren't in a relationship, as it gives you the perfect excuse to treat yourself, or spend time with family or friends.
So, in celebration of Valentine's Day, over the next week or so I'll be bringing you my pick of the best, affordable Valentine's gifts – perfect for your loved one or even for yourself!  Today's pick is this adorable little set of Love Hearts Tea Lights, available from It's A Wot.
Since I moved out of my mum's house and in with my fiancé, I've become more and more interested in interior design, and making my home look pretty, and these tea lights help me do just that.  They come beautifully wrapped in a Love Hearts wrapper, so they look like a super-sized tube of sweets, and inside you get six tea lights, each of which comes in a sturdy plastic holder.
The tea lights come in three colours – pink, purple and blue – with two of each in the pack, and they all have an iconic Love Hearts message printed on top.  The pink ones say "Kiss Me", the purple ones say "Love Me", and the blue ones say "Hug Me".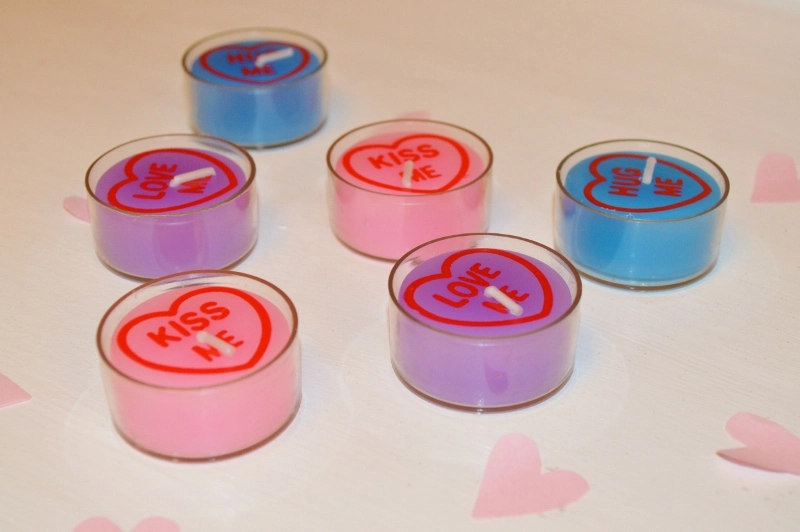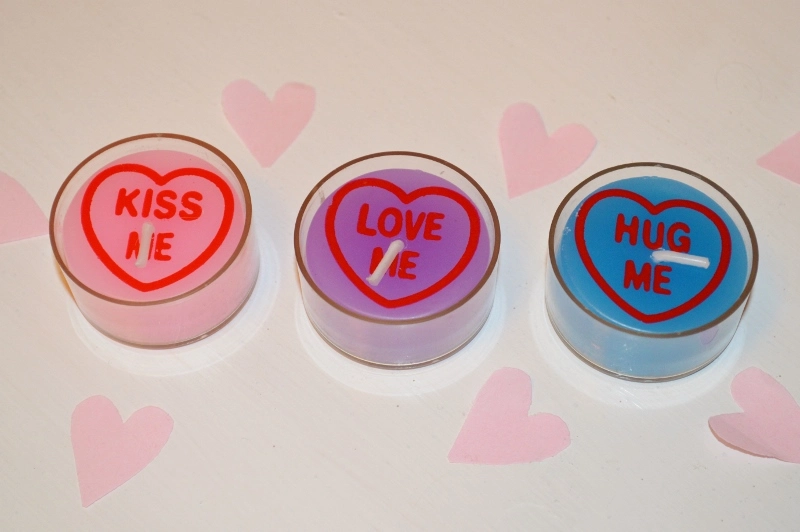 Despite their small size, the tea lights burn really well.  I had them on for several hours the other evening and the flame hardly made a dent in the wax, and they don't produce much smoke, just a steady flame.  My only issue with the candles is that they aren't scented, but it's not a deal breaker and I still think they're lovely.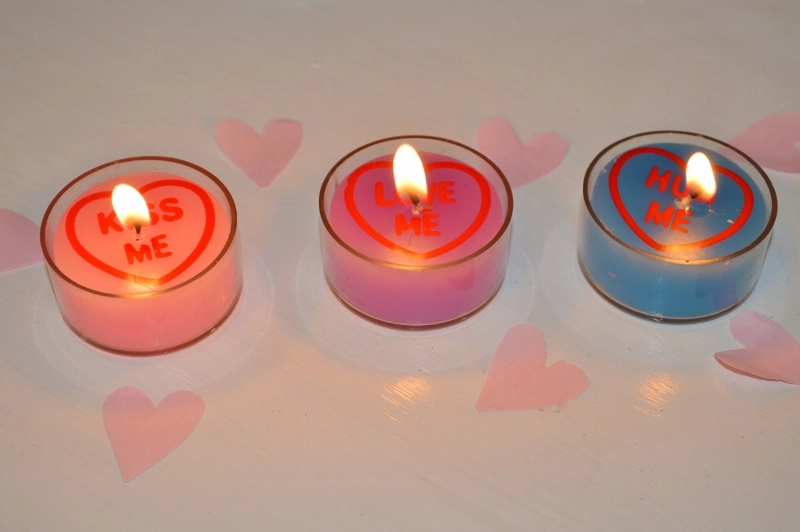 At just £1.84 for a set of six, these tea lights would make an ideal Valentine 's Day 'stocking filler' for someone who loves cute and quirky little house gifts.  They'd also be great for adding a touch of romance to your Valentine's evening, or even just to help you unwind and relax after a busy day.  Want some?  Get them here.
Naomi x
*These Love Hearts Tea Lights were sent to me by It's A Wot for review purposes.  All opinions expressed are honest and my own.*
1
Last week my sister very kindly gave me two Estée Lauder make up products that she did not want – a Pure Color Shimmer Lipstick in Shade 16 'Candy', and  a Double Wear Stay-in-Place Lip Pencil in '01 Pink'.  I think both were gifted to her from a gift set by her boyfriend's mum, and they both came to me swatched once.  I'd never tried Estée Lauder before so I was really pleased to receive these, despite having the preconception that the brand is generally aimed towards the more mature lady. As they always say, don't knock it until you've tried it!

Both products are fairly small and compact, meaning they're the perfect size to carry around with you in your handbag or make up bag.  They're both suitable for day wear too, at home or at the office, as they're both a sensible pink shade – nothing too flashy but fairly classy.  Here's a (slightly wonky) swatch of both…

As you can see, the lip pencil is slightly darker than the lipstick, but they still go really well together as they have a similar red pigmentation, and I find a darker liner always makes for a more defined lip shape anyway.
Double Wear Stay-in-Place Lip Pencil in Pink

When creating a look with these two products, I first applied the Double Wear Lip Pencil to the outline of my lips.  The pencil is extremely creamy, so it doesn't tug the skin, but it's also firm and doesn't make a mess, making even application very easy indeed.  Due to its small size the pencil is easy to control too, and as such I was able to draw a soft line, rather than a solid, bold one, which is what I was aiming for.  The pencil dries quickly once on the skin, and then stays in place for a good while.  After swatching this on my hand it wouldn't rub or wash off, but it came off straight away with make up remover which is a good sign.
The colour of the pencil is very pleasant – a lovely, blushing pink with amazing pigmentation; perfect for spring and a suitable match for a lot of my pink lipsticks!  I'll definitely be getting a lot of use out of this.  Next time I may even apply it across my whole lip before applying the lipstick over the top, to give it even more staying power.
Pure Color Shimmer Lipstick in Candy

Candy is a gorgeous candy pink (it's in the name) which is highly pigmented, and has an intense shimmer.  I'm not usually one for wearing shimmery lipsticks as I think they can sometimes look a bit dated, but I actually quite like this one.  The lipstick itself, like the liner, is beautifully creamy and glides on smoothly, disguising any imperfections on the surface of the lips.  I found this quite unusual for a shimmery lipstick actually, as most I've tried have highlighted any dry areas.  Once on the lips, Candy stays put, and thanks to the lip pencil doesn't bleed or smudge, allowing for a long-lasting neat pout.


In terms of staying power, both of these Estée Lauder lip treats have it!  I applied these in the morning during my normal make up routine, and after six or so hours of eating, drinking, talking and travelling, my lips still looked as bold and beautiful as they did when I first put on my make up.  Impressive!  After the six hours the lipstick did require a touch up though, so it wouldn't quite last a full working day, but it's not far off.

Overall, my first impressions of Estée Lauder are good.  Both products are excellent quality, and have everything you'd want from a lipstick and liner – good colour, a nice formula and great staying power.  I've done a bit of research and, full size, the Estée Lauder Double Wear Lip Pencils cost £16.00, and the Pure Color Lipsticks cost £19.50 each.  Both are a little more than I'd be willing to pay, so I probably won't be repurchasing, but they are definitely worth it if your budget can stretch to it.
Naomi x