Posts tagged
Soap
9
In the past I have blogged about several fantastic hand creams which have done a good job at softening my skin.  However, for some reason, this winter has been particularly harsh on my hands which has left me with sore, dry patches which got so bad my hands actually started bleeding, and none of the creams I'd previously used were good enough to fix it!  I tried everything from high street dry skin hand creams, E45 and Sudocrem to natural eczema remedies, but nothing worked, so in an effort to sort it out once and for all I went to see my GP for advice.  I was expecting him to give me something chemically and horrible on prescription, but instead he suggested a rather different remedy which is now a big part of my every day skin care routine.
This might sound strange, but my GP told me to stop using soap (both bar and liquid) when I wash my hands, and to use Emulsifying Ointment instead.  Both water and soap can dry skin out, but Emulsifying Ointment is a mixture of paraffin oils, which form a protective layer over the skin when used, helping to keep moisture in.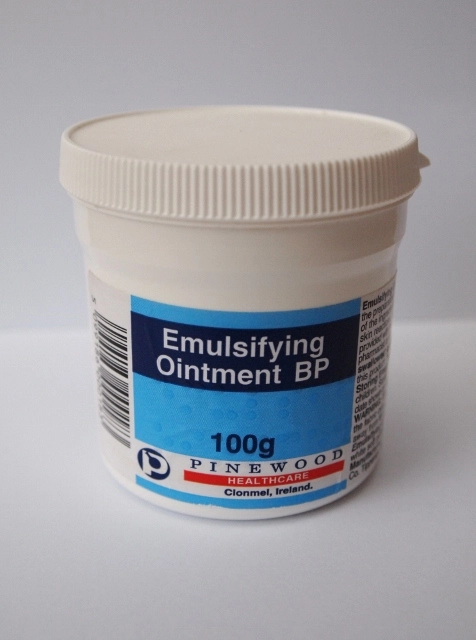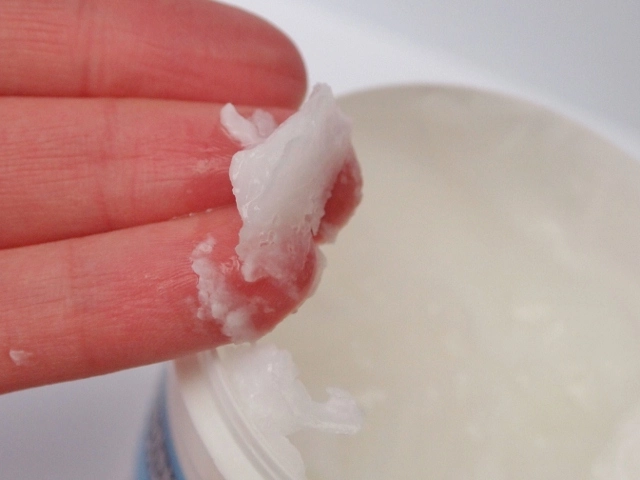 I have been using Emulsifying Ointment at home, instead of soap, for a couple of weeks now, and I am really noticing a difference.  Before, I had really painful, cracked skin between my fingers, so I have been concentrating on massaging the ointment in to these areas, and they are almost completely better now.  I haven't been using this every time I wash my hands, as at other people's houses and in public toilets it isn't always possible, so they probably haven't healed as quick as they could have, but I plan on buying another tub to carry with me at all times which should help!  The 100g tub above cost me a couple of pounds from my local pharmacy, but I've since seen a 500g tub for around the same price, so it really isn't that expensive.
Throughout the day I continue to use unscented, dry skin hand creams as usual, and wear gloves when I'm outside to avoid damage from the cold wind, but the next major stage in my skin care routine for dry hands comes at night, before I go to bed.  My GP advised me to use Vaseline to help soften my skin, but I have found something else which works a treat – Olive Oil!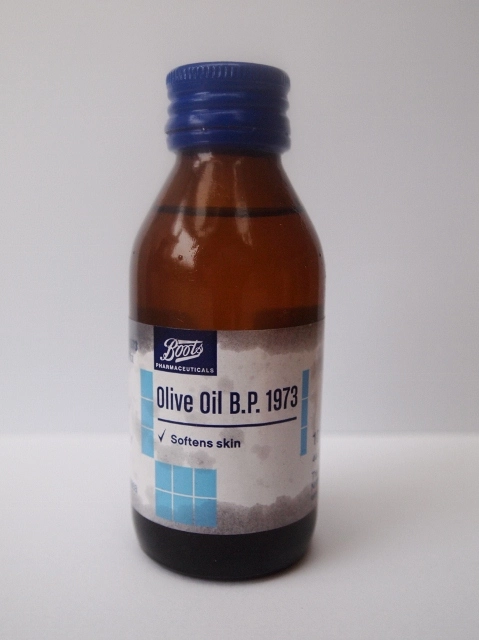 The little bottle of Olive Oil pictured above came from the pharmacy department in Boots, and cost me £1.99.  I've tried to find out whether it's the same as Olive Oil used for cooking, but there are no clear answers online, so I thought I'd play it safe and buy one which said it was good for softening skin.  I'm pretty sure you can't use Extra Virgin though!  Every night before I go to bed, I rub a small amount of this into my hands (about a 5p coin sized amount per hand), focusing on the backs and in between my fingers which are the worst affected areas.  Then, I get my MJ groove on and don a pair of cotton moisturising gloves, which help with the absorption of the oil, and prevent messy bed linen! I got mine from the pound shop, two pairs for £1.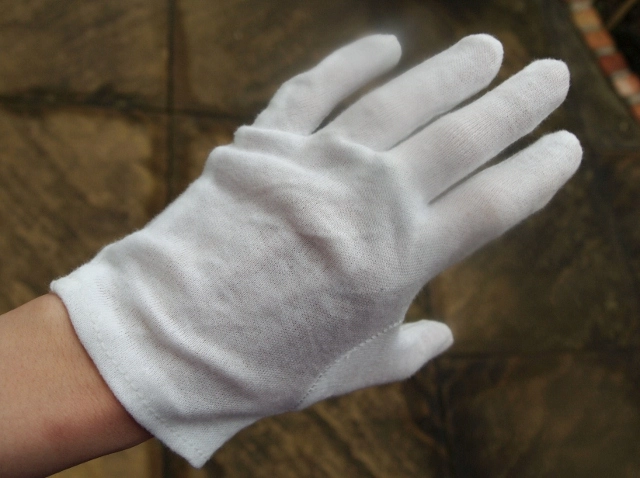 Admittedly, I usually wake up in the morning sans gloves, but by that point the oil has done its job.  Though the oil is far too greasy to use throughout the day as a moisturiser, it is working well as a nightly intense treatment and, along with the Emulsifying Ointment, it has made a clear difference to my skin.  I am now (almost) dry skin-free, my hands no longer crack and bleed, and I just have a few rough patches on my knuckles to shift.  An incredible result from a simple routine!
In sum, all you need to do is…
Use Emulsifying Ointment instead of soap when you wash your hands.
Moisturise with an unscented dry skin hand cream throughout the day.
Wear gloves when out and about to avoid damage from the cold wind.
Use olive oil and moisturising gloves at night.
Will you be trying this routine for yourself?
Naomi x
7
Yesterday evening I received a very exciting email from BUAV to say that, after over twenty years of campaigning, the EU have announced that they will be banning the sale of cosmetics which have been tested on animals.  According to BUAV's article, "the import and sale of animal tested cosmetic products and ingredients is to be banned in the EU on 11th March 2013″, meaning that any company wishing to sell new cosmetic products within Europe, must not test them on animals anywhere in the world.  The ban will not just affect beauty products, but also toiletries and essentials such as soap and toothpaste.

As I'm sure you will all agree, this is a huge step in the right direction to banning animal testing worldwide, and as BUAV have said, hopefully it will send "a strong message worldwide in support of cruelty free beauty and in particular to countries such as China, who still demand animal testing for cosmetics, to also respond and ban testing on animals".  I personally couldn't be happier with this news, and I look forward to seeing what positive changes this will bring to the cosmetics industry.
To read more about the proposed animal testing ban in the EU, you can visit the BUAV article referenced above here.
Naomi x
8
By now, we are all used to the concept of the beauty box, that little present to yourself – you pay for a subscription, usually costing around £10 per month, and in return you receive a monthly box containing five or six sample products.  If you're lucky, one of them might even be full-size.  But guess what?  A new and unique beauty box has just landed in the UK, and this one, in my eyes, is bigger and better than any other.  Why?  Because unlike other beauty boxes, everything in this one is full-size!  I am happy to be one of the first to introduce you to BeTrousse.

BeTrousse, a French company, put together monthly themed beauty 'kits', each containing five full-size beauty products.  There are currently three boxes available; 'The Must Haves' (£19), 'Organic & Natural Beauty' (£17) and 'Spring Beauty' (£19).  The boxes cost more than the average beauty box, but they are great value money – the products in 'The Must Haves' box retail for a whopping £131 in total, for example, saving you £112.  BeTrousse boxes aren't offered via a subscription, you have to buy them individually, so if you don't like the look of the products you don't have to gamble your money on the box – simple!
I was recently gifted a box by BeTrousse to review, and was sent the very luxurious 'Organic & Natural Beauty' box.  I was so excited about receiving it, and after a fairly short wait it arrived on Saturday.  As you can see above, the box is quite large, like a shoe box, and rather heavy due to the size of the products, so this one won't fit through your letter box!  When you open the box, you are greeted with pink tissue paper wrap, like this…

And of course, the moment you've all been waiting for, here are the contents of the box!


As you'd expect, each product in the 'Organic & Natural Beauty' box is made of natural ingredients with no harsh chemicals, and every single one smells divine!  I've tried all but one of them out, so I'll tell you a little bit about each. I'll probably do a proper review of the products that I really like when I've used them for a bit longer, as part of the point of a full-size box is to use the items for a while so you can see if they suit you

Fro Her Aloe and Honey Mist – 75ml – RRP £10.99
This is the only product in the box that isn't made in France – it's actually from a company in Cardiff called Evelyn.  The mist is intended for use on dry or afro hair, but it can be used on any hair type to help make it softer.  The bottle says to spray the mist onto your hair and then brush it through to give a sleek look, which I did, and it works!  I tried this out yesterday and my hair looked lovely and shiny for the rest of the day, and it didn't make my hair greasy.  It smells really sweet and lovely and the scent lingered for a long time – I kept catching whiffs of it all afternoon

Forest People Luminous Serum – 14ml – RRP £31

This Forest People Serum contains Borage and Rosehip Oils, and is used on the eyes to minimise puffiness and dark circles, and to contour lip shape.  The bottle says to dab a drop of the oil onto the eyelids and under the eyes, and onto the cupid's bow of the lips.  The oil smells great and is very moisturising – I used this on my eyes yesterday and though I didn't see much difference after one use, it made my skin feel very smooth and refreshed.
Lothantique Bath Salt – 600g – RRP £10

I haven't yet tried these bath salts but they smell very fruity and have an air of luxury about them.  The bottle is absolutely massive and for a French, organic product I'd say this is great value for money.  I'm looking forward to pampering myself one evening with these in a relaxing bath!
*UPDATE* I just had a bath using these bath salts and they are looovely.  They didn't irritate my skin at all!
Reve De Provence Organic Bar Soap (Olive Oil and Lavender) – 150g – £4.99

When I first opened my box I was hit with the beautiful smell of lavender, and it was coming from this bar of soap, scented with essential oils.  I usually use liquid soap as bars tend to have a drying effect on my skin, but after using this one my hands felt nicely softened.  I can only put this down to the natural ingredients that it contains, and I'll definitely carry on using it!  The soap box also proudly states that the product isn't tested on animals, which makes me very happy indeed.
K Pour Karite Hair Mascara (Dark Brown) – 0.52oz – RRP £12.95

This is the only product in the box that I wasn't taken by.  Hair mascara is a little bit 90s in my eyes, and I think it's a strange item to put in a beauty box as it's very specific – not everyone has light roots or grey hairs!  I won't be using the mascara on myself as I have no need for it, but I tried it on my mum as she has dark brown hair which is going grey.  I managed to get some photos of how well it works…
Before

After

The colour match isn't perfect, but it did give fairly good coverage after a quick try at it, and I imagine you could get even better results with a bit of patience.  Still, at £12.95 it seems a bit excessive!
Overall, I am smitten with BeTrousse and I can't wait to see what the next box brings!  It feels like a real treat when you open the box up and find five impressive full-size products inside.  You benefit from being able to try full-size products at a smidgen of the price as you get to feel the full effect of each one before deciding whether to purchase it again.  Will you be buying BeTrousse?
Naomi x