Posts tagged
Colour
6
As an avid nail painter with a penchant for nail art I am always on the look out for new and exciting nail varnishes to add to my collection.  So, when Rosalie from Dielle UK offered to send me a couple of her beautiful nail colours, I couldn't wait to get my hands on them.  A few weeks ago, after a short wait, I received a beautifully packaged little parcel from Ros in the post, and was instantly wowed by the bold brightness of Dielle's colours.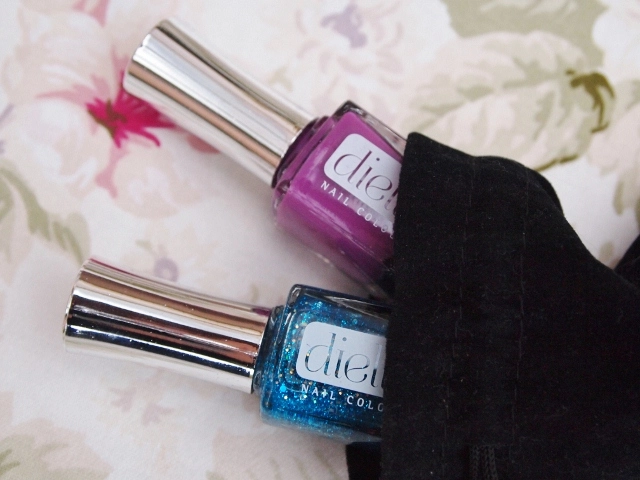 Dielle translates as 'Modern Goddess', and the brand aims to provide sophisticated nail shades which look as amazing on the nail as they do in the bottle, and which help to enhance every woman's natural beauty and inspire confident self-expression.  All of Dielle's nail varnishes are free of toxic ingredients, including the big three, and come in a wide range of impressive colours.  Every bottle contains 12ml of varnish, which is a generous size, and they retail for £12.00 each.  Dielle also support charities that work with women and children in Haiti, so every nail colour you buy will not only benefit you and your nails, but will go towards helping others.
The two shades I  have been lucky enough to try are 'Bliss', an eye-catching azure glitter, and 'Imperial Crown', a pretty purple with an undertone of pink.  Over the last couple of weeks I have tested and enjoyed both colours, and here's what I think of them…
Bliss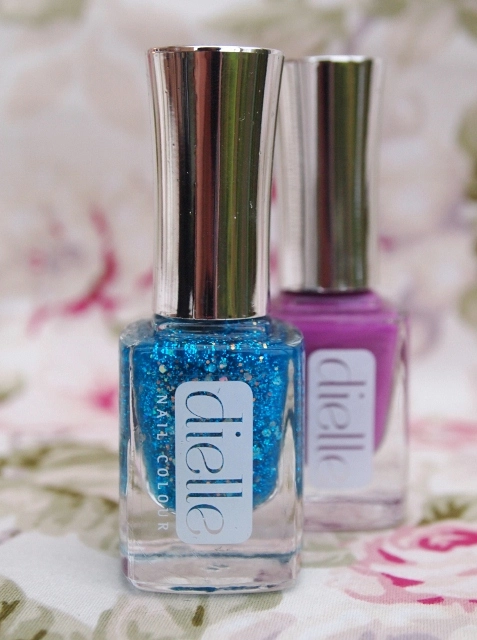 Bliss is one of the latest colours to be added to the Dielle collection, and also a limited edition.  As mentioned before, the bulk of Bliss is made up of a fine azure glitter, which to me invites images of a tropical ocean – pure 'Bliss'!  It has larger flecks of gold and silver glitter running throughout too, which gives it an amazing depth when on the nails.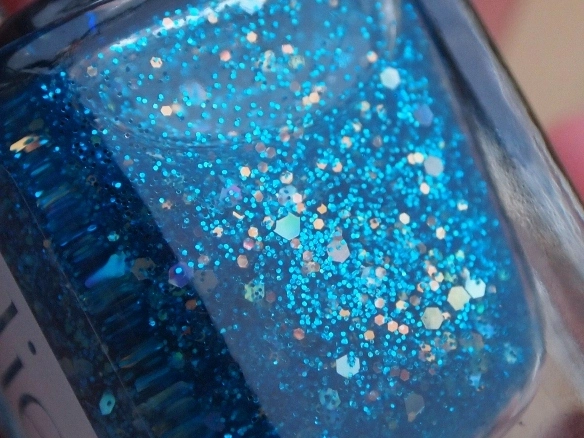 The varnish itself has a fantastic consistency so it smooths on easily and not too thickly, and the glitter is distributed evenly and not at all sparsely.  As such, Bliss looks fabulous over Imperial Crown after just one coat, but I always add one more coat for an even bolder look.  What really impresses me about Bliss is how quickly it dries…  Without fail, it is completely dry to the touch in less than one minute, so it is almost impossible to smudge.  I know, it seems too good to be true, but every time I use it it dries quick as a flash!
This is how two coats of Dielle's Bliss looks over Imperial Crown…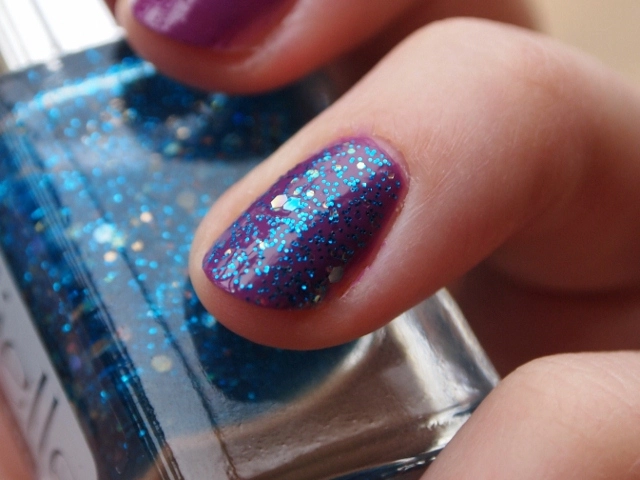 Isn't it stunning?  You can really see from the photo above how the glitter sits evenly and doesn't clump together into a lumpy mess, and how fantastically it shines.  I love it!
'But isn't it a pain to remove?', I hear you cry.  The answer?  NO!  No it isn't!  What makes Dielle's glitter a cut above the other glitters out there is that it comes off as easily as a normal varnish, so there's no need to spend hours scrubbing at your nails with countless cotton wool balls and gallons of industrial strength nail varnish remover.  Hallelujah!  The glitter flecks don't rip the cotton wool to shreds either, which means fluff free nails.
Overall, Bliss is a very high quality glitter which gives a burst of shine and colour, without the worry that it will be stubborn to take off – definitely worth the £12.00 price tag!
Imperial Crown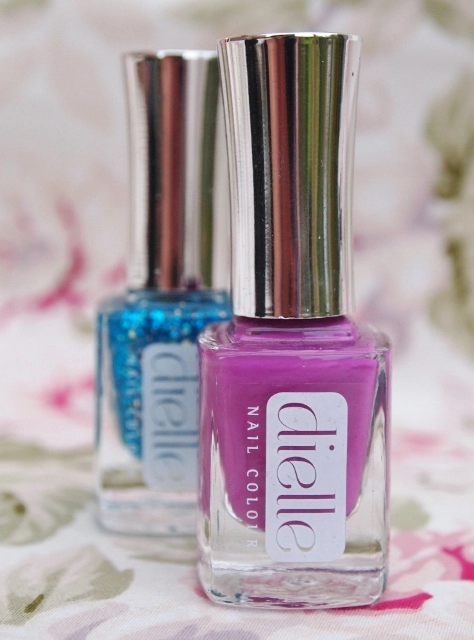 Imperial Crown is a regal plum purple with strong dusky pink undertones, and is part of Dielle's Brights collection.  I'm a sucker for purple varnishes, as my regular readers will know, and Imperial Crown is one of the more charmingly feminine purples in my collection, and is quickly becoming one of my go-to purples.  The varnish has a high shine, creme finish too, which looks luxuriously classy and just so happens to be one of my favourite nail varnish finishes.
Like Bliss, Imperial Crown is very smooth and also very creamy, so it applies easily and evenly.  Two thin coats is plenty enough for a completely opaque look, and as you can see below, the colour looks identical on the nail to how it looks in the bottle, which is a rare thing I find.  Imperial Crown dries quickly too, which makes me think that's a positive trait which runs across the whole range!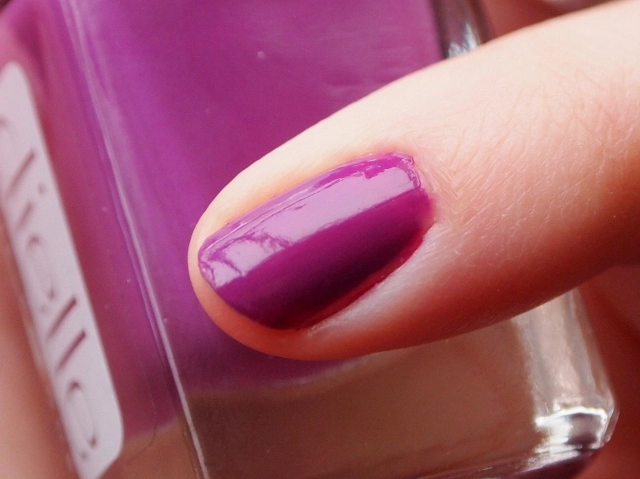 I didn't comment on the lasting power of Bliss as glitters are notorious for sticking around, but even without Bliss over the top Imperial Crown lasts for a good few days before showing any signs of wear.
Overall, Imperial Crown is an extremely high quality varnish, which looks absolutely gorgeous both on the nail and in the bottle, and given its lasting power and large bottle it is great value for money too.  Both varnishes have an incredibly luxe feel to them, which is difficult to match with a cheaper high street varnish.
I definitely plan on adding more Dielle nail colours to my collection in the future – I'm officially hooked!  And I hope you'll try the range too.  If you'd like to check out Dielle's full range of nail colours, you can do so by visiting their website, or by following Dielle on Twitter and Facebook.  Oh and you bargain hunters out there may be pleased to know that Dielle are currently running two amazing offers… 25% off Classy Christmas Cheer shades, and 40% off Lustre Gel Coat, so now's your chance to try a high-end product at a low price!
Naomi x
*I was sent these Dielle Nail Colours by Dielle for review purposes.  All thoughts and opinions expressed are honest and my own*