Posts tagged
Skin
7
Since my teenage years I have struggled greatly to find a deodorant suited to me, for several reasons.  Firstly, I suffer from sensitive skin which is easily irritated, and the majority of high street deodorants make my skin red and itchy.  Secondly, I have asthma, so aerosol deodorants are out of the question as they make my breathing bad.  And thirdly, the (unproven) links between antiperspirants and breast cancer have always bothered me, but whether they're true or not, who wants to be smothering their body with unnecessary chemicals anyway?  With all this in mind, I am always on the look out for new deodorants which are chemical-free and suited to delicate skin, so when I came across Bionsen I was positively intrigued, and was keen to try their products when they were sent to me to review.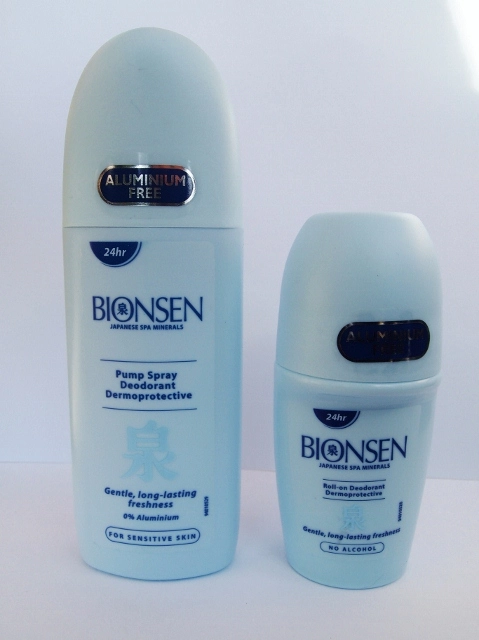 Bionsen's deodorants contain a blend of skin nourishing Japanese Spa Minerals which are found in the volcanic spas of Japan (known as 'Onsen'), and the deodorant's hypoallergenic formula helps to neutralise the body's bacteria which is responsible for bad odour.  They are also aluminium and paraben free, so are gentle on sensitive skin and, if the claims about cancer causing chemicals are correct, they reduce these risks too.
The deodorants I received from Bionsen are the 50ml Roll-On and the 100ml Pump Spray.  Over the last few days I have given both deodorants a go, and I have been suitably impressed.  Here is what I think of each…
Bionsen Roll-On Deodorant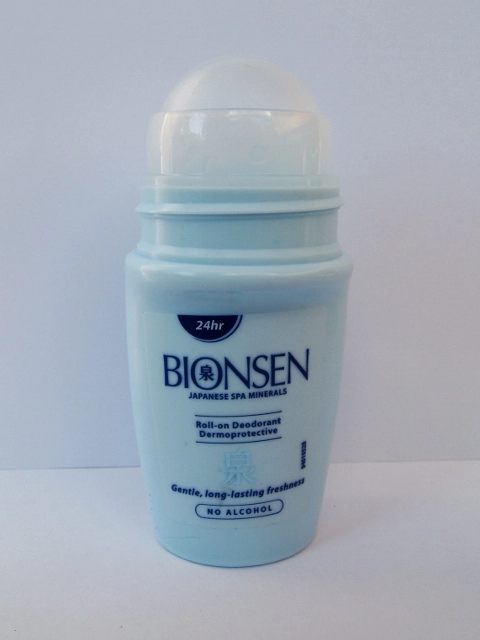 Bionsen's roll-on deodorant has a light, fresh scent which isn't overwhelmingly strong like some deodorants.  The roll-on applies quite wet and feels instantly cooling on the skin, which is lovely after a shaving or a hot shower, but it does take a while to dry.  I admit I got a little impatient the first time I used the deodorant and got dressed before it was completely dry, but it didn't leave any white marks on my clothes at all.  Overall, the deodorant lasts an incredibly long time.  The fresh scent lingers all day (and I'm talking ALL day, from before work until bedtime), and most importantly, the roll-on causes me no irritation whatsoever.  It's a winner in my book!
Bionsen Pump Spray Deodorant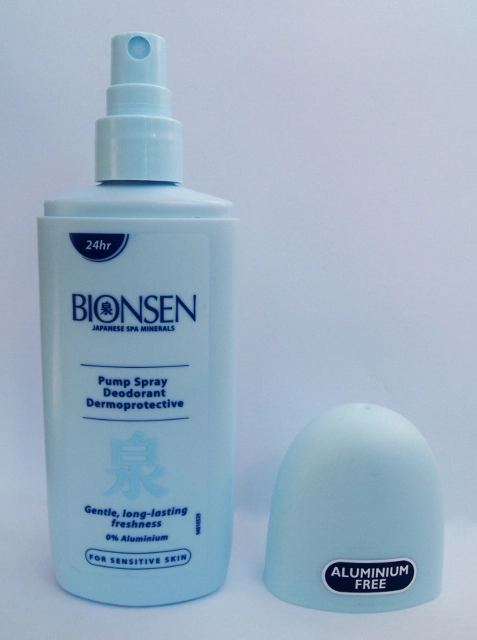 As I mentioned earlier, I can't use aerosol sprays due to my asthma, so when I first saw Bionsen's pump spray I was incredibly pleased to have an alternative to my usual roll-on!  And indeed, it doesn't trigger my asthma at all.  Like the roll-on, the pump spray is extremely cooling, and has a light, fresh scent which lasts all day.  The spray cap is moveable, so it's easy to angle the bottle in the right direction, and I find that two sprays of deodorant on each armpit is plenty enough for long-lasting protection.  The spray dries a lot quicker than the roll-on too, so if you're looking for a deodorant that's suited to a busy lifestyle then this one's for you.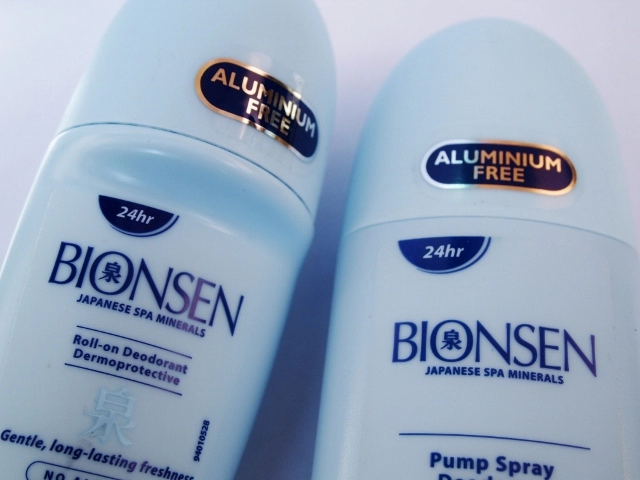 Bionsen's Japanese Spa Minerals roll-on and pump spray give everything I could want from a deodorant.  They smell nice, they're free from nasty chemicals, they last a long time and they don't irritate my sensitive skin.  They're really affordable too!  The roll-on retails for £2.35, and the pump spray is £2.75, which is the same (if not cheaper) than most high street deodorants.  If roll-ons and sprays aren't your thing though, Bionsen also do a deodorant stick, aerosol spray and Deo Total Body crystals, so there's something for everybody.  The range was launched last month in Morrisons supermarkets, so if you want to try them for yourself they're very easy to get hold of, and I highly recommend you do!
Naomi x